FIBA Europe U18
Croatia and Greece win promotion
Promotion at the 2011 FIBA Europe Pannergy U18 European Championship in Miskolc went to Croatia and Greece.
Croatia maintained their perfect record in seeing off Latvia in a sea-saw battle (83-73) while Greece ended the perfect run of Finland (67-45).
Croatia came into the tournament as one of the favourites and set the tone with comfortable victories against Portugal (78-54) and hosts Hungary (60-49) during the preliminary round.
They passed through the qualifying round with no problems but had a little scare with top player Ivana Tikvic (below in picture) who was not able to play in the quarter-final.
Tikvic was back for the semi-final against Latvia and was the driving force for her team with 32 points and 20 rebounds.
Tikvic's 13 points during the second quarter helped her team reduce a 10-point first-quarter deficit to just 4 points going into the break (36-40).
What made her performance more remarkable is that she had picked up her 3rd foul during the second quarter.
For Latvia Renate Reine was the main offensive weapon finishing the game with 26 points.
Latvia went into the final quarter leading by a single point but fell behind almost immediately as the Croatian support cast took over.
Ruzica Dzankic's back to back scores were neutralised by a trey by Reine as the teams were level for the first time in the game (59-59) with seven minutes to play.
A three-ball by Tikvic put Croatia back in front. But 40 seconds later Latvia had the advantage back after 2 points by Agate Geka and a pair of free throws by Reine.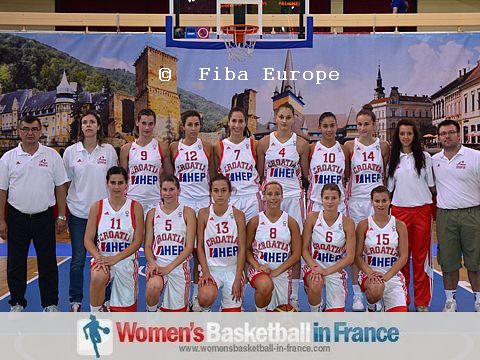 Croatia switched to a full court press and with some fast transition play took the lead for good with scores by Ivana Blazevic, Dzankic and a three-ball by Ana-Marija Begic (69-64).
Latvia still had four minutes to come up with some magic. But with only Reine able to score and a three-pointer by Geka, they did not have enough fire power and alternatives to get the lead back.
Croatia finished strong and even ended the game with a buzzer beater for a (83-73) victory.
Greece get the victory that counts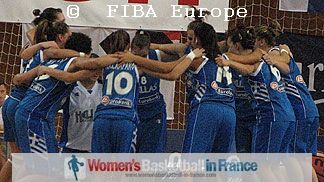 Greece had lost to Finland (46-58) during the qualification round. So the expectation was that the game was going to be close.
The first ten minutes lived up to expectation with Greece edging the quarter (16-15).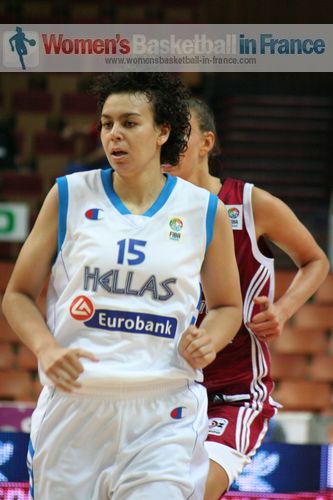 However in the second quarter Artemis Spanou (right) went on the rampage for Greece, basically playing all five positions as her team blew Finland away during the second quarter 22-7. They went into the locker room with a double-digit advantage (38-22).
Finland never recovered and spent the last 20 minutes chasing the game.
Annika Holopainen who finished the game with 20 points for the "Wolves" tried her best to lift her team-mates but with Spanou driving for Greece it was a losing cause.
Greece paced themselves all the way to the finish to win (67-45) and handed Finland their first lost of the tournament.
Spanou finished with 26 points, 14 rebounds, 2 assists and 3 steals for her day's work. Anastasia Slouka was also very productive with 16 points and 5 assists. For Finland Evita Iiskola backed up Holopainen with 12 points.
The rest of the news
In the 13th place classification group Austria beat Switzerland (68-43) while England beat Luxembourg (83-71). A victory for England on the final day against Switzerland secure 13th place.
Hungary play for fifth place after beating Israel (71-60). They meet Portugal who defeated Belarus (64-48).
---
Leave FIBA Europe U18 European Championship 2011 page and go to U18 history
Return to the top of page
---
U18 FIBA Europe European Championship basketball picture credits:


FIBA Europe

Date created: 13 August 2011
---