Global Vision FIBA Europe U18
France crush Sweden
The first semi-final of the 2011 FIBA Europe Global Vision U18 European Championship for Women Division A went to France.
This is the fourth time that France have qualified for a U18 final.
In the second semi-final match Belgium overcame Spain in a dramatic finish with a 13-0 run to book their place in the final for the first time in their history (65-63).
France made light work of Sweden with a comfortable victory (80-37). They did the damage during the first 10 minutes (28-5) and never looked back.
Romane Bernies was the leading scorer for France with 17 points.
Belgium's Julie Vanloo and Emma Meessemann scored 21 points each to help their side to beat Spain while Astou Ndour had 22 points and 10 rebounds for Spain.
You may read the stories of interest by selecting the link below as they become active.

France 80-37 Sweden
Spain 63-65 Belgium
Classification news

France, too strong for Sweden
France were aggressive from the tip-off and just like in the quarter-final Esther Moisan Niamke got her side going with a trey. This was quickly followed up by 2 points from Christelle Diallo.
The Diallo show continued with 6 consecutive points as France opened the game (13-0) with just three minutes played.
Sweden's troubles continued despite 2 points by Josefin Vesterberg.
Romane Bernies (in picture) took over from Diallo offensively as France dominated all sectors of the game.
It was basically one-way traffic with France hitting 11-from-15 shots as they dominated the first quarter (28-5).
France continued to control the game all through the second quarter. They went into the locker room with a buzzer beater three-pointer by Sara Chevaugeon (54-17).
During the second quarter Helena Kurt from Sweden ran into a screen set by Diallo and unfortunately knocked herself out. After a couple of minutes on the floor she was helped off the court by her physio-therapist.
It rained threes at the start of the third quarter for France with Bernies scoring twice and Niamke once as they stretched the advantage (63-19).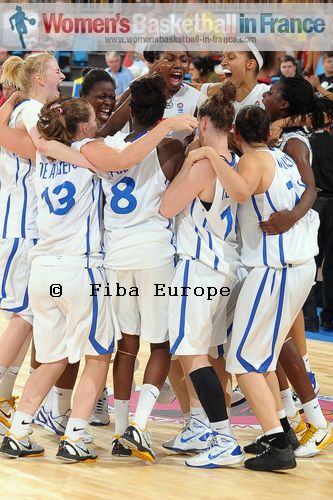 France dropped in intensity and Abigail Asoro from Sweden made a couple of steals and scored 5 points. But Olivia Epoupa and France had the last say with 2 points to close the quarter (68-26).
Both coaches turned their roster during the final quarter as the game fizzled out.
Vesterberg who scored all her points in the first half was the top scorer for Sweden with 11 points. Amanda Zahui had a miserable day as France did not allow her to settle. She finished not scoring and also fouled out of the game.
France went 6-of-10 from behind the arc with Bernies having a perfect three-of-three and came up with 15 steals during the game.
French players: Romane Bernies 17 (6 rebounds), Claire Stievenard 4, Esther Moisan Niamke 14, Olivia Epoupa 2, Mamignan Touré 10, Alice Nayo 4, Sara Chevaugeon 9, Margaux Galliou-Loko 4 (6 rebounds), Jodie Cornelie 1, Lola De Angelis 0, Christelle Diallo 10, Marie Mbuyamba 5
Return to the top of FIBA Europe U18 news page
Belgium do it again in the last seconds
Just like in the quarter-final Belgium left it late with Emma Meesseman their hero as her team qualified for the final game of the 2011 FIBA Europe Global Vision U18 European Championship for Women Division A.
With three seconds to go she was fouled while shooting. Meesseman then composed herself before taking the free throws that sealed the victory.
Belgium had kept Spain scoreless for 4 1/2 minutes while scoring 13 points.
Spain had the better start to the game scoring the first 8 points of the match. With 10 points points coming from Astou Ndour Spain paced themselves trough the first quarter (19-12).
Benny Mertens, the Belgium coach, did not really panic and changed things around. He asked USO Mondeville youth academy player Harriete Bende to guard Ndour for a while.
His tactic appeared to work as Spain started to miss while Belgium reduced the deficit slightly with fast break points.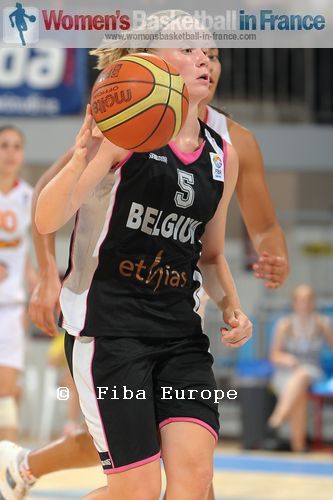 It was the turn of Spain to change tactics as they stepped on the accelerator with a trey by Yurena Diaz. An unsportmanlike foul by Julie Vandoo (in picture) did not help her team because Spain were cruising again to open up a double-digit lead (32-20) with 15 minutes played.
Belgium switched to zone which stopped Spain from scoring.
At the the same time they started to find their way to the basket. They scored 10 unanswered points concluded by back to back treys from Lynn Delvaux and Heleen Adams.
With just over two minutes to play in the first half Spain in front (32-30) were under pressure for the first time in the tournament.
Ndour, Marlés Balart and Inmaculada Zanoguera restored the Spanish advantage but a Vanloo corner three-pointer sent Belgium into the locker room trailing by just 2 points (37-39).
The momentum continued for Belgium at the start of the second half. With 22 minutes played Belgium took the lead for the first time (42-41).
The advantage lasted about 15 seconds as Ndour once again came up good for Spain.
Belgium went through a purple patch when nothing would drop for them while for Spain Yurena Diaz' three-point shooting gave her side the edge (54-46) going into the final quarter.
Everything was going right for Spain. When Ndour hit a shot from the land of many midway through the final quarter (61-42) it appeared that Spain were on their way to the final.
However things changed quickly when Spain scored for the last time through Zanoguera (63-52) with about 4 1/2 minutes to play.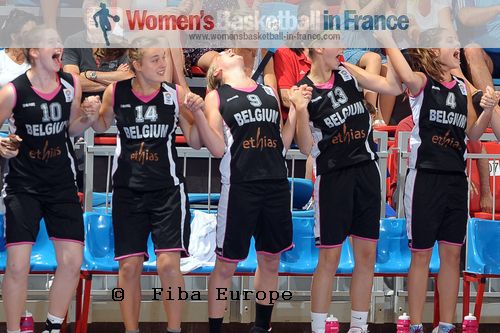 Vanloo and Meesseman went to work offensively for Belgium in a dramatic spell with some clutch shooting to draw level (63-63).
Miguel Martinez Mendez, the Spanish coach, called for a time-out. Yet on the inbound his team somehow lost the ball.
Belgium passed the ball quickly and with about four seconds to play Meesseman was given the ball. She drove at full speed and was fouled as she let off a shot. With her 2 made free throws Belgium were through to the final.
Return to the top of FIBA Europe U18 news page
Russia and Slovak Republic remain in Division A
Russia beat Ukraine (106-51) in the fifth round of games in the relegation group. Russia dominated from the start while Alina Zamaraeva led the attack with 20 points.
Ukraine were never in this match and trailed (13-31) by the end of the first quarter. All hope of beating Russia disappeared by the time they went into the locker room trailing by 33 points.
Oleksandra Chek from Ukraine was the game's top scorer with 22 points but her team drop down to Division B.
The Slovak Republic beat Lithuania (65-46) and have also secured their place in Division A next season.
Lithuania won the FIBA Europe U18 European Championship in 2008 and have to plan for playing in Division B in 2012.
---
Poland needed two free throws from Dominika Owczarzakin in the dying seconds to get past Serbia (63-61) and qualify for the fifth place match.
They play the Netherlands who beat Turkey (81-73).
The Netherlands trailed at half time (34-43) but used a 10-0 run during the final quarter to get past their opponents. Loyce Bettonvil led the Dutch side with a double-double of 19 points and 12 rebounds.
Serbia and Turkey play off in the match for 7th place.
Return to the top of FIBA Europe U18 news page
---
Leave FIBA Europe U18 European Championship 2011 page and go to U18 history
Return to the top of page
---
U18 FIBA Europe European Championship basketball picture credits:


FIBA Europe / Viktor Rébay




Date created: 13 August 2011
---