FIBA Europe U18
Croatia and Belarus on top of Group E
Finland need overtime in Group F
After five days of action in the FIBA Europe Pannergy U18 European Championship Women Division B competition, only three teams have perfect records.
Belarus, Croatia and Finland are all looking good with one game to go before the all important quarter-finals. Norway and Bulgaria are the latest teams to be eliminated from the promotion race.
Ivana Tikvic has been one of the stars of this tournament. Once again she led Croatia with a double-double of 18 points and 11 rebounds as her side beat Germany (84-54). Anja Majstorovic contributed 17 points but also picked up 3 steals and dished out 4 assists.
Croatia never trailed and turned the ball over just 8 times. Germany on the other hand had 24 turnovers. Marie Gülich and Keisha Carthäuser led the German attack with 10 points each.
Portugal kept their promotion dreams alive wirh a (54-51) victory against Bulgaria.
The game was decided during the last 30 seconds when Raquel Jamanca put her side in front for good.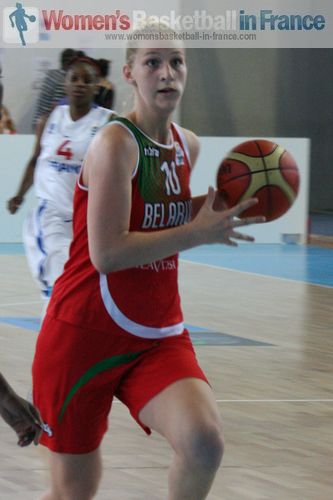 Bulgaria fouled a lot but failed to get a shot off at the end. Ines Pinto split a pair of free throws to close the game.
For Tarbes player Hristina Tyutyundzhieva, the promotion dream is over as Bulgaria cannot qualify for the quarter-final. Tyutyundzhieva scored 7 points and picked up 16 rebounds.
25 points from Maryia Papov (right) was all Belarus needed to overcome Hungary (62-55). Fanni Szabó scored 19 points for Hungary.
The result does not mean much for either team as they have qualified for the quarter-final. The last quarter-final spot is awarded to the winner in the Germany/Portugal game.
In Group F, Finland needed overtime to beat Latvia (88-86). Evita Iiskola had the chance to win the game from the free-throw line at the end of the fourth quarter. But she missed the first one and then had to compose herself to force overtime.
Iiskola was back on the free-throw line to score the winning baskets during overtime. She finished the game with 26 points which included 12-of-13 from the free-throw line. However her team-mate Anette Juvonen outscored her with a game high 33 points.
Guna Lagzdina scored 21 points for Latvia.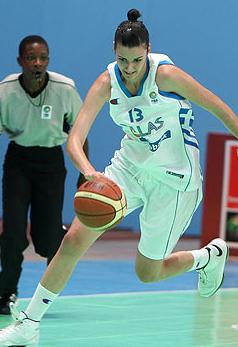 Israel handed Greece their first loss of the FIBA Europe Pannergy U18 European Championship Women Division B.
Artemis Spanou was carrying Greece with 24 points and 16 rebounds. But with 43 seconds to play she fouled out of the game after putting her team in front.
It all came down to free throws in the end. Anthoula Chatzigiakoumi (left) from Greece split a pair with 23 seconds to play to tie the game (57-57). Seven seconds later she picked up her 5th foul after making contact with May Dayan.
Dayan split the free throws for her side to go in front. Greece had one chance to win the game but missed. Chen Weisbor and Dayan had 14 point each for Israel.
Denmark eliminated Norway from the competition (74-60) in a scrappy game. Latvia, Israel and Denmark are still in the hunt for the last two places.
In the classification round for 13th place England beat Luxembourg (70-61) and Austria won against Switzerland (65-51).
---
Leave FIBA Europe U18 European Championship 2011 page and go to U18 history
Return to the top of page
---
European Championship basketball:


womensbasketball-in-france.com
FIBA Europe

Date created: 10 August 2011
---