2014 Amateur Coupe de France
Second time lucky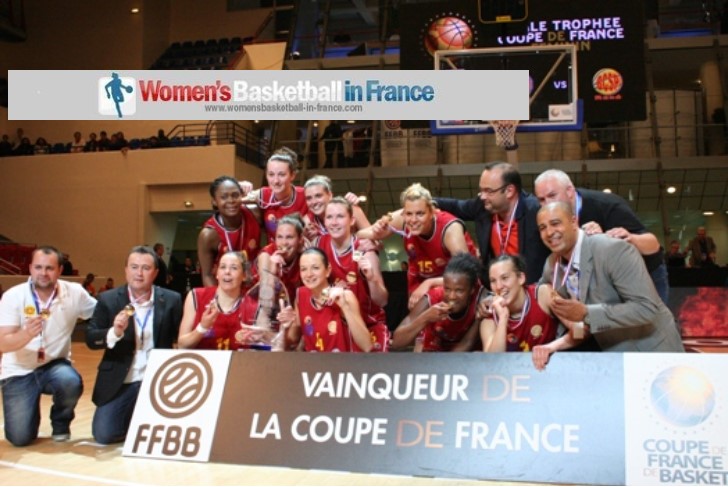 CSP Rezé lifted the trophy of the Coupe de France (Amateur French cup) for the first time in their history after blowing over CJS Geispolsheim (71-53). It was a sweet return for the club to Paris because in 2011 they had lost to the now defunct US Laveyron in the final.

Veuillez trouver des informations en bas de la page sur la finale entre CSP Rezé et CJS Geispolsheim.

All ten players from Rezé got on the score sheet in a one-sided final. In a dominating first quarter (27-9) while knocking down 63% of their shots, they set the scene for the rest of the match.
The only time Geispolsheim showed their real capability to play basketball was in the second quarter. In the second half, still trailing by a big margin, they simply disintegrated.

CSP Rezé take the French cup home for the first time

The first five minutes of the match belonged to CSP Rezé (15-4). Milca Beljanski was unstoppable with 9 first-quarter points while the rest of the team hit shot after shot racing off to a (27-9) first-quarter lead.

Geispolsheim pulled themselves together during the second quarter and picked up their hustle game. This tactic paid off as they scored 11-from-12 free throws in ten minutes.
Back-to-back three-pointers by Justine Loubet and Elodie Tadeuszak with just over two minutes to play before half time enabled CSP Rezé to regain the upper hand for good. They finished the first half with a double-digit advantage (40-26).

CSP Rezé were a different team after the break and killed off the match as a contest half way through the quarter (50-30) and more or less had the trophy in their hands by the start of the final quarter (62-38).
They just rotated their players during the final quarter which allowed their opponents to make the final scoreline more respectable.
The scorers of both teams:

Geispolsheim

4 Eloïse CHAPAYS 6 points
5 Madinina DONIVAR 6 points
6 Coralie SPECQ 4 points
7 Marie CHEMINEAU 3 points
8 Pauline JEHL 10 points
9 Johanna RATZEL 2 points
11 Auriane LUX 0 points
12 Sophie CLAUSS 6 points
13 Magda ANIELAK 16 points
14 Marie-Ange VINCENT 0 point






CSP Rezé

4 Milica BELJANSKI 15 points
5 Agathe DESMARS 2 points
6 Elodie TADEUSZAK 14 points
7 Justine LOUBET 12 points
8 Elisa DIATTA 10 points 
9 Marion CHARTEREAU 8 points
10 Zou VITTA 2 points
11 Ellen MENARD 2 points
14 Vanessa TURPIN 3 points
15 Milica PALIGORIC 3 points


Coupe de France féminine
Une première pour CSP Rezé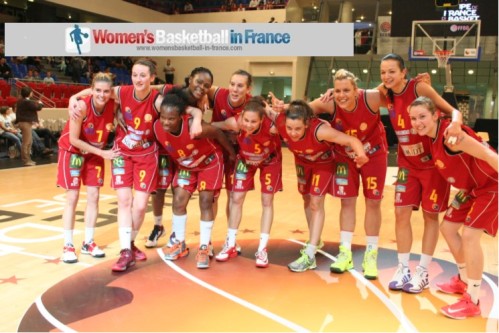 Les Geispolsheimoises ratent la finale et ainsi la chance de remporter ce trophée. Par contre, les joueuses de CSP Rezé sont adroites au shoot et dès le début de la rencontre, elles ont la niaque pour gagner la finale après avoir perdu celle-ci en 2011 contre le club de Laveyron, maintenant défunt.
CSP Rezé creuse l'écart dans le premier quart (27-9), emmené par Milca Beljanski (15 points). Les joueuses de Geispolsheim ne rentrent pas dans le jeu et sont une proie facile.

Que dans le deuxième quart, Geispolsheim se réveille et répond avec des fautes provoquées pour se rapprocher du score avec 11 sur 12 lancers francs. Mais en vain, Rezé répond avec deux tirs primés de Justine Loubet (12 points) et Elodie Tadeuszak (14 points) pour clôturer le premier mi-temps (40-26).
Le deuxième mi-temps, Rezé contrôle le jeu, ainsi donnant droit à toute l'équipe de jouer et participer à cette victoire (71-53) et célébrer leur trophée de la Coupe de France.
---
Visit our Coupe de France index

Visit our home page
Visit our "What's New" page
Picture credits:
womensbasketball-in-france.com
Date created: 11 May 2014
Like this page / Aimez cette page