2012 Coupe de France de Basket
Arras and Bourges meet in the final
Arras have qualified for the 2012 Coupe de France de Basket for the first time in their history. They will face Bourges Basket in the final on 20 May 2012 at Paris Bercy.
Bourges Basket last lifted the Joë Jaunay trophy in 2010 and will be making their 8th trip to the French Cup final.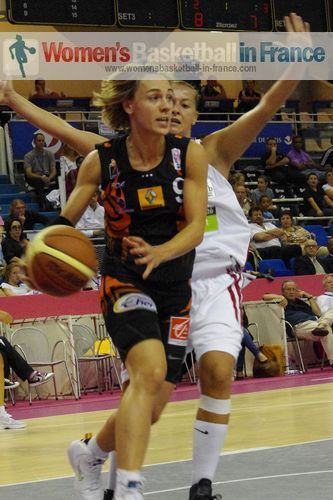 Bourges Basket qualified for the final by beating Challes-les-Eaux (74-55). Céline Dumerc (in picture) was the player of the match with 12 points, 10 assists and 6 steals, while Emméline Ndongue led the scoring with 13 points and 8 rebounds. Nwal-Endéné Miyam (8 rebounds) and Cathy Joens also registered double digits scores with 12 and 11 points respectively.
Challes-les-Eaux lost Alexia Plagnard at the start of the second quarter to what appeared to be a thigh strain.
All the same they battled away and remained in contention until the last second of the first half. Cathy Joens escaped from Mélanie Plust to fire in a trey on the buzzer (39-34).
Bourges scored 7 points after the break and the contest was over (48-34) after 23 minutes. Foul problems and a limited bench left Challes-les-Eaux handicapped for the rest of the game.
Mistie Mims, Danielle Page and Anaël Lardy all finished in double digits with 18, 12 and 11 points respectively.
Arras are on their way to Paris Bercy after winning on the road against Nantes-Rezé (63-56).
Nantes-Rezé led (54-53) with just under four minutes to play but were struggling to impose.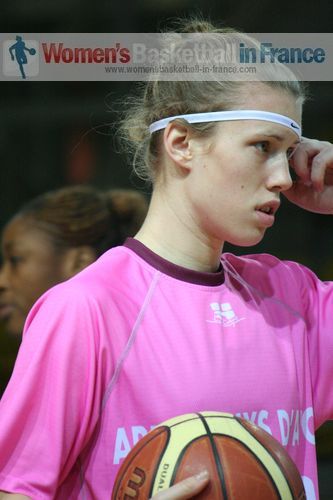 The game turned in favour for Arras for good after Aurélie Bonnan deflected an attempt by Krissy Badé. Leilani Mitchell just happened to be in the right place at the right time to pick up the offensive rebound and to score for her first points of the game.
Mitchell scored her team's next 4 points as her side hung on to the lead (59-56) with 20 seconds to play.
Player of the match Gabriela Marginean (right) then finished the hosts with the last 4 points of the game from the charity stripes (63-56).
Marginean led all scoring with 29 points while Joyce Cousseins-Smith with 10 points was the only other player from Arras in double digits.
Arras were able to pull off the victory without Pauline Akonga-N'Simbo.
With total of 21 lead changes and 8 ties, Nantes-Rezé had more than enough opportunities in the game to take control but failed and then paid the prize at the end.
Johanne Gomis led the way with 12 points while Doriane Tahane and Lenae Williams scored 10 points each.
French Cup semi-final results
Bourges Basket 74-55 Challes-les-Eaux
Nantes-Rezé 56-63 Arras
---
Bourges and Arras qualify for semi-final
Lattes Montpellier eliminated from Coupe de France
Go to Women Playing Basketball In France Home Page
Return to the top of page
---
Coupe de France picture credit:


womensbasketball-in-france.com


Date created: 5 April 2012

---