Coupe de France holders not trapped
by the SIG
Résumé du match de la Coupe de France en français en-dessous du reportage anglais
Bourges Basket started their Coupe de France defense by beating Illkirch-Graffenstaden (90-63) in the Rhenus Arena in Strasbourg.
The final scoreline has no reflection of the game, which for 25 minutes remained close.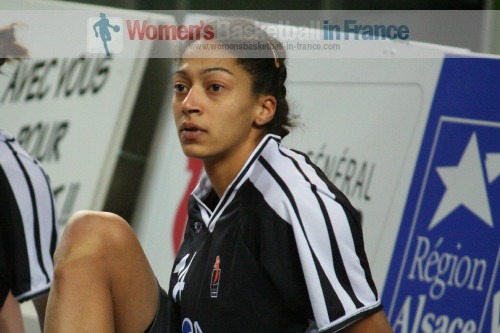 Bourges were quickly out of the starting blocks with captain Emméline Ndongue (in picture) scoring with her first shot of the game with just over 10 seconds played.
The SIG attacked in numbers and the home fans quickly had something to cheer about with Amina Njonkou forcing her way down the lane into the paint to lay up.
However Bourges were soon in control as Cathy Joens continued to hit the target (9-2).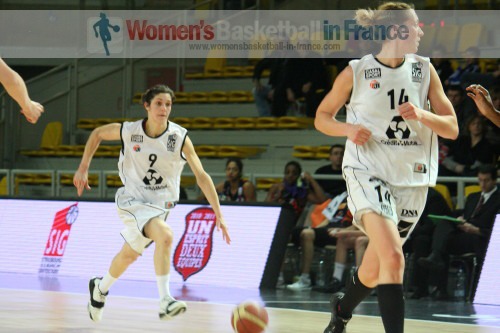 Nadège Drago (right in picture) started the hosts fightback with a trey. By the time Aline Fischbach opened her account for the SIG, Pierre Vincent's rotation policy for Bourges appeared to be the wrong strategy.
The SIG also had three players on the court with LFB experience: Céline Schmitt-Sender, Caroline Nestor and Drago.
The SIG pushed hard during a 15-5 run to lead (17-14).
Pierre Vincent used a time-out to calm things down. His team regained the advantage by the end of the first quarter (19-17).At the start of the second quarter Bourges stepped on the accelerator to open up a 12-point lead (36-24).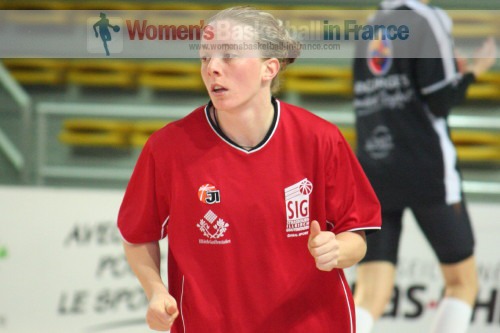 The SIG battled as best as they could with a mixture of youthful endurance and veteran maturity to stay in the game.
Lucie Battaglia (left) from the SIG hit the buzzer shot of the match to close the first half (36-49).
After the break the match became more physical. Schmitt-Sender was winning crucial rebounds as the hosts matched Bourges basket for basket.
However the SIG did not have anybody close in hight to Ilona Burgrova and struggled in containing her.
In addition Drago picked up her 5th foul halfway through the third quarter and had to leave the game for good. This handicapped the hosts further.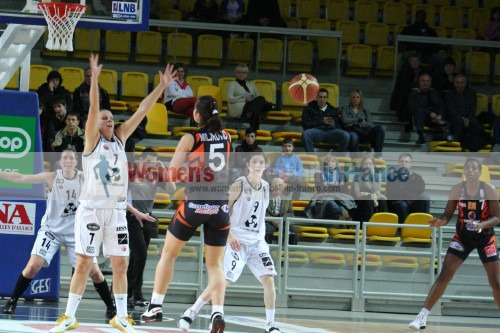 Bourges paced themselves through the third quarter (66-54) before stepping on the accelerator with points flying in from all over the place in the final quarter.
Joens continued her three-point shooting display while Paoline Salagnac hit baseline jumpers.
Jennifer Digbeu (her brother plays for the SIG professional men's team) and Nwal-Endéné Miyem also increased their point total.
Although the SIG were overrun, they did not give up and thrilled their supports with some shots from down-town.
Céline Pfister came on for the last few minutes and had time to add her name to the score sheet.
All 19 players scored at least two points in this Coupe de France game.
SIG: Lucie Battaglia 5, Célia Mauler 2, Chloé Westelynck 5, Aline Fischbach 11, Nadège Drago 3 (3 assists), Amina Njonkou 20 (8 rebounds), Bettina Kadila 2, Caroline Nester 4, Céline Schmitt-Sender 9 (9 rebounds), Céline Pfister 2
Bourges Basket: Anaël Lardy 3, Maja Miljkovic 5 (6 assists), Nwal-Endéné Miyem 12, Styliani Kaltsidou 7 (8 assists), Jennifer Digbeu 11, Catherine Joens 19, Paoline Salagnac 12, Emméline Ndongue 9 (12 rebounds), Ilona Burgrova 12
La SIG battue, mais pas abattue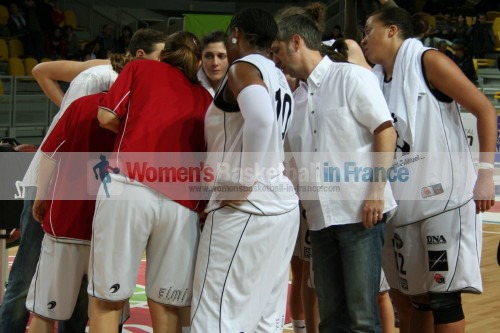 Le premier quart-temps a vu les Illkirchoises prendre l'avantage (17-14) avec Nadège Drago lançant un 15-5 avec un tiers-prime.
Cependant, Bourges a vite reprit les reines de la partie après un temps-mort de Pierre Vincent pour prendre l'avantage 19-17 à la fin du premier quart-temps.
Malgré l'expérience de ses quelques co-équipières, Céline Schmitt-Sender et Caroline Nestor et l'endurance juveniles des autres Illkirchoises n'ont pas suffit pour faire face à l'ogre Bourges Basket.
Pourtant la SIG n'a pas baissé les bras avec ses cinq jeunes internationales, Aline Fischbach (espoir 2009), Chloé Westelynck (espoir 2010), Bettina Kadila (junior 2008), Céline Pfister (cadette 2010), Céline Mauler (convoquée), et leur adversaire devait s'efforcer pour reprendre le match en main.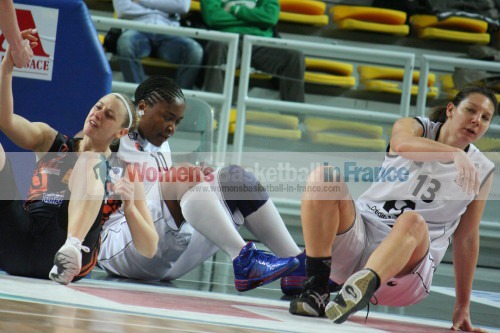 Chacune des joueuses de la SIG, surtout la nouvelle recrue de cette saison, Amina Njonkou, répondait plus que présente contre Bourges.
Quoique les invitées creusaient un peu plus l'écart dans le dernier quart pour atteindre la barre symbolique des 20 points d'écart, les joueuses de Philippe Breitenbucher faisaient tout pour limiter les pertes. Elles ne lachaient rien et inscrivaient encore des points jusqu'au dernier souffle.
Coupe de France 16th-final results
Perpignan 42-62 Montpellier
Lyon BF 40-80 Challes-les-Eaux
Etoile de Voiron 46-78 Aix-en-Provence
Villeurbanne 40-80 Cavigal Nice Basket 06

Roche Vendée 56-72 Tarbes
Limoges ABC en Limousin 57-62 Toulouse

Union Féminine Angers Basket 57-77 Basket Landes
Elan Béarnais Pau-Lacq-Orthez 44-70 Nantes-Rezé

Rennes Avenir 41-71 Arras
Dunkerque Malo 60-84 Union Hainaut Basket St. Amand

Pleyber-Christ 50-74 USO Mondeville
Aubervilliers 46-75 AL Aplemont Le Havre

Wasquehal 53-85 Villeneuve d'Ascq
Armentières 56-59 Charleville-Mezières

Illkirch-Graffenstaden 63-90 Bourges Basket
Reims BF 59-69 COB Calais

---
Go to Coupe de France index page
Go to Women Playing Basketball In France Home Page
Return to the top of page
---
Coupe de France picture credits:


womensbasketball-in-france

Date created: 29 January 2011
Date Updated: 30 January 2011
---