2012 Coupe de France
What happened in the first round
The first round of the Coupe de France is always difficult for clubs in the Ligue Féminine de Basketball. Coaches have to decide on whether to rest players with injuries, give youth and bench players a run or put out a full strength squad.
On the first evening of French cup basketball
Charleville-Mézières and Nantes Rezé did enough to overcome LF2 opponents
to be the first teams to book their tickets for the eighth-final (round 2).
On day 2 Basket Landes and Tarbes became the first teams from the Ligue Féminine de Basketball to be eliminated from the competition.
Arras who are preparing for a quarter-final EuroCup tie this week held off Illkirch-Graffenstaden in an intense match.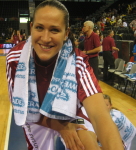 Aix-en-Provence were without Spanish international Tamara Abalde and had to thank Latvian international Liene Jansone (in picture) from saving them from elimination against Voiron.
Aix were leading (52-41) with 6:33 to play in the final quarter. They suddenly went cold and with 30 seconds left to play they found themselves trailing (57-56) after Faëza Bouderra split a pair of free throws.
With the 24-second clock running down Natalie Hurst missed a shot. Jansone was under the basket and picked up the offensive rebound to score her 20th point.
Cindy Lima sealed the victory seconds later by splitting a pair from the charity stripes.
"Coupe de France" defeats for LFB teams
Basket Landes'
defeat against LF2 leaders Perpignan (58-68) is not a big surprise.
Basket Landes were without their centers Jennifer Humphrey and Bineta Diouf and had nobody with the physical presence inside to stop Agathe N'Nindjem-Yolemp who scored 18 points and picked up 12 rebounds.
In addition Héléna Ciak who is almost 2 meters tall was on hand to pick up 12 rebounds for the second division leaders. Perpignan dominated the boards with a total of 46 (with 20 on the offensive end) compared to 26 for Basket Landes.
Perpignan were without Pauline Lo and went 0-of-14 from beyond the arc. But all the same shooting guard Clémentine Samson was on hand to put in 17 points.
Tarbes' defeat though comes as a surprise on paper. Yet they have not been consistent all season.
Tarbes led (46-28) at the interval but the players forgot the rules of Coupe de France basketball of not underestimating their opponents.
Tarbes went to sleep defensively, started to turn the ball over and committed unnecessary fouls and were outscored 48-20 in the second half of the match.
All the results from the first round of the Coupe de France
Lyon made hard work of beating La Tronche Meylan who play in the third division. However the result is not so strange when you look at the roster.
Audrey Alves, Cyrielle Hughes and Fanny Ploegaerts and veteran Laurence Cayot all have LFB experience.
Roche Vendée (LF2) 70-82 Tarbes (LFB)
Illkirch-Graffenstaden (LF2) 70-82 Arras (LFB)
Saint Etienne (NF1) 47-89 Challes-les-Eaux (LFB)
La Tronche Meylan (NF1) 72-78 Lyon BF (LFB)
Voiron (LF2) 57-59 Aix-en-Provence (LFB)
US Laveyron (LF2) 39-80 Cavigal Nice (LFB)
CSP Rezé (NF1) 34-88 Lattes Montpellier (LFB)
Perpignan (LF2) 68-58 Basket Landes (LFB)
Limoges (LF2) 40-51 Toulouse (LF2)
Wasquehal (NF1) 51-79 Bourges Basket (LFB)
Dunkerque Malo (LF2) 51-89 USO Mondeville (LFB)
Léon Trégor (LF2) 57-101 Hainaut Basket (LFB)
Sin Dechy Ostrevent (NF2) 39-96 Villeneuve d'Ascq (LFB)
SOA Armentières (LF2) 76-56 Reims BF (LF2)
---
Go to Coupe de France index page
Go to Women Playing Basketball In France Home Page
Return to the top of page
---
Picture credits:


womensbasketball-in-france.com


Date created: 29 January 2012

---