2014 Coupe de France
The first round is over

The draw for the first round of the 2014 Coupe de France came up with two games that had the potential for an upset with NF1 (third division) clubs facing LFB opponents.

Veuillez trouver un compte-rendu en français sur le match entre UHB (Union Hainaut Basket) et CJC Geispolsheim.

The match between CJS Geispolsheim and Hainaut Basket had a special appeal because of the two coaches.
Patrick Lazare from Geispolsheim, an experienced coach with a glorious history, was facing the new kid on the block in the LFB, Jimmy Ploegaerts.
wbbif was in attendance for this match. Our thoughts on the game and some game highlights are included further down the page.
In the match-ups between teams from LF2, home court advantage paid off. Illkirch-Graffenstaden held off Chartres (54-49) for their first victory in six attempts in this competition.

Le Havre got past Dunkerque Malo (64-56) with Kelsey Sigl and Adïa Fall scoring 18 and 15 points apiece.
In all the other games of the first round the higher division clubs won. The results from the first round can be found in the right menu.
Geispolsheim's Coupe de France battle

Due to no fault of their own Geispolsheim have just played one game this season. It showed for the first three minutes of the game with Hainaut Basket knocking down 11 unanswered points.
Patrick Lazare called a time-out and woke his players up with some hard words. However the damage had been done because his team spent the rest of the game chasing after the score.
Jimmy Ploegaerts from Hainaut Basket was without two key players - Adjah Konteh whose season ended in round 2 of the LFB and Astou Traore who was rested. The match was not perfect also due to a very long bus trip.
In order to give four players from his academy time on the court, he asked his senior players to step up in five-minute blocks. At first it worked well and his team was running away with the game.
Then during the third quarter Geispolsheim started to follow the instructions of their coach to the letter and they started to hit their shots. With a buzzer beater by Johanna Ratzel at the end of this quarter the pendulum swung into her side's favour despite a 10-point deficit.
For the first time in the game Ploegaerts was angry with his players and told them off.
The final quarter was a festival of long distance shooting by the hosts. Yet with Florine Basque, despite foul problems and Martine Barba on fire with 15 points each, Hainaut weathered the storm and won the match.
Lazare was slightly disappointed at the end of the match because he had believed they had had a chance of winning.
Coupe de France féminine - Geispolsheim ont livré
une bonne prestation dans cette compétition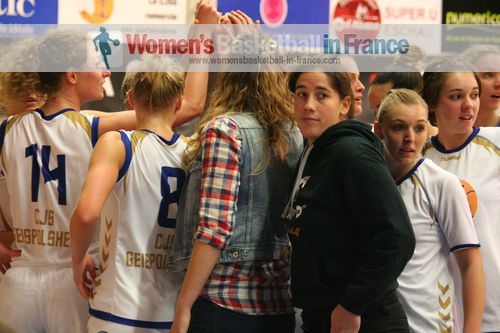 Avec un peu plus agressivité au début de la rencontre, Geispolsheim aurait pu être un plus dangereux adversaire contre l'équipe de LFB, Hainaut Basket.
Mais ce premier écart de 11 points leur a coûté cher. Les Geispolsheimoises pouvaient, à plusieurs reprises, se rapprocher de UHB quand l'entraineur Ploegaerts avait laissé joué les filles du centre de formation de son club.
En vain, car après quelques attaques fructueuses, surtout dans les tirs à longue distance, les cinq majeures de Hainaut revenaient pour mettre en place l'équipe de Geispolsheim.
Pourtant les Geispolsheimoises apprenaient vite dans cette rencontre et utilisaient mieux leur vitesse et s'impliquaient plus physiquement pour s'accrocher. Elles trainaient (28-39) à la fin du deuxième quart.
Au début du troisième quart, Hainaut contrôlait mieux le jeu mais parvenait pas à creuser un écart plus important en raison de leur fatigue et de plusieures fautes. Par contre, Geispolsheim, exécutant les ordres de leur entraineur Lazare, réduisait l'écart à 10 points.
Puis Geispolsheim accélérait et jouait leur meilleur basket dans le dernier quart. Leur adresse dans le shoot extérieur leur permettait de challenger leurs adversaires. Mais Florine Basque et Martine Barba répondaient chaque fois avec leur équipe s'imposant (73-62).
Mais Geispolsheim a encore une chance d'aller à Paris Bercy avec leur participation à la Trophée Coupe de France féminine.
Geispolsheim: Specq 4, Donivar 5, Alienak 4, Jehl 14, Vincent 11,  Ratzel 7, Chemineau 8, Clauss 7, Denu 2
Hainaut Basket : Basque 15, Paul 7, Garcia 10, Barba 15, Akonga-Nsimbo 13, Desir 1, Bonneau 7, Preiss 5

---
Visit our Coupe de France index

Visit our home page
Visit our "What's New" page
Picture credits:
womensbasketball-in-france.com
Date created: 16 October 2013
Like this page / Aimez cette page