2012 Coupe de France de Basket
Arras getting the trophy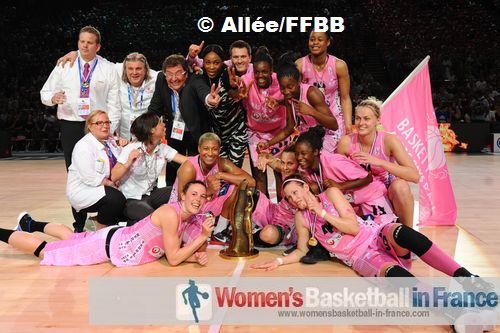 The 2012 edition of the Coupe de France has been won by Arras after a dramatic final quarter in which they made up an 11-point deficit to shock Bourges Basket.
In January we spoke to the ladies of Arras during the first round of the competition and Krissy Badé admitted that Arras was a team for the Cup.
Her words have come true as Arras walked away from Paris Bercy with the Joë Jaunay trophy and most likely the third spot for France in the EuroLeague Women.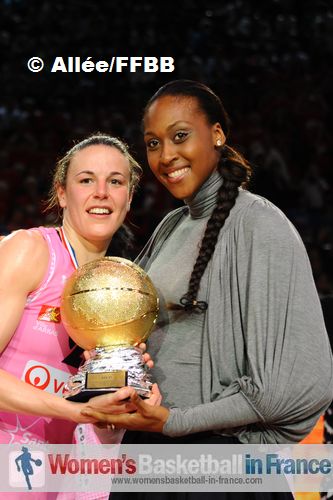 Sabrina Reghaissïa (in picture) who started on the bench and fouled out with 32 seconds left to play was the hero for Arras. She went 5-of-8 from behind the arc to lead the scoring with 19 points.
However it was the shots that she did not make during the final quarter that turned the game in her team's favour because Alexandra Tchangoue picked up the offensive rebounds to either score direct or from the free-throw line.
Arras looked down and out going into the final quarter with an 11-point deficit but Reghaissïa who already has two Coupe de France winners medals from her time with Bourges was not interested in second place.
She sparked her team into action and then all the players that had been absent offensively earlier in the game started to hit the target when it mattered most.
Bourges Basket dominated the first quarter (26-13) with a perfect 5-of-5 from beyond the arc with Cathy Joens scoring 12 points. However Joens was not to score again for the rest of the game while fouling out with 30 seconds left to play.
Bourges also struggled from the free-throw line with just 10-of-18 which stopped them from running away with the game earlier. However in the end Bourges just collapsed in the final quarter while Arras wanted the win more.
You can read our Coupe de France final match report below.
Arras' first Coupe de France final: a success
Arras won the tip-off and and had the first shot of the match which was missed. Bourges Basket went down the other end with Céline Dumerc setting up Emméline Ndongue who scored and drew the foul.
Ndongue also hit the free throw but Alexandra Tchangoue fired in a couple of points for Arras moments later. All the same the rest of the quarter was one-way traffic in the direction of Bourges.
They went 6-of-8 from the field which included a perfect 3-of-3 from beyond the arc by Cathy Joens opening up a double-digit lead (17-6) with five minutes played.
Arras needed a time-out and the introduction of Sabrina Reghaissïa to finally settle down. Reghaissïa's first shot was from beyond the arc. She added 2 more points while her team-mate Gabriela Marginean was not having a good time on the court with 2 early fouls.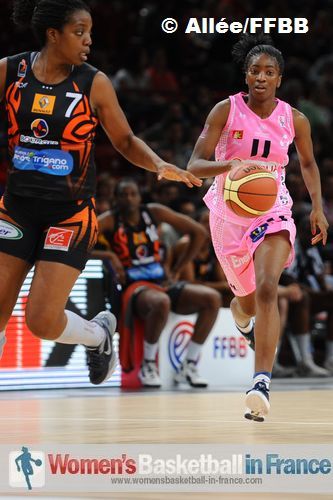 However Bourges continued their festival from behind the arc with Joens and Céline Dumerc hitting the target while Christelle Diallo was perfect in the paint as their side dominated the first quarter (26-13).
Bourges went on the attack in the second quarter like in the opening quarter but only managed 2 points. Meanwhile for Arras Reghaissïa connected from behind the arc.
Valérie Garnier was not very happy with what was happening on the court and decided to call a time-out with less than three minutes played.
It appeared that the time-out favoured Thibaut Petit, the coach from Arras, who decided to turn his players more frequently in order to step up defensively.
Bourges started to struggle offensively despite leading (31-16) with 15 minutes played. With Joens finally missing a shot Bourges did not look unbeatable any more.
It took a three-ball from Krissy Badé to wake up the Arras spectators with three minutes left before the break.
Arras kept up their defensive pressure just allowing Bourges 2 points in the final minutes while Badé continued her mini-festival with 5 more points as her side reduced the deficit slightly by half time (24-33).
Bourges started the third quarter with more urgency than they finished the first half and scored the first 6 points to regain their double-digit advantage (39-24).
Arras on the other hand appeared flat in attack but kept up the defensive pressure.
Ndongue who is a reliable free-throw shooter had a poor spell in this exercise with just 1-of-4 as her side failed to blow away Arras despite having more of the ball. All the same with (40-26) after 25 minutes of action they appeared to be on their way to another Coupe de France victory.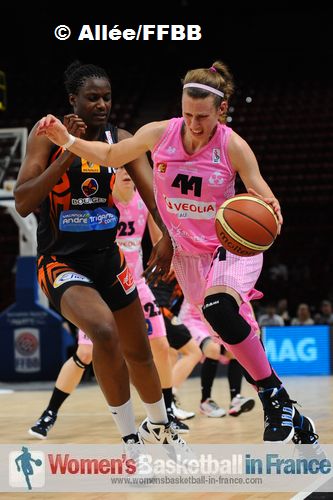 Arras made things difficult for themselves by leaving points at the charity stripes while Bourges chipped away and had a maximum advantage (47-29) with three minutes remaining in the quarter.
Nadezdha Grishaeva finally got Arras going. But with Nwal-Endéné Miyem and Jennifer Digbeu hitting big shots, Bourges appeared to be in control.
However two three-pointers by Grishaeva and Reghaissïa to finish the quarter gave their fans in magenta some hope as Arras trailed by just 11 points (41-52).
The final quarter started slowly with nothing happening on the score board.
Both coaches used a time-out during the first three minutes with just 3 points scored between both teams. All the same Bourges led (53-43) with six minutes to play.
Arras finally picked up with a shot out of nothing by Joyce Cousseins-Smith and a trey by Reghaissïa. Tchangoue fought for rebounds and picked up valuable points as Arras reduced the deficit to 3 points (51-54) with five minutes to play.
In addition for Bourges Céline Dumerc was on the bench with 4 fouls to return during money-time.
Reghaissïa and Tchangoue continued to battle away with Arras making it a one-possession game with 97 seconds to play.
Although Digbeu continued her blocking festival in defense while Miyem gave the Bourges fans a little hope with 90 seconds to play with a couple of points (57-54), the pendulum was changing directions.
Reghaissïa then used all her skills in forcing Ndongue into fouling her as she went for a shot. Reghaissïa was rewarded for her effort with 2 free throws which she scored to make it a 1-point game.
An unusual error by Joens with just under a minute to play led to Arras' final assault.
Reghaissïa was again in the position to shoot, which she did with no hesitation, a three-ball for Arras to take the lead for the first and last time in the game with 39 seconds to play.
Five seconds later Reghaissïa decided it was better to foul Ndongue then let her have a free shot. It was her 5th foul so she had to leave the game while Ndongue only split the pair leaving Arras with the advantage.
Arras went 5-of-6 from the free-throw line in the last 20 seconds to pull off the victory while Reghaissïa was getting the Arras' fans on their feet.
Arras were without Leilani Mitchell (WNBA) and Pauline Akonga-N'Simbo (pregnant) but in the end it did not matter as the team won their first ever Coupe de France.
Bourges Basket: Romane Bernies 0, Margaux Galliou Loko 0, Ieva Kublina DNP, Nwal-Endéné Miyem 12 (7 rebounds), Céline Dumerc 10 (9 assists), Jennifer Digbeu 5, Cathy Joens 12, Marielle Amant 3, Emméline Ndongue 7, Kiesha Brown 1, Christelle Diallo 8
Arras: Joyce Cousseins-Smith 6 (7 assists) , Alexandra Tchangoue 10 (9 rebounds), Adja Konteh 1, Krissy Badé 8, Joelly Belleka DNP, Juliana Mialoundama DNP, Nadezdha Grishaeva 9, Sabrina Reghaissïa 19, Gabriela Marginean 11
---
Look back at what happened in the 2012 "Coupe de France" semi-final
Go to Coupe de France index page
Go to Women Playing Basketball In France Home Page
Return to the top of page
---
Coupe de France picture credit:


Allée/FFBB


Date created: 20 May 2012

---