What is it like playing basketball
for Arras in 2012?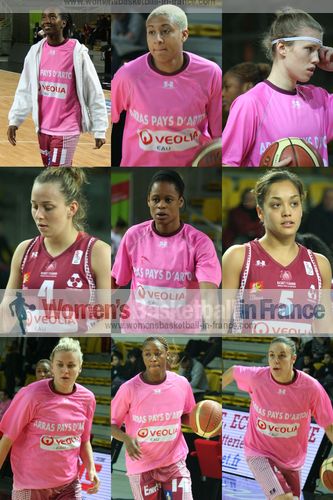 Arras has grown from an amateur structure for women playing basketball into one of the biggest clubs in France over the last ten years with a hall that can accommodate 2000 people.
Under the name of ASPTT Arras in 2006, the club won promotion to the Ligue Féminine de Basketball after winning the NF1 title.
The club changed its name in 2007 to Arras Pays d'Artois Basket Féminin. This was done to reflect the status change in going professional and improve marketing opportunities.
Today (2012) the club has a professional roster of nine players: five French players and one player each from America, Democratic Republic of the Congo, Romania and Russia.
They also add players from their youth academy "centre de formation" to make up the bench and cover for injuries.
We met up with the team during their recent French Cup game and spoke with Alexandra Tchangoue, Sabrina Reghaissïa and Krissy Badé about playing basketball professionally and the current season.
Playing basketball for Arras Pays d'Artois Basket Féminin is hard but can be rewarding
Alexandra Tchangoue, also known as Alex, spent six years in the USA: two years high school and four years university (Wake Forest).
Her college career came to an end on 22 March 2009 in the second round of the WNIT.
In her first season away from college she played in Italy and last season she made an immediate impact playing for AL Aplemont Le Havre in LF2.
This is her first season in the LFB and she is enjoying it. She explained that all through her career she has learned to adapt to her surrounding in order to play.
Tchangoue won a silver medal with the French U20 team at the 2004 European Championship - Elodin Godin and Florence Lepron, both from the 1985 generation, were also members of that team.
She had always wanted to play professional basketball but decided to go to the USA as the structure of college hoops suited her education plans.
Having experienced playing in LF2 in France, she believes the main difference is that to succeed in LF2 players must be able to play in many positions.
However in the LFB you have to stick to your role and position.
As rewarding as playing professional ball is, do not mention the words "travel and train" to Tchangoue. Arras is close to a high speed railway line so she spends a lot of time travelling in trains. She would not mind swapping her travel arrangements with that of Wake Forest.
Earlier this season Tchangoue avoided a serious injury when she brought down a basketball post.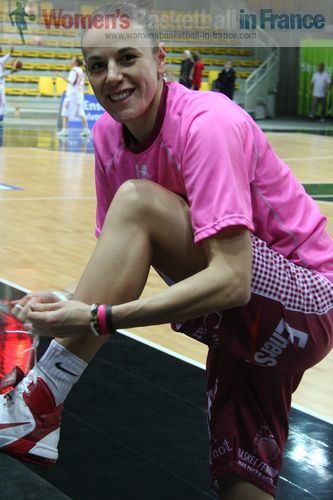 Sabrina Reghaissïa only joined Arras in November after ending her four-month sabbatical from the game.
Reghaissïa has been an active professional basketball player since 2000. She has played for France on 53 occasions and has won one French championship with Bourges Basket in 2006 and two French cup medals (2005 and 2006).
She explained that the league had changed so much in the last few years in a good way because the teams were more closely matched.
Nobody is surprised when the team at the top drops a game to the team at the bottom, which she believes is healthy for the game.
Her only wish for the professional game is that more clubs could offer longer contracts to players and try and build teams to last.
When joining Arras she was aware of the pressure on the club after last season's success. Although the recent results have not been in their favour they are working hard on turning things around.
She believed that the match against Illkirch-Graffenstaden in the French Cup was not pretty to watch but they got the job done and that their win put them on the right track for the next games.
Reghaissïa has always been interested in the "keeping the spectators happy" side of the game. When she played at Bourges Basket she was also in charge of the music played during any of the breaks.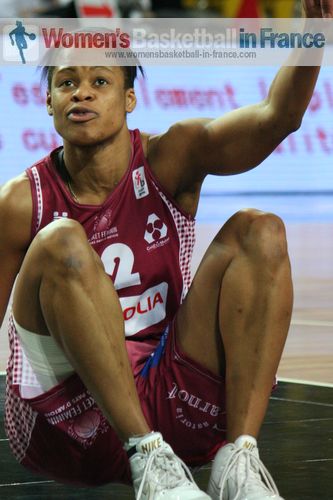 Krissy Badé is in her second season with Arras but has been playing basketball on the professional circuit since 1999.
While at the CFBB in 1996 she was NF1 champion. She had to wait until 2007 to win her only French Championship medal while playing for USVO. Badé also picked up a French Cup medal in the same year. Badé played for France 59 times.
Badé said her two seasons playing abroad were a fantastic experience. She played for two clubs in the Italian league before moving toClub Bàsquet Puig d'en Valls in Spain for a season.
On returning to France and joining Arras she explained that after the success of last season so many things have changed in the club.
A lot of key players left. Unfortunately the club had its fair share of injuries that effected pre-season preparation. So in reality this season it was a new start and the learning time was short for new players to the championship.
She went on to say that despite a poor run recently in the LFB they were focused and hoping that it would be their turn to win some close games.
She knew beforehand that the cup match was going to be hard but her team-mates found solutions at the right moments. The next match would be the EuroCup Women encounter against BC Chevekata.
Arras knocked out Chevekata in the semi-final last year with a 1-point victory over the two games. The two teams were in the same group during the group phase and shared one victory each.
Badé is looking forward to playing Chevekata and getting through a tough February schedule.
---
LFB roster Arras for 2011-2012
Go to Ligue Féminine de Basket 2011-2012 page
Leave Ligue Féminine de Basket season 2011-2012 page and return to home page
Go to playing basketball blog page
Return to the top of playing basketballnews page
Playing basketball picture credits:


womensbasketball-in-france.com


Date created: 30 January 2012

---