Young players shine in round 1 of
EuroCup Women
The difference in levels between the teams in the EuroCup Women competition is such that FIBA Europe tends to report on the performance of youth players during the opening rounds.
Mondeville was the only French club not in action this week due to being in a group of three. Basket Landes lost by 2 points on the road. Otherwise it was a perfect start for French clubs. However the story of the round was the victory of Telge Basket from Södertälje in Sweden against Dynamo GUVD (67-59).
For people familiar with Swedish basketball, the victory of Telge Basket does not come as a surprise. The club is a youth development centre that has managed to keep players from crossing over to the NCAA college system. Amanda Zuhai who starred for Sweden U18 during the summer came up with a game high 22 points and 18 rebounds.
Brittney Thomas who recently graduated from Michigan State University added 15 points as the hosts held off their Russian opponents in an exciting final-quarter finish.
In the best game of the round ZKK Partizan Galenika beat MBK Ruzomberok (103-89) with 24 points coming from Natasa Ivancevic who is well known for her time in France with several clubs.
EuroCup Women news from day 1 - Belgium 0-2 Turkey
ZKK, playing at home, struggled for 32 minutes (69-70) before finding a second wind to come off with the victory.
Lotto Young Cats from Belgium lost out to Bestiktas from Turkey with new signing Ilona Korstin (58-69). Dexia Namur, also from Belgium, fell short at home against the Turkish opposition (62-68).
Saint Amand Hainaut Basket had no trouble in seeing off Lemminkainen (86-65) with Amisha Carter (in picture) helping herself to 27 points.
Dynamo Kursk made no mistakes against Olimpia (83-53) while Botas crushed Lombos (90-52) and in the only TV match of the week the Flying Foxes from Austria were beaten at home by Gran Canaria (47-54). The match winner for the Spanish team was Astou Ndour who scored 15 points and captured 8 rebounds.
EuroCup Women action on day 2:
Arras without Alexandra Tchangoué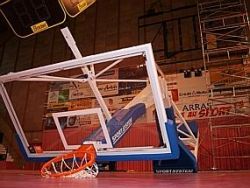 Alexandra Tchangoué from Arras was hurt this week while checking the new basketball posts in their hall. Unfortunately the structure was not stable and when Tchangoué tested the net, she brought the whole structure down.
Arras traveled to Belgium for their first EuroCup Women tie and beat BBC Sint-Katelijne-Waver (78-47) with Pauline Akonga-N'Simba scoring 25 points and picking up 10 rebounds.
Nantes-Rezé made light work of AD Vagos (70-39) while Basket Landes fell on the road to Sdent Helios (74-76). Basket Landes fell apart during the second and third quarter but almost forced overtime.
Anaïs Le Gluher-Cano was sent to the free-throw line with about one second left to play. She hit the first but missed the second free throw with the hope that Jennifer Humphrey might win the offensive rebound.
Humphrey won the rebound but match hero Shyra-Quontae Ely blocked the shot. In the rest of the action Dynamo Kursk played Olimpia again and crushed them (104-39). Ekaterina Arseneva led the way with 19 points and 14 rebounds while Ekaterina Lisina added 18 points and Yuliya Rytsikava had 17.
Group H members Kayseri Kaskispor beat Maccabi Bnot (71-49) with 20 points coming from Latoyo Sanders.
2007 champions WBC Dynamo beat BC Horizont (81-69) while defending champions Elitzur Ramla in their first competitive match of the season beat Spartak Nognsk (89-51). Shay Doron led the way to victory with 20 points for the Israeli champions.
Due to industrial action by Israeli players about increasing the quota of foreign players allowed on court to four, the championship has been disrupted.
There was no fairytale start for SISU from Denmark. They were blown away by BC Chevakata (34-74).
Highlights from Sint-Katelijne-Waver vs Arras
Our friend Christian Detroz from basketfeminin.com in Belgium has put together highlights and comments from the game. The interviews are in French and Dutch.
Young Cats vs Besiktas
Dexia Namur Capitale vs Ted Optimum Ankara
---
Visit our 2011-12 Ligue Féminine de Basketball page
Visit our EuroCup Women index page
Visit WBBIF Blog for latest news
Return to the top of EuroLeague Women news page
EuroCup Women picture credits:


womensbasketball-in-france
La Voix du Nord

Date created: 4 November 2011
---