EuroCup Women 2011-2012

The EuroCup Women became a FIBA Europe competition in 2003 although the competition had been created in 1974.
The format of this event has been modified for the 2011-2012 season due to declining numbers of teams taking part. FIBA Europe came up with two formats:
1. If more than 32 clubs register, then an elimination round will be played to reduce the number of clubs to 32. This will lead to 8 groups of 4 clubs.
2. If less than 32 teams clubs register, then the elimination round will be played to reduce the number of clubs to 24. This will lead to a qualification round of 6 groups of 4 clubs.
When the draw was made on 9th July 2011 only 31 teams entered and FIBA Europe decided on not having an elimination round as stipulated in option 1.
Instead the teams were divided in eight regular season groups (seven groups of four teams each and one group with three teams) for the first phase of the competition.
The top two teams from each group will qualify for the eighth-final (also known as the round of 16). The draw (brackets) for the knock-out phase is determined by the teams' ranking after the group phase.
2. The play-off series and final are two legged matches played home and away with the results based on aggregate score.
This competition does not receive the same amount of television or web streaming coverage as the EuroLeague Women but it is possible to follow the play-by-play live actions of the matches with live streams from the clubs on match day.
You can view our news from previous seasons by selecting the season by clicking on the links on the right side of the page.
This page is updated all along the season as we follow the competition. You can subscribe to our RSS Feed to receive information on our news' updates.
If you are not familiar with the RSS Feed just click on this link for instructions: What is a RSS Feed?
You can move between sections as they appear by clicking on the links below or by scrolling down the page.

1. The news from the play-offs
2. The qualification round news
3. General news
---
Play-off news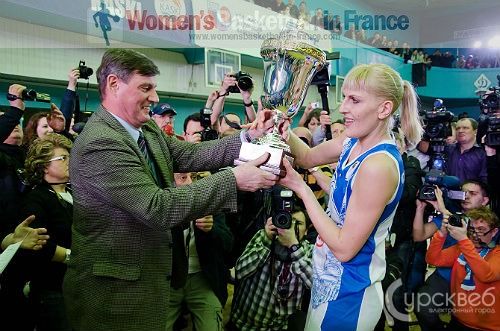 22 March 2012 Dynamo Kursk overturned Kayseri Kaskispor in game two for the title
19 March 2012 Kayseri Kaskispor lead Dynamo Kursk by 14 points
02 March 2012 Kayseri Kaskispor are in the final
01 March 2012 Dynamo Kursk defeat BC Chevakata
23 February 2012 Dynamo Kursk & Kayseri Kaskispor lead semi-final series
10 February 2012 Russian and Turkish delight - it's over for France
03 February 2012 Arras & Hainaut Basket down by 9 points in quarter-final
20 January 2012 Quarter-final pairings set
20 January 2012 Arras and Hainaut Basket continue the adventure
15 January 2012 Eighth final first leg round-up
09 December 2011 Eighth-final pairing and brackets set
Return to the page index
---
Qualification round
09 December 2011 Group phase is over - disappointment for WBC Dynamo Moscow
03 December 2011 Group C is still undecided - delight for Basket Landes
25 November 2011 Basket Landes still in the qualification race
24 November 2011 French clubs beat opponents for second time
17 November 2011 Round three once again difficult for French clubs
11 November 2011 Hard but perfect for Turkish clubs
11 November 2011 Basket Landes knock over ZZZ Partizan Galenika
10 November 2011 SISU Basket made Arras work hard
04 November 2011 A few surprises during the first round
Return to the EuroCup Women page index
---
General news
18 November 2011 Anger in Gran Canaria against Hainaut Basket
16 November 2011 Israeli basketball is back after a long delay
03 November 2011 5 teams from France ready to roll
Return to the EuroCup Women page index
---
Like this page / Aimez cette page