SISU Basketball playing
EuroCup Women in France
SISU Basketball's participation in the EuroCup Women is an indication of how women's basketball in that country has picked up over the last few years especially because Handball and Football (soccer) attract women athletes.
Anda Nedovic and Ida Preetzmann are two Danish internationals that currently play professionally with teams in the French second division (LF2).
The visit of SISU Basketball to France despite all the EuroLeague Women action was an opportunity not to be missed as our coverage of Danish basketball has been restricted to youth international matches.
The encounter should not go down in the history books as one of the greatest matches of all time. But for the Danes there were signs of encouragement.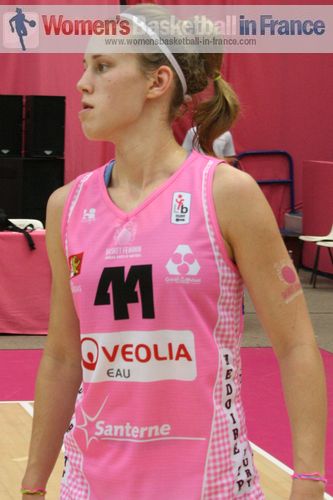 Arras did not play well and really had to thank Joyce Cousseins-Smith (20 points) and Gabriela Marginean (23 points - in picture) who both dished out 3 assists each for the victory. The only other player doing anything offensively was Pauline Akonga-N'Simbo who scored 11 points.
Arras struggled with the zone, failed to raise their game and made too many unforced errors leading to turnovers.
SISU Basketball played a simple game at the start and despite a high turnover rate led (11-8) with five minutes played.
Arras finally stepped up and edged the first quarter (21-14). Within two minutes of the second quarter they had a double-digit lead (25-14).
The Danes started to hustle more and a switch to zone enabled Tea Joergensen (14 points), Kiki Lund (12 points), Stephanie Madden (17 points and 11 rebounds) to start scoring more regularly.
Cool heads at the free-throw line enabled the Danes to go into the break with only an 8-point deficit (31-38).
SUSU had their best phase of the game at the start of the third quarter and with a massive three-pointer by Lund they were just 3 points down (42-45) with 15 minutes to play.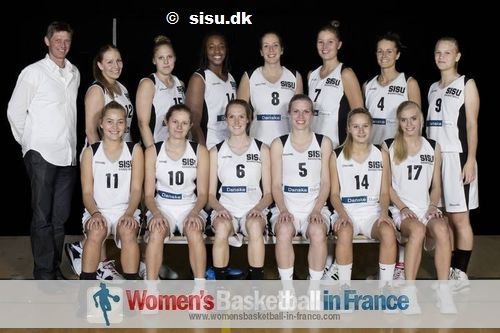 Unfortunately for them Arras woke up, just conceding 1 point during the last five minutes of the quarter while restoring their double-digit advantage.
SISU's difficulty in scoring continued as they tired while Arras stretched their advantage (63-46) with eight minutes to play.
The Danes were unable to get back into the game and despite some good action ended up losing the match (54-70).
---
A few surprises during the first round
Visit our EuroCup Women index page
Visit WBBIF Blog for latest news
Return to the top of ECW news page
EuroCup Women picture credits:


womensbasketball-in-france
SISU.dk

Date created: 10 November 2011
---