EuroCup Women
2012-2013 season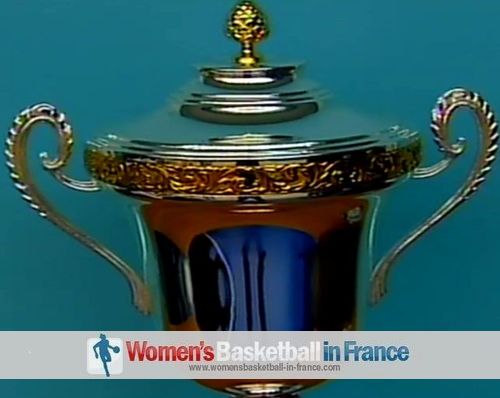 The 2013 edition of the EuroCup Women is played in two phases.
The regular season runs from 24 October 2012 until 29 November 2012.
The knock-out phase starts with the Eighth-Final on 6 December 2012 and ends with the final match on 14 March 2013.
30 teams have been registered for this edition with the French, Russian and Turkish federations providing five teams each.
The competition format is as follows: 30 teams are divided into eight groups (six groups of four teams each and two groups with three teams).
The teams that finish first and second from each group then qualify for the Eighth-Finals.

The brackets for the play-offs are determined by the ranking of the teams established at the end of the regular season.

All play-off games from the Eighth-Finals to the Finals are played over two games (home and away) with the winner being determined by the aggregate score rule.
If live basketball coverage is not available on television or by web cast during the match day, it is possible to follow the play-by-play live actions of the matches here.
This page is updated throughout the season with links to all our articles below.
You can also follow our updates by subscribing to our RSS Feed on the top right of the page.
05 July 2013: The regular season groups for 2014

04 July 2013: 28 teams in the draw for EuroCup Women 2014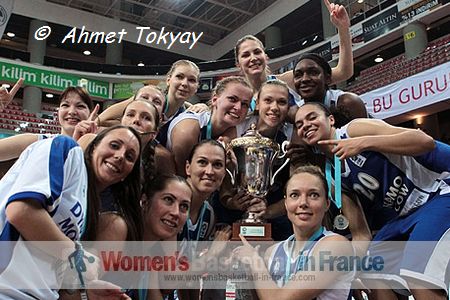 Play-off round -  Knock-out stage

08 March 2013: Dynamo Moscow lead Kayseri Kaskispor by 5 in final

14 February 2013: Dynamo Moscow & Kayseri Kaskispor qualify for EuroCup final

08 February 2013: Dynamo Moscow & Kayseri Kaskispor lead semi-final series
25 January 2013: No luck for all French clubs
24 January 2013: Nantes-Rezé fall at home and are eliminated

17 January 2013: Nantes-Rezé's victory was the only high point for French clubs

13 December 2012: EuroCup Women adventure continues for Nantes-Rezé, Lattes Montpellier and Hainaut Basket
13 December 2012: Nantes-Rezé defeated by Olimpia Grodno
07 December 2012: French clubs have the advantage going into game two
Group stage - Regular season

01 December 2012: Eighth-Final pairings and brackets set
29 November 2012: EuroCup Women group phase ends - 4 clubs from France continue
29 November 2012: Basket Landes have been eliminated after their defeat against VS Prague
23 November 2012: Only Tarbes win the battle against a Russian club
16 November 2012: Three French teams punch ticket for play-offs
09 November 2012: Four French teams are buckling up in round 3

01 November 2012: Shining results in EuroCup Women
for French clubs
25 October 2012: Four out of five clubs from France win in round 1

The regular season groups for EuroCup Women 2013 were as follows:
| | | | | |
| --- | --- | --- | --- | --- |
| GROUP A | Chevakata | Lattes Montpellier | CSM Satu Mare | SISU |
| GROUP B | Olimpia | Hainaut Basket | TED Ankara K. | Lotto Y.C. |
| GROUP C | Spartak Noginsk | Tarbes GB | Mersin BB SK | Belfius Namur |
| GROUP D | Dynamo GUVD | Nantes Reze | TSV Wasserburg | BBC S. Katelijne |
| GROUP E | Horizont | Södertälje BBK | Kayseri K.S. | |
| GROUP F | Dynamo Kursk | Dunav 8806 | Botas SC | |
| GROUP G | Dynamo Moscow | Basket Landes | Partizan Galenika | VS Prague |
| GROUP H | Ruzomberok | Elitzur Ramla | Homend Antakya | Kibirkstis |
---
Picture credits:
womensbasketball-in-France.com
Ahmet Tokyay
Date created: 26 October 2012
Last Updated 05 July 2013

Like this page / Aimez cette page