In EuroCup Women action
Russians frustrate teams from France

Russia beat France 3-1 in EuroCup Women action this week. These victories enabled all three Russian teams to book their place in the last 16.

Tarbes were the only winners from France in either the EuroCup or EuroLeague Women competition in round 5.

Lattes Montpellier dropped their first EuroCup Women game of the season (67-69) against BC Chevakata. Montpellier trailed by as many as 20 points at one stage of the match but could have won the game if they hit a few more free throws (19-of-33).
All the same Glory Johnson was on top form for Chevakata with 34 points while Géraldine Robert had 21 for Montpellier. Chevakata join Montpellier from Group A in the next round. Satu Mare's victory against SISU (86-73) does not have any value as both teams are eliminated.

Hainaut Basket were beaten in overtime on the road (65-70) by Olimpia Grondo from Belarus. Nadzeya Drozd had 22 points for the hosts. As a result of this victory Olimpia have qualified from Group B at the expense of TED Ankara who had beaten Lotto Young Cats (81-64).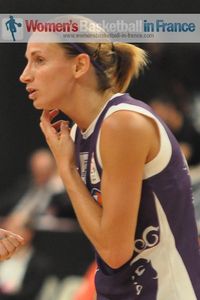 Paoline Salagnac (in picture) scored 18 points and Jovana Rad added 21 points as Tarbes beat Spartak Noginsk (65-47) to punch their ticket for the next phase of the competition from Group C. The defeat for the Russian club side ended their qualification dream, leaving the second ticket for Turkish side Mersin who beat Belfius Namur (80-68).
Nantes-Rezé also travelled to Russia but came away with nothing as they were beaten by Dynamo-GUVD (53-61). A 23-9 third-quarter run was enough for the hosts to take command of the game and ensure their qualification from Group D.
In Group G, Basket Landes were defeated by Dynamo Moscow (51-66) but are not eliminated yet because VS Prague won on the road against Partizan Galenika (78-61). While Dynamo Moscow are assured a place in the last 16, the three other teams all have a chance of qualifying.
VS Prague is in the strongest position in the three-way tie situation because a victory next week see them clinch the second place in the group.
For Basket Landes to qualify, they must win on the road against VS Prague and Dynamo Moscow have to beat Partizan Galenika.
The other teams that have qualified this week for the following phase are: Kayseri Kaski Spor, Adana Botas and Antakya.
ECW results from round 5

BC Chevakata 69-67 Lattes Montpellier
Partizan Galenika 61-78 VS Prague
Mersin 80-68 Belfius Namur
Dynamo Moscow 66-51 Basket Landes
Ted Ankara 81-64 Lotto Young Cats
Spartak Noginsk 47-65 Tarbes
Dynamo-GUVD 61-53 Nantes-Rezé
Satu Mare 86-73 SISU
Dunav 8806 70-84 Adana Botas
Olimpia 70-65 Hainaut Basket
TSV Wasserburg 87-58 BBC Sint-Katelijne-Waver
Telge Basket 61-80 Kayseri Kaski Spor
Antakya 66-70 Vilnius Kibirkstis
---
Visit our EuroCup Women 2012-2013 section

Visit our home page
Visit our "What's New" page
picture credits:
womensbasketball-in-france.com


Date created: 23 November 2012
Like this page / Aimez cette page