2013 EuroCup Women
plenty to play for in the Eighth-Final

The 2013 EuroCup Women Eighth-Final has started well for the four clubs from the Ligue Féminine de Basketball (LFB) with four road victories. However as all French teams are seeded in the top 8, on paper they are expected to qualify for the quarter-final.

Tarbes, the number 7 seeds, are involved in a tricky series against number 10 seeds Dynamo Moscow from Russia. It is not often French teams come away from Russia with a victory so Tarbes' (55-54) victory can be viewed as an exploit.
However despite having a talented roster Dynamo Moscow are not one of the giants of Russian basketball these days.
The match was played in a practically empty arena with the hosts giving the ball back to Tarbes on 24 occasions (turnovers) and paid the price with a 1-point defeat.
Tarbes were not brilliant themselves. But they deserved the first-leg victory with Angelica Robinson (in picture) doing her work inside with 17 points and 9 rebounds and with the three-point shooting by Kim Smith's (11 points and 10 rebounds).
As the series is based on aggregate score over two games, Tarbes will have to raise their game to keep Kristi Toliver and Crystal Langhorne quiet during the return leg.
They also need to keep an eye on Ilona Korstin who has a habit of playing well when she comes to France.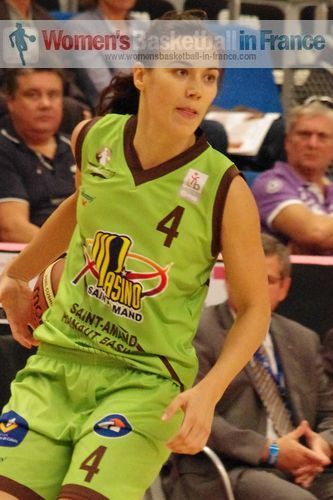 Hainaut Basket were in danger of suffering a heavy defeat against BC Horizont after trailing by 15 points by the end of the first quarter.
BC Horizont's early dominance enabled them to go into the locker room leading (36-23).
However Hainaut Basket were a different team during the second half of the match. With three minutes to play they took the advantage for the first time (54-53). The lead changed hands a couple of times before Amanda Jackson (14 points) settled the game with the last shot of the match for Hainaut Basket's victory (60-58).
Laura Garcia (in picture) hit 20 points for Hainaut Basket to top all scoring for the match.
Lattes Montpellier needed a third-quarter push in which they outscored Adana Botas 27-7 to get into the game. Edwige Lawson-Wade was the catalyst of the run with 10 points in the quarter.
Lattes Montpellier's advantage (69-62) going into the second game should be enough to see them qualify for the EuroCup quarter-final. However they need to do a better job in marking Courtney Paris who scored 23 points while also pulling down 15 rebounds.
Nantes-Rezé did not make any mistakes in holding off Olimpia Grodno (77-59) and already have one foot in the EuroCup Women quarter-final.

The rest of the EuroCup Women news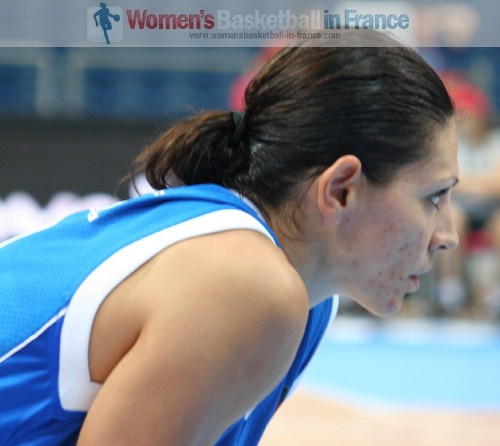 Jolene Anderson fired in 30 points while Jana Veselá helped herself to 19 points as Homend Antakya made home advantage count in beating BC Chevakata (79-61).
In the all-Turkish clash, last season's beaten finalist Kayseri Kaskispor beat Mersin (91-87). Evanthia Maltsi (in picture) was the leading scorer for Kayseri with 21 points. For Mersin Shavonte Zellous and Erlana Larkins poured in 24 and 22 points respectively.
VS Prague gave the defending champions and top seeds Dynamo Kursk a scare before falling (63-66) while Dynamo-GUVD huffed and puffed their way to victory against MBK Ruzomberok (60-58).
While Nantes-Rezé appear to be able to keep their comfortable advantage, BC Chevakata have a mountain to climb at home. Yet the second leg should be interesting with possible upsets still on the cards.
EuroCup Women eight-final first leg results.

VS Prague (16) 63-66 Dynamo Kursk (1)
Kayseri Kaskispor (9) 91-87 Mersin (8)

Olimpia Grodno (12) 59-77 Nantes-Rezé (5)
MBK Ruzomberok (13) 58-60 Dynamo-GUVD (4)

BC Horizont (14) 58-60 Hainaut Basket (3)
Homend Antakya (11) 79-61 BC Chevakata (6)

Dynamo Moscow (10) 54-55 Tarbes (7)
Adana Botas (15) 62-69 Lattes Montpellier (2)

---
Visit our EuroCup Women 2012-2013 section

Visit our home page
Visit our "What's New" page
Picture credits:
womensbasketball-in-france.com
Date created: 07 December 2012
Like this page / Aimez cette page