Basket Landes' EuroCup Women
challenge is over

VS Prague ended the 2013 EuroCup Women season for Basket Landes (68-58) in their final group game.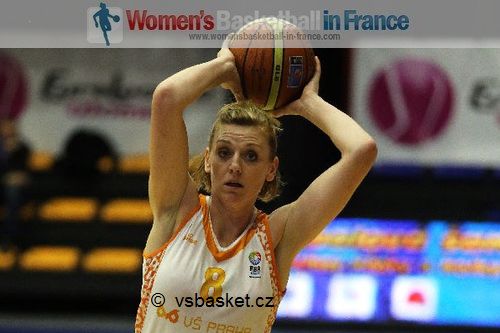 VS Prague also won the second qualification place for the next round from ECW Group G. 39 year-old veteran center Petra Reisingerova (in picture) led her young team to victory with a game high 21 points and 11 rebounds. Three other players finished with double-digit scores with the team sharing 17 assists.

For Basket Landes four players finished in double digits with point guard Olivia Epoupa having the best performance with 13 points, 3 assists, 5 rebounds and 4 steals.
At the start of the game VS Prague were quickly into their stride and led (10-3) with a little of two minutes played.
Basket Landes had to take risks because a defeat meant elimination. They quickly picked themselves up. In what turned into their best sequence of the game they outscored VS Prague to briefly lead (15-14) seven minutes into the game.

However they were unable to maintain the offensive momentum and ended up conceding the last 6 points of the quarter to trail (15-20).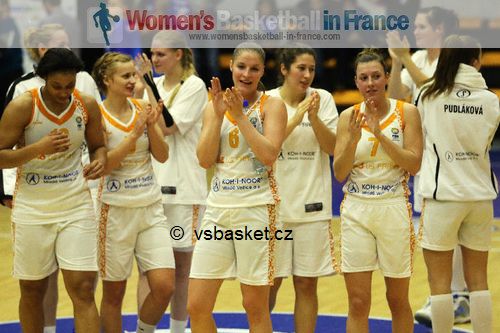 Basket Landes used a lot of energy chasing after the score during the second quarter without ever going in front. They went into the interval trailing (25-30).
The hosts took control for good with a 21-6 run during the first seven minutes of the third quarter (51-31).
Basket Landes struggled to break down their opponents' defense and spent most of the time taking wild shots half way through the final quarter (51-58).
VS Prague did not allow Basket Landes to get any closer as Lenka Bartáková (14 points and 6 assists), Marshae Dotson (10 points) and Aliaksandra Tarasava (13 points and 6 assists) resumed offensive duties to finish the game.
For Basket Landes Carmen Guzman top scored with 14 points while Tamara Abalda and Valériane Ayayi added 12 and 10 points each.

---
Like this page / Aimez cette page