2013 EuroCup Women
semi-final game one

Dynamo Moscow are the only team in the 2013 Eurocup Women semi-final that have won this competition. They achieved this feast in 2007. However today not a single player from that winning team is at the club.
Dynamo Moscow eliminated two clubs from France to reach the semi-final: Tarbes in the eighth-final and Lattes Montpelier (BLMA) in the quarter-final.

Playing in a practically empty arena Dynamo Moscow beat Russian rivals BC Vologda-Chevakata (82-73) in the first game of the two-leg aggregate score semi-final series.
Dynamo Moscow were leading (73-56) with just over six minutes to play. They appeared to be cruising towards a a big score victory but their guests woke up.
Vologda-Chevakata finished the first game with a 7-2 run and in the process reduced their deficit to a single digit number. With this result they are keeping the series alive.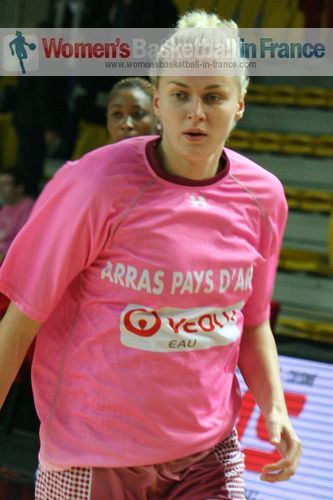 Nadezhda Grishaeva (in picture) who played in France with Arras last season (2011-12) was the leading scorer for Dynamo Moscow with 12 points while Crystal Langhorne helped herself to a double-double with 17 points and 10 rebounds.
Glory Johnson was the best player for the visitors with 18 points and 14 rebounds.
Despite the victory Dynamo Moscow's head coach Vladimir Shtam was not that happy and said after the game "We didn't play our best game and didn't realize all of our tactical ideas. We hoped for a more convincing win. Grishaeva, Abrosimova and Vidmer had a good game, however my American players can play better than they did in the second half."

MBK Ruzomberok have not won a game at home in the EuroCup Women this season. So it comes as no surprise that they lost (60-79) to their visitors Kayseri Kaskispor.
Kayseri Kaskispor, led by Lara Sanders (22 points), took full advantage of a zero shooting night for Sequoia Holmes (0-from-10) from Ruzomberok to take a 19-point lead into game two.
The Turkish side which lost in the final of the competition last season still have a tough job on their hands to qualify for the final despite a big advantage.
MBK Ruzomberok have not been beaten on the road this season and have shown what a good team they are when the odds is against them.

First leg results:

MBK Ruzomberok 60-79 Kayseri Kaskispor
Dynamo Moscow 82-73 BC Chevakata
---
Like this page / Aimez cette page