2013 EuroCup Women Champions
Dynamo Moscow

Ilona Korstin won the 2013 EuroCup Women trophy for Dynamo Moscow with the play of the series with 16 seconds to play.
Despite losing the second match by (70-74), they won the series (136-135) to pick up the cup for the second time in their history.

Ilona Korstin poked the ball off the foot of Nuria Martinez and then ran all the way to the other end of the court for an uncontested lay-up. Her 2 points put Dynamo Moscow back in front on the aggregate score by a single point (136-135).

Kayseri Kaskispor still had time to reverse the situation but panicked during their last play and failed to get a decent shot off.
So for the second consecutive season Kayseri Kaskispor have to be content with the runners-up medal.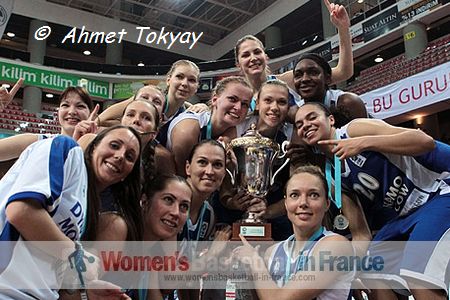 It was a tough loss for the Turkish club that had 11,000 fans cheering them on.  Kayseri had done everything right leading in the match (61-51) and the series by 5 points going into the final quarter.
Kayseri Kaskispor still had the advantage (69-62) with three minutes to play. However the pendulum started to swing in the direction of the Russians after Korstin hit a three-pointer.
Yet with the crowd supporting them, Kayseri were able to hold their aggregate advantage thanks to a two-point jump shot from Zoi Dimitrakou and a split pair from Asjha Jones (74-65).
Yet the Russians did not panic and Kristi Toliver hit a deep three-pointer with 29 seconds to suddenly make it a 1-point game on aggregate score.
Korstin did the rest and Dynamo Moscow take back the EuroCup Women's trophy to Russia.
For Dynamo Moscow Toliver had 23 points while Nadezhda Grishaeva, Crystal Langhorne and Korstin contributed 14, 12 and 11 points each.
For Kayseri Kaskispor Lara Sanders, Zoi Dimitrakou, Evanthia Maltsi and Nuria Martinez were the main scorers with 19, 17, 14 and 10 points respectively.
You can watch some game highlights below:

---
Like this page / Aimez cette page