EuroCup Women 2014
Down to 28 teams

The EuroCup Women ECW competition has just 28 teams for the 2014 edition. The financial crisis that appears to hunt women's teams means that clubs from Italy, Poland and Spain are missing from the list.

Normally France send five teams into this competition. But with the issues surrounding the future of Lyon BF and Perpignan Basket not resolved only four teams made the submission deadline.
Basket Landes, Nantes-Rezé and Tarbes have already participated last season while Villeneuve d'Ascq are back after two seasons away from international club competition.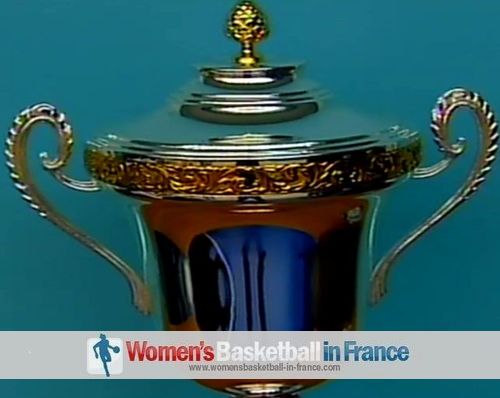 FIBA Europe accepted the proposal of Belgium clubs Spirou Monceau, Point Chaud Sprimont and Castors Braine to play under the umbrella of Three Wallons Teams (TWT).
The 28-team field is made up of five teams from Russia and Turkey which is the maximum allowed by their respective federation. France are next with four teams while the federations of Belgium, Belarus and Hungary have entered three teams.
Unless there is a change in competition rules before the draw date the teams are to be split into seven groups of four teams. The top two teams from each group and the best two third-place teams advance on to the knock-out phase.

The full list of countries are in the table below:
| | |
| --- | --- |
| BEL | Belfius Namur Capitale |
| BEL | Lotto Young Cats |
| BEL | 3 Walloon Teams Association |
| BLR | SBC Olimpia |
| BLR | BC Minsk-2006 |
| BLR | BC Horizont |
| BUL | Dunav 8806 |
| FRA | Tarbes GB |
| FRA | Basket Landes |
| FRA | Nantes Reze Basket |
| FRA | Villeneuve d'Ascq ESB |
| GER | TSV 1880 Wasserburg |
| HUN | PINKK Pécsi 424 |
| HUN | Work Force DVTK Miskolc |
| HUN | PEAC-Pécs |
| ROU | ACS Sepsi-SIC SF. Gheorghe |
| RUS | Dynamo Kursk |
| RUS | Dynamo Moscow |
| RUS | Chevakata |
| RUS | Spartak Noginsk |
| RUS | Dynamo GUVD |
| SVK | MBK Ruzomberok |
| SWE | Norrköping Dolphins |
| TUR | Istanbul Universitesi BGD S.K. |
| TUR | Mersin Büyüksehir Belediyesi |
| TUR | Tarsus Belediyesi |
| TUR | Homend Antakya Belediyesi |
| TUR | Botas Spor |



---
Visit our EuroCup Women 2012-2013 page
Visit our "What's New" page

Picture credits:
womensbasketball-in-france.com

Date created: 04 July 2013

Like this page / Aimez cette page