L'Espace François Mitterrand
Basket Landes' home in EuroCup Women
For the EuroCup Women competition Basket Landes have had to move their match to the l'Espace François Mitterrand in Mont-de-Marsan. Instead of 700 people cramped into their usual gym, more than 2000 people turned up to watch them in action in an arena that conforms to FIBA Europe's international requirements.
The match was sold out and it was not possible to buy tickets on the door.
The team of ZKK Partizan Galenika have had a perfect start to the season in their domestic competitions and on paper have a top roster with plenty of current and former internationals.
In addition they have three players who have played in the Ligue Féminine de Basketball: Hajdana Radunovic (Kuki), Natasa Ivancevic and Milica Dabovic.
Basket Landes wasted no time in getting into the game with 7 points in the first two minutes: Katarina Manic and Anaïs Le Gluher-Cano with a couple of points before a three-ball by Bineta Diouf.
ZZZ reacted quickly with points by Radunovic and Dajana Butulija but the hosts were on fire. Marion Laborde and Jennifer Humphrey got onto the score sheet to complete the scoring of all starters (11-8) after five minutes.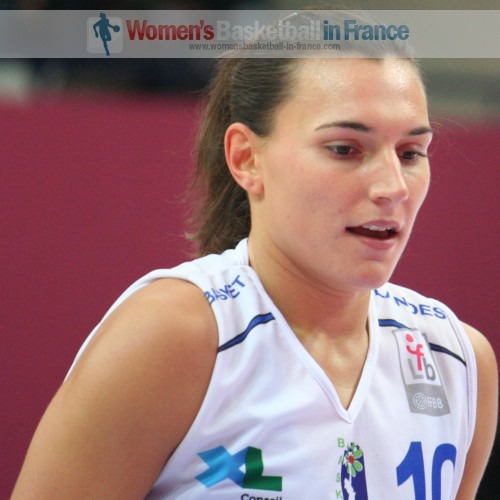 Olivier Lafargue, the coach from Basket Landes, was able to start turning his bench. With Amélie Pochet (in picture) leading the way his team finished the first quarter with a 13-0 run to lead (27-12).
Basket Landes did not stop after the two-minute pause and hit the first 4 points to complete a 17-0 run.
Manic then committed a couple of quick fouls which meant she had to return to the bench with 3 fouls after only 12 minutes. Humphrey and Pochet were also to get themselves in foul trouble during the quarter.
The guests switched to zone and started to score easy baskets but also committed too many fouls which allowed Basket Landes with solid free-throw shooting maintain their advantage going into the locker room (49-34).
After the break, the pace of the match slowed down and both sides struggled to score. However Humphrey continued her perfect display to increase her total to 15 points as the hosts went into the final quarter with an increased lead (61-44).
4 quick fouls by ZKK Partizan Galenika at the start of the final quarter more or less ended any chance of them saving the game.
Basket Landes hit 9-from-14 from the charity stripes in the last quarter to finish the game with a (78-64) victory.
Humphrey finished the game with 17 points and 9 rebounds with five other players in double digits: Manic 10 points and 6 assists, Gluher-Cano 17, Diouf, 12 and Pochet 11.
For the guests from Serbia Butulija led the way with 18 points while Ivancevic, Dabovic and Radunovic added 14, 11 and 12 points respectively.
---
A few surprises during the first round
Visit our EuroCup Women index page
Visit WBBIF Blog for latest news
Return to the top of ECW news page
EuroCup Women picture credits:


womensbasketball-in-france

Date created: 11 November 2011
---