EuroCup Women
Five teams undefeated
At the halfway stage of the 2011-2012 EuroCup Women campaign only five teams remain undefeated: Botus Sports club, Hainaut Basket, BC Chevakata, Dynamo Kurst and Elitzur Ramla could all book their place in the last 16.
Laurent Buffard finally had something to smile about after Nantes Rezé beat Optimum Ted Ankara (94-70). Lenae Williams was on fire from beyond the arc hitting 7-from-11 shots to finish with 38 points while Caroline Aubert dished out 11 assists.
Buffard said after the match "It was an important game for us because we had to win to survive in this competition. We defended well against Walker and Ajavon. Our defense gave us fast breaks which is the game we want to play. We played aggressively that resulted in free throws. But it's just a win, we have to continue to work. With the goal average we're leader of the group, that's positive. Lenae Williams? When she plays like that she's just unbelievable!"
In the other game in Group C, Ifunanya Ibekwe led Dexia Namur to victory against AD Vago (73-64) with 20 points.
Day 2 sorrows for French clubs in the EuroCup Women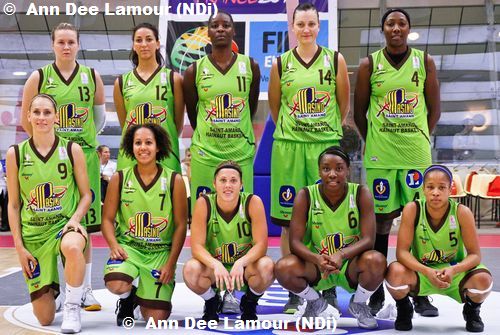 Hainaut Basket's victory against Gran Canaria (78-67) was spoilt because of the injury to Amisha Carter early in the first quarter. The match was delayed because the court was too slippery and Hainaut Basket refused to play on it.
Eventually everybody was moved to another gym at 7 kilometers (4 1/2 miles) away to finish the game.
Although Marina Solopova fired in 30 points for Hainaut Basket against Gran Canaria 2014, the news of the day was the return of Magali Lopez to the first team after a four-year absence.
Olesia Malashenko (17 points) now playing for BC Chevakata her former team-mates from Arras before the game started.
During the final quarter she single-handedly delivered the knock-out blow with 8 points as Chevakata made up a 6-point deficit to take the lead (65-64) with six minutes to play.
Arras collapsed and ended up losing (70-79) despite the efforts of Gabriela Marginean (23 points) and Pauline Akonga-N'Simbo (21 points).
Basket Landes struggled for 30 minutes against MBK Ruzomberok but still went into the final quarter leading (58-56). However once Carmen Guzman and Kamila Stepanova started going in the final quarter Basket Landes failed to react and ended up losing the game (68-78).
A defeat next week for Basket Landes may signal the end of their EuroCup Women dreams for this season.
The sad evening for clubs in the French LFB was completed as USO Mondeville were beaten at home by the defending champions Elitzur Ramla (55-63).
Elsewhere in the EuroCup Women competition
In what turned into the game of the round
Lotto Young Cats
beat Telge Basket (84-79). In an action packed game with plenty of tension and drama, once again
Emma Meesseman
came out on top with 18 points and 9 rebounds. Sofie Hendrickx and Jana Rama added 16 and 12 points each.
For Telge Basket Binta Drammeh finished with a double-double of 21 points and 10 rebounds. Cleopatra Forsman-Goga was the only player to be on the court for the 45 minutes and also finished with a double-double of 16 points and 11 rebounds.
Dynamo Kursk have one foot in the round of the last 16 after beating Kayseri Kaskispo (93-70) with a 26-point performance by Anna Petrakova.
Botas maintained their perfect record by beating WBC Dynamo (89-75). Courtney Paris was the pillar for the victors with 22 points and 15 rebounds.
BBC Sint-Katelijne-Wave needed to thank Sara Leemans for her coolness from the free-throw line as they held on to beat SISU (63-61).
After two defeats Dynamo-GUVD beat Bestiktas (68-60). Ilona Korstin was motivated for her return to Russia by scoring 22 points and collecting 12 rebounds. However it was not enough for a victory.
The Flying Foxes also won their first game of the competition (70-67) in a road win against Lemminkainen while Maccabi Bno also opened their victory account with a home win against Olimpia (76-58).
Natallia Anufryienka fired in 34 points to help BC Horizont beat Lombos (92-67) while Hajdana Radunovic's 12 points and 13 rebounds were enough to help ZZZ Partizan Galenika defeat Sdent Helios (75-71).
---
A few surprises during the first round
Visit our EuroCup Women index page
Visit WBBIF Blog for latest news
Return to the top of ECW news page
EuroCup Women picture credits:


womensbasketball-in-france

Date created: 18 November 2011
---