2012 EuroCup Women semi-final
Game one summary
With the elimination from the 2012 EuroCup Women of Arras and Union Hainaut Basket in the quarter-final, this competition holds no more interest for this season for French clubs.
All the same there are a number of players who have played in the French League that are still in the competition: Agne Abromaite, Gunta Basko-Melnbarde, Jessica Davenport, Marina Kress, Temeka Johnson and Olesia Malashenko.
In the first semi-final of the day between Russian rivals BC Chevakata and Dynamo Kursk, the end results was never in doubt after a strong first-quarter performance from Dynamo Kursk (21-12).
While it is safe to say that Dynamo controlled the pace of the game, their hosts BC Chevakata went on a 13-0 run to make it a 2-point game (55-57) with 7 1/2 minutes to play in the final quarter.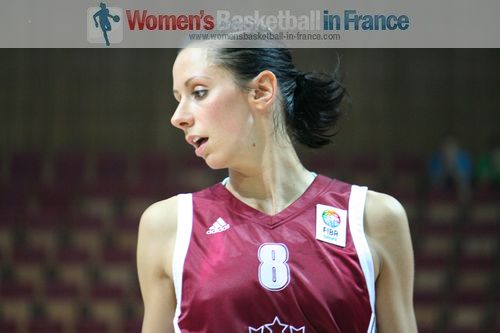 Temeka Johnson (13 points and 3 assists) ended the hosts' run with back-to-back scores before Anna Petrakova (17 points) settled the tie as they rolled to victory (71-62).
Ausra Bimbaite also scored 13 points while Michelle Snow (13 points) and Natalia Vodopyanova scored 11 points each. Gunta Basko-Melnbarde (in picture) only had one shot in her 18 minutes on the court for her 2 points.
For BC Chevakata Yuliya Kiseleva led the way with 13 points while Jessica Davenport and Russian international scored 12 and 10 points each. Olesia Malashenko who was a finalist in the EuroCup Women with Arras last season chipped in 8 points.
Kayseri Kaskispor continue to make waves in the EuroCup Women

For the followers of Turkish domestic basketball the victory of Kayseri Kaskispor against Botas Sports (77-65) did not come as a surprise as Kayseri had beaten them domestically twice this season.
Nicole Sanford who is 35-year old appears to be having a wonderful time in this competition. She fired in 18 points and picked up 11 rebounds while her much younger team-mate Latoya Sander fired in 20 points for the winners.
Kayseri made home advantage count as they a take a 12-point lead into the second leg.
Courtney Paris was the main player for Botas with 19 points and 22 rebounds.
Botas had the best start possible leading (12-2) inside the first five minutes but then failed to push their lead and allowed the hosts to outscore them 20-5 to trail (17-22) by the end of the quarter.
Kayseri Kaskispor stayed in front the rest of the way.
ECW semi-final results - first leg
BC Chevakata 62-71 Dynamo Kursk
Kayseri Kaskispor 77-65 Botas
---
Look back at the quarter-final second leg
Visit our EuroCup Women index page
Visit WBBIF blog for latest news
Return to the top of ECW news page
Picture credit:


womensbasketball-in-france.com
KAYSERI KASKISPOR KULÜBÜ

Date created: 24 February 2012
---