Alex Tchangoue writes basketball news stories for Wake Forest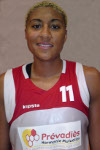 Alex Tchangoue
(left) was always in the basketball news during her four years at Wake Forest and she has made an immediate impact at
AL Aplemont Le Havre
.
Since she joined the club three weeks ago, AL Aplemont have not been beaten. In her first match she scored 25 points and last weekend she fired in 19 points.
In her latest outing she led her team with 17 points as they beat high flying Pleyber-Christ (62-49) for their fourth victory of the season.
For Pleyber-Christ Naignouma Coulibaly finished with a rare triple double combination, 12 points, 11 rebounds and 11 turnovers.
Armentières came out on top against Illkirch-Graffenstaden (66-57) with a balanced attack. Marie-Frédérique Ayissi and Anaïs Deas scored 12 points each while Caroline Lalart and Valérie Labbe scored 11 points each.
The outcome of the match was decided during the third quarter when the SIG failed to score for nine minutes while conceding 12 points to trail (42-51) going into the final quarter.
Nice took full advantage of the defeats of Pleyber-Christ and the SIG to move into fourth place alone after beating Limoges (74-51).
Despite the defeat Limoges remain in third place.
The rest of the basketball news from round 12
Lyon BF bounced back from last weekend's defeat to beat Rennes (67-53). Lyon never trailed in this match and paced themselves to victory after taking command (23-10) during the first quarter.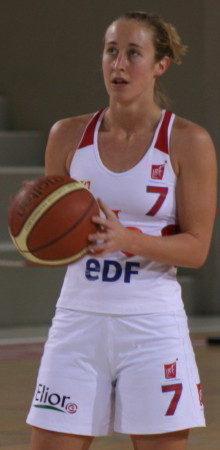 Julie Legoupil (right) led the way to victory with 18 points.
Roche Vendée remain in second place after negotiating a tricky road game against the CFBB. All nine players scored in the (68-48) victory with Elodie Gerard coming out on top with 18 points.
Reims' domination of the rebounds enabled them to get past Angers (76-63) to stay in third place. Lorraine Lokoka went 10-of-12 from the charity stripes and scored 18 points for Reims while Floriane Herrscher finished with a double double of 16 points and 13 rebounds.
The signing of Faeza Bouderra made all the basketball news in Voiron this week while she finished her début with 10 points, 2 assists and 3 steals in 19 minutes during the (80-74) victory against Elan Béarnais Pau Lacq Orthez.
Voiron struggled for most of the game and took advantage of the injury to Gunita Viksna during the final quarter to outscore their guests 31-19 to win the match.
Dunkerque paid the price for a poor first quarter (8-24) which allowed Perpignan to get an important road victory (71-65).
Results of week 12:
Lyon BF 67-53 Avenir de Rennes
Nice 74-51 Limoges ABC
CFBB 48-68 Roche Vendée
Reims BF 76-63 Angers (UFAB 49)
Voiron 80-74 Elan Béarnais Pau Lacq Orthez
Dunkerque Malo 65-71 Perpignan
Le Havre 62-49 Pleyber-Christ
Illkirch-Graffenstaden 57-66 Armentières

Look back on the previous round news for women playing basketball in the second division.
---
Return to LF2 basketball news page
Return to women playing basketball in France Home page
GO Back to the top of the page
---
Basketball news picture credit:
AL Aplemont Le Havre
Lyon BF


Date created: 27 November 2010

---