Playing basketball with new objectives at Limoges ABC
Limoges ABC found playing basketball in the Ligue Féminine de Basketball (LFB) last season difficult and found themselves relegated and back in the second division.
The departure of Bertrand Parvaud after 10 years at the club came as a surprise which left Jean-Paul Robert (left), the president of the club, with a big decision to make about the future of their professional women's basketball.
He hired Jimmy Rela as the new coach and offered him a contract for three years.
All the players were offered two-year contracts with the hope of Limoges returning to the LFB within three seasons.
However the objectives for this season are modest with a 5th or 6th place finish.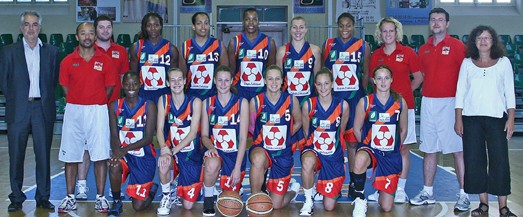 The LF2 roster for the season returns five players from the LFB adventure: Johanna Tayeau, Cécile Baudy, Maryska Kowalik, Kerline Verjuin and Elodie Chièze-Leroux.
They have also signed three youth players Martine Barba, Lindsay Gonzalez and Stéphanie Xavier who are all born in 1992. They will continue their education while playing basketball.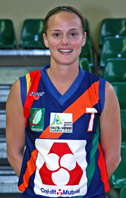 One of the three other players is Dutch international Tanya Bröring (right), whose mother is the coach of the Netherlands U18 team.
The second one is American Tiffany Benson who played for William and Mary in the NCAA. The last signing is Alexia Rol who will continue to study law.
Limoges snaps Lyon's winning streak
On the 8 December 2007, Limoges required overtime to beat Lyon BF (84-78). This victory on the road was the start of a series of victories that enabled Limoges to finish 6th by the end of the season.
Cécile Baudy, Maryska Kowalik and Elodie Chièze-Leroux were again present for Limoges for another repeat.
The contest between Limoges and Lyon was tough and physical as both sides went all out for victory.
However Limoges was playing basketball collectively and took hold of the game during the second quarter when they overturned a 7-point deficit to go ahead (34-29) at the interval.
Lyon were unable to get the lead back. Despite reducing the deficit to a single point midway through the third quarter, Limoges always had the advantage.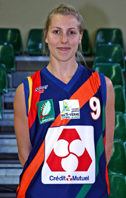 Bröring led the attack with 15 points while Rol added 14. But the player of the match was Chièze-Leroux (left) with 12 points.
Tiffany Benson - despite problems with the free-throws - scored 13 points and picked up 11 rebounds.
Geraldine Bertal and Leslie Ardon with 15 and 12 points led the Lyon attack. However this time the love for shooting beyond the arc (5-of-24) cost them the game.
Lyon are still leaders of LF2 while Limoges remain in fourth place.
The rest of the news from LF2 - week 11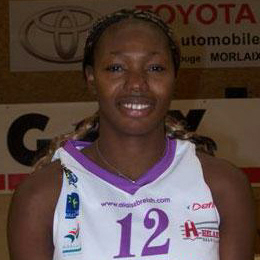 We have been waiting all season for Naignouma Coulibaly to break out and unfortunately for Dunkerque it happened to be this week.
She led Pleyber-Christ to victory (73-66) against Dunkerque Mala. She scored 21 points, hitting 10-of-14 shots, she also had 14 rebounds, 2 blocks, 2 assists and was fouled 8 times.
Mariame Dia scored a game high 28 points in defeat.
Roche Vendée needed 21 points from Elodie Gerald to get past Nice (60-55), while Reims lost on the road to Rennes (68-74).
Roche Vendée and Reims have identical records but Roche Vendée occupy the second position because they beat Reims earlier in the season. Limoges are alone in fourth place.
Nice, Pleyber-Christ and the SIG share fifth place.
Illkirch-Graffenstaden are now playing basketball like they did when they moved in the second division two years ago. They had no trouble in picking up a road victory against Elan Béarnais Pau Lacq Orthez (63-46).
The SIG went 0-from-13 from beyond the arc but scored 25 times from the free-throw line.
Angers had to wait until the final quarter with a 25-4 run to beat the CFBB (69-36).
Perpignan put behind their defeat last weekend and came out on top (90-75) against Voiron with 25 points coming from Fatou Dieng.
Armentières' problems continue as they lost at home to Le Havre (40-52).
Results of week 11:
Rennes 74-68 Reims
Limoges 69-56 Lyon
Roche Vendée 60-55 Nice
Angers 69-36 CFBB
Elan Béarnais Pau Lacq Orthez 46-63 Illkirch-Graffenstaden

Perpignan 90-75 Voiron
Pleyber-Christ 72-68 Dunkerque
Armentières 40-52 Le Havre

Look back on the previous round news for women playing basketball in the second division.
---
Return to LF2 basketball news page
Return to women playing basketball in France Home page
GO Back to the top of the page
---
Playing basketball news picture credit:

Limoges ABC
Pleyber-Chirst Basketball Club


Date created: 21 November 2010

---