French basketball news: Bertrand Parvaud calls time at Limoges ABC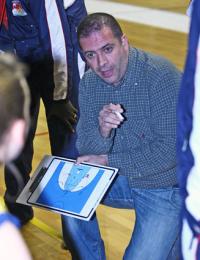 The latest basketball news coming from Limoges is the resignation of head coach
Bertrand Parvaud
.
He was employed by the club in October of 2000 under a French government initiative at the time "Contrat Emplois Jeunes", which enabled young adults to find jobs after completing their education.
His job was to work with the youth initiative programmes of the club as an educator. His official title was "Tuteur socio-éducatif".
His role included basketball workshops, training sessions for children and supervising the Cadettes (U18) in the French national championship.
In February 2003, the club was in trouble at the wrong end of the table in NF1 and Parvaud took over as interim coach.
On the very last game of the 2002-2003 season, Limoges beat Nantes (75-61) and escaped relegation.
The club removed interim from his title and he became head coach. His first two seasons were tough and Parvaud became known as "Zorro".
In 2004 and 2005 Limoges escaped relegation from NF1 with victories on the very last day of the season.
Parvaud's reputation as a developer of young talents enabled him to bring players such as Barbara Cousin, Djéné Diawara, Amélie Fresnais, and Anaïs Jomby.
Last season 2008-2009, his dreams for the team came true when they won the NF1 regular season title and promotion to the Ligue Féminine de Basketball (LFB).
The main reason given for his resignation was that after such a long time at the club it was time for a change.
Parvaud went on to say that he had learnt so much with Limoges. But after a difficult season he needs time to recharge his batteries before looking for something else to do.
Go back to the top of page
---
Return from French Basketball News to Ligue Féminine de BasketBall index
Go to Women Playing Basketball In France Home Page
---
Picture credit:
Basquetebol.org

Date created: 22 April 2010