2014 Coupe de France
8 LFB teams in quarter-finals

Cavigal Nice's withdrawal from the second round of the 2014 Coupe de France competition due to injury problems allowed Toulouse to directly qualify for the quarter-finals.
At the same time the 2013 Amateur French cup winners Saint-Etienne (CASE Basket) were eliminated by default from the first round after the club went into temporary liquidation. As a result Lattes Montpellier qualified directly for the second round (Eight-Finals).

Veuillez trouver des informations en français sur la 8ème finale de la coupe.

The Palais Omnisports de Paris Bercy (POPB) will be closing down at the end of 2013 for renovation work in February 2014.
The facility should stay closed for at least 18 months. This means the end-of-season French Cup basketball festival has to find a new venue.
Although nothing has been officially confirmed, it is likely that in 2014 the event will remain in Paris and be held at the Stade Pierre de Coubertin.

Recap of the Eighth-Final of the French Cup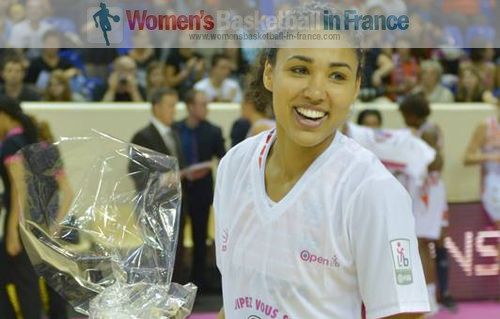 Just like in 2013, the match between Illkirch-Graffenstaden (SIG) and Charleville-Mézières was streamed live. The SIG were playing at home and battled all the way.
They went into the break leading (43-42) thanks to a three-pointer by Cécilia Mauler. They were still on equal terms seven minutes into the third quarter.

Charleville-Mézières were able pull away by the end of the third quarter (64-61). They then paced themselves to the win (79-70) on the back of a 27-point performance by Ambrosia Anderson (in picture).
Clémentine Samson chipped in 17 points from the bench while Céline Schmitt-Sendner knocked down 22 points for the SIG.
In the other clash between LF2 and LFB, Le Havre led at half time (24-23) against USO Mondeville and then fell apart. USO Mondeville went on to win (76-50) with Courty Hurst, Julie Vanloo (6 assists) and Touty Gandega scoring 16, 15 and 14 points each.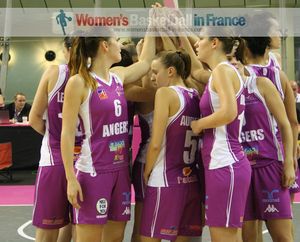 Angers recorded their first official victory of the season in getting past Basket Landes (65-50). Iva Sliskovic poured in 18 points, picked up 10 rebounds and dished out 4 assists, while Camille Aubert chipped in 14 points and picked up 4 steals.
Villeneuve d'Ascq beat Arras (79-64) while Bourges Basket blew past Hainaut Basket (85-59).
Lyon BF kept it close but still fell short on their on court against Lattes Montpellier (62-66).
Lyon were still without Mélanie Plust and Alexia Plagnard due to salary cap issues. In addition Sara Chevaugeon was also absent. Her season is over due to an ACL tear.
For Montpellier, Shameka Christon made her début and knocked down 23 points.
Nantes-Rezé are not repeating their last season's exploits by qualifying for the final after losing on the road to Tarbes (55-65).

Coupe de France féminine : 2ème tour
Pas de chance pour les équipes de L2F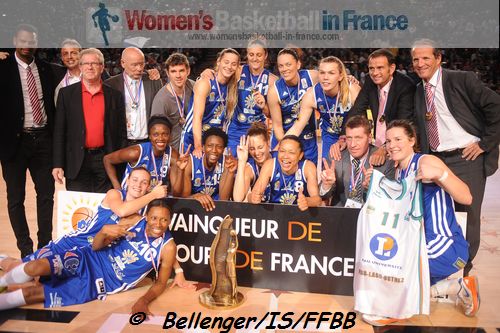 Même si les équipes de L2F avec Le Havre et Illkirch-Graffenstaden se sont battues, elles n'ont pas pu vaincre leurs adversaires de la ligue féminine de basket, USO Mondeville et les Flammes Carolo, respectivement.
Ainsi se qualifie également pour les quarts de finale de la Coupe de France 2014: Villeneuve d'Ascq, Lattes-Montpellier, Tarbes, Bourges et Angers.

Illkirch-Graffenstaden perd logiquement contre Charleville-Mézières dans un match qui a été diffusé direct. Pourtant les Flammes ont du mal à s'opposer mais prennent les reines dans les dernières 13 minutes pour gagner (79-70).
L'autre équipe de la ligue 2, Le Havre, se défend et mène contre Mondeville dans la première mi-temps par 1 petit point. Zappée de l'énergie, elle perd après (50-76).
En remportant le match contre Arras dans le derby du nord (79-64), Villeneuve d'Ascq achève le mois d'Octobre invaincue.

Handicappée par des blessures, Lyon BF succombe au vainqueur de la Coupe Joë Jaunay en 2013, Lattes-Montpellier, (62-66) dont la nouvelle recrue Shameka Christon impressionne avec 23 points.

Pour la première fois dans leur histoire, Angers se qualifie pour la quart de finale en gagnant à domicile contre Basket Landes (65-60). Iva Sliskovic enfin peut sourire après une nouvelle et belle prestation avec 18 points, 10 rebonds et 4 passes décisives, épaulée par son capitaineCamille Aubert avec 14 points et 4 interceptions.
Encore une déception pour Nantes-Rezé qui perd son 5ème match d'affilé, cette fois-ci contre Tarbes (55-66) menée par Alex Montgomery avec 21 points.

Les Tango Bourges Basket complète le tableau de la quart de finale de la Coupe de France avec une victoire contre Hainaut Basket (85-59).

---
Visit our Coupe de France index

Visit our home page
Visit our "What's New" page
Picture credits:
womensbasketball-in-france.com
Date created: 02 November2013
Like this page / Aimez cette page