2014 Coupe de France
Toulouse join top 3 in the semi-final

Toulouse Métropole journey in this seasons Coupe de France with their victory against Angers in the most exciting game of the quarter-final (70-64).  Bourges Basket, Lattes-Montpellier and also Villeneuve d'Ascq qualified.

Veuillez trouver des informations en français sur les quarts de finale de la coupe.
Despite the change this season with a couple of rounds played earlier, the French Cup competition has so far failed in attracting the attention of fans and media.
Hopefully there might be more interest with the confirmation of all the women's finals in the categories of U17, Amateur and Senior taking all place for the first time on 10 May 2014 at the Stade Pierre de Coubertin, the home of Open LFB while the men's finals are all played the following day, the 11 May 2014.
Recap of the quarter-finals of the French Cup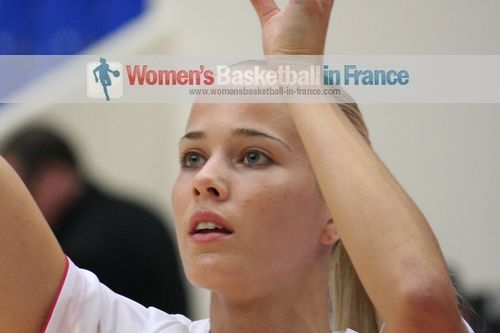 Antonija Misura (in picture) shot the lights out for Toulouse Métropole by scoring 20 points while picking up 5 rebounds to help her team edge out Angers (70-64). Kristen Mann was also active with 14 points and 4 assists.
Angers were a little generous in the turnover count with 17. Despite another solid performance by Iva Sliskovic with 16 points they have not qualified for the 2014 Coupe de France semi-final.
USO Mondeville's encounter with Tango Bourges Basket was always going to be tough. But without Touty Gandega and Sandra Dijon it was mission impossible. Bourges, led by Jo Leedham (16 points), cruised to victory (81-61).
Villeneuve d'Ascq did not need to work hard to put away Tarbes (80-55). Djéné Diawara helped herself to a double-double of 17 points and 13 rebounds for the winners while Viktoria Mircheva knocked down 20 points in defeat.
Despite home court advantage, Lattes-Montpellier yet again were made to work hard before overcoming Charleville-Mézières (77-69). Gunta Basko-Melnbarde (22 points) and Héléna Ciak (17 points) were decisive for the hosts and French cup defending champions.
The Coupe de France semi-final pairings are as follows:
Lattes-Montepellier vs. Tango Bourges Basket (15 February 2014)
Villeneuve d'Ascq vs. Toulouse Métropole (16 February 2014)

Coupe de France féminine :
les quarts de finale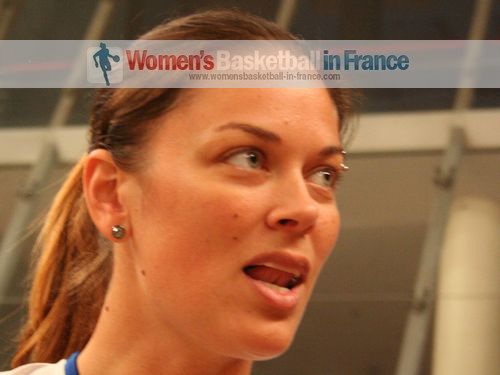 Lattes-Montpellier, Tango Bourges Basket, Toulouse et Villeneuve d'Ascq se qualifient pour les semi-finales de la Coupe de France.
Pour la première fois dans cette compétition, la finale Trophée féminin, Finale U17 féminines et la finale pro féminines se joueront le 10 mai 2014 au Stade Pierre de Coubertin, the home of Open LFB pendant que les finales masculines se disputeront le lendemain.
Avec 17 balles perdues, les co-équipières d'Iva Sliskovic (16 points) pour Angers succombent contre Toulouse Métropole Basket (64-70) avec de belles prestations par Antonija Misura (20 points) et Kristen Mann (14 points - en image).

Tarbes souffre une lourde défaite contre Villeneuve d'Asq (55-80). Djéné Diawara est excellente (17 points, 13 rebonds) dans la victoire des Nordistes.

Tango Bourges Basket a un match facile contre USO Mondeville, privée de Touty Gandega et Sandra Dijon, et gagne (81-61). Jo Leedham (16 points) est la meilleure marqueuse pour des Tangos pendant que les 18 points par Courtney Hurt sont en vain.

Ce sont Gunta Basko-Melnbarde (22 points) et Héléna Ciak (17 points) qui mènent la baguette pour Lattes-Montpellier pour s'imposer contre Charleville Mézières (77-69) dont les efforts de Jacinta Monroe (19 points) et Amel Bouderra (14 points, 8 passes décisives) ne sont pas suffisants pour éviter une défaite.
Le 15 février 2014 Lattes-Montepellier joue contre Tango Bourges Basket pendant que Villeneuve d'Ascq joue contre Toulouse Métropole le 16 février 2014 en semi-finale.

---
Visit our Coupe de France index

Visit our home page
Visit our "What's New" page
Picture credits:
womensbasketball-in-france.com
Date created: 01 February 2014

Like this page / Aimez cette page