Bourges Basket not only defended the Coupe de France Cadette (French Cup U18) but also stopped USO Mondeville from doing the double.
USO Mondeville had eliminated Bourges Basket from the national final four during the domestic season with two victories.
They also picked up the national final last weekend after beating Lattes Montpellier in the final and were viewed as favourites for this game.
The match did not live up to its billing, with a festival of misses from both teams: Mondeville scored 40% of their points from the free-throw line with 20-from-35 attempts. However their generosity in missing came to haunt them in the end.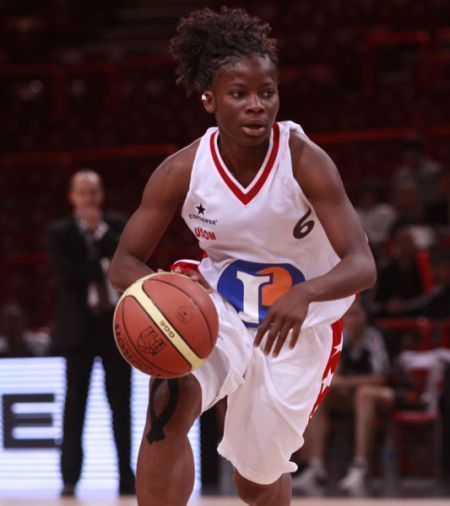 Mondeville started the match well with Esther Niamke-Moisan running the floor and Audrey Zaire doing the work inside the paint for them to lead (17-13) by the end of the first quarter.
Anaëlle Le Bruchec's three-point shooting and the excellent work of Margaux Galliou enabled Bourges to tie the game twice.
With just under three minutes to play before the interval Bourges Basket regained the lead through Aminata M'Baye.
With just under a minute to play Johanna Joseph put Mondeville back in front as she started a 5-0 run to take them into the interval ahead (32-27).
Bourges picked up their game after the break and opened with a 7-0 run. Galliou was performing wonders at both ends of the court for Bourges while Niamke-Moisan did her best to keep Mondeville in touch.
Bourges went into the final quarter leading (44-39). But with five minutes to play the teams were back on level terms (49-49).
Laury Aulnette's only points of the game put Bourges Basket in the lead for good with four minutes to play.
Mondeville were unable to score again and with 90 seconds left to play Romane Bernies finished off Mondeville with what turned out to be the last points of the game.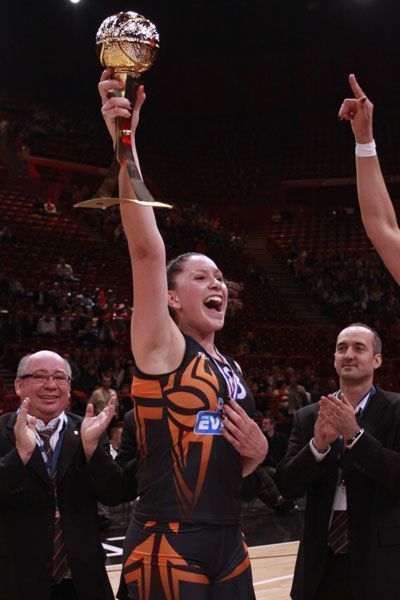 The MVP from the Cadette Coupe de France final Margaux Galliou (right) explained that people believed that Bourges Basket were used to playing at such occasions because they won last year. Yet it was not the case for all the players.
So it was important for the senior players to help the younger ones to settle. As for the game, she believed that alternating the inside outside play enabled them to win crucial balls.
Jérôme Authier, the coach from Bourges Basket, was happy with the result and said they won the match in the paint. He added that five of his players experienced this last season and seven players on display would still be cadettes next year, which was encouraging for their work in the academy (centre de formation).
Cadette Coupe de France game statistics
USO Mondeville 49-53 Bourges Basket (17-13, 15-14, 7-17, 10-9)
Officials: Tony Herpin and Nicolas Soulerot

US Mondeville: 13 from 54 attempts from the field (24 %) with 3 from 14 from beyond the arc; 20 from 35 free throws (57 %).
41 rebounds: 10 offensive, 31 defensive
4 assists - 19 turnovers - 17 steals - 4 blocks

Clémence Richard 0, Esther Niamke-Moisan 13 (6 steals), Clémence Carlin 0, Hariet Bendé Bélobi 12 (13 rebounds), Pauline Bétis 9, Johanna Joseph 2, Audrey Zaire 10, Caroline Mendès 1, Lisa Cloarec 0, Awa Sissoko 0.
Trainer: Didier Godefroy
Bourges Basket: 22 from 64 attempts from the field (34 %) with 3 from 15 from beyond the arc; 6 from 10 free throws (57 %).
47 rebounds: 13 offensive, 34 defensive
9 assists - 27 turnovers - 11 steals - 5 blocks

Romane Bernies 9 (5 steals), Laury Aulnette 2, Lisa Bacconnier 2, Margaux Galliou 15 (15 rebounds), Anaëlle Le Bruchec 14, Clarisse Berranger 0, Imane Brahmi 0, Nina Déal 2Aminata M'Baye 5, Awa Diallo 4.
Trainer: Benoit Peyrot
---
Go to 2010 French Cup introduction page
Go to Coupe de France index page
Go to Women Playing Basketball In France Home Page
GO Back to the top of the page
---
Coupe de France picture credits:
Bellenger/IS/FFBB

Date created: 16 May 2010
---