2014 LF2 Final 4
Another bronze medal for
Pau Lacq-Orthez

Aurélie Lopez ended her 25-year history in Mourenx with her second LF2 Final Four bronze medal after her team Pau Lacq-Orthez defeated Roche Vendée (79-67) in the match for third place.
Veuillez trouver des informations en français sur le match de la Final Four de L2F de la saison 2013-14 pour la médaille de bronze en bas de la page.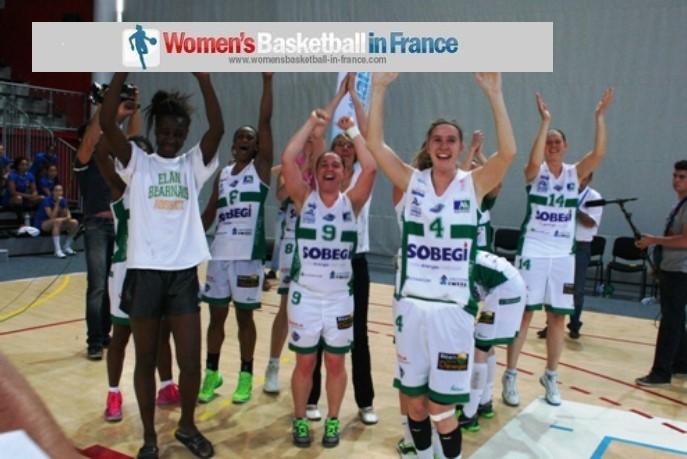 The first quarter was fast and furious with no questions asked between the two teams with the lead changing seven times. Roche Vendée were able to edge the first quarter with back to back three-pointers by Sabine Bouzenna (17-14). 

Then Pau raced off to a flying start in the second quarter with 8 straight points of which 5 came from Marion Arfelis (22-17). Emmanuel Body, the coach from La Roche, called for an immediate time-out which however did not stop Pau completing their 10-0 run.

Roche Vendée once again, through the one-lady show of Bouzenna with 7 points, picked themselves up and came storming back. For the rest of the quarter the teams more or less traded basket for basket while the intensity picked up.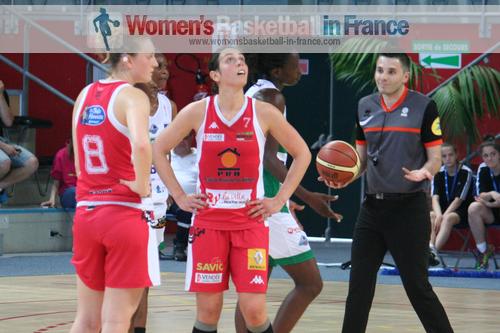 With bodies flying all over the court, temper flared, eventually leading to the ejection of Mariame Dia (11 points in picture with official) from Pau with 38 seconds left in the first half. She was adjudged to have kicked Gabriela Kubatova who was on the ground at the time.

The game was held up for five minutes while the officials tried to sort things out. Roche took full advantage of the situation with steady free-throw shooting to finish the half trailing by just 2 points (38-40).
After the break both teams kept on playing hard and physical. Yet pace and intensity dropped. Pau managed to maintain the upper hand with Ingrid Bunel running the point (55-48) and hitting clutch shots with 28 minutes played.

Pau appeared to be running away for good with a double-digit advantage. However Bouzenna came once again to the rescue with the last points of the quarter to bring down the deficit to a single digit (53-60).

A big three-pointer by Johanna Tayeau from Roche got the 4th quarter off to a flying start. But nothing changed as the cat and mouse game continued. Pau maintained their advantage (71-63) with four minutes left to play by scoring two-pointers while Roche were scoring long-distance shots.

When Lakevia Boykin caught fire down the stretch, Pau was able to maintain their lead and claim their second LF2 Final Four bronze medal.
Roche Vendée Basket Club

Chloé Pavageau DNP
Sabine Bouzenna 20 points
Beleta Mukoko 2 points
Sarra Querghi 4 points
Leslie Fournier 6 points
Cora Duval 3 points
Gabriela Kubatova 12 points
Johanna Tayeau 15 points
Coralie Brisson DNP
Assetou Traore DNP
Aminata Diop-Nar 5 points




Pau Lacq-Orthez

Julie Borde 2 points
Lakevia Boykin 18 points
Awa Gueye 10 points
Marline Brouca DNP
Marion Arfelis 7 points
Velia Bosch 9 points
Mariame Dia 11 points
Emilienne Vidal 9 points
Ingrid Bunel 13 points
Martha Chrzanowski 0 point




---
L2F Final Four
Encore une fois de la bronze pour Pau Lacq Orthez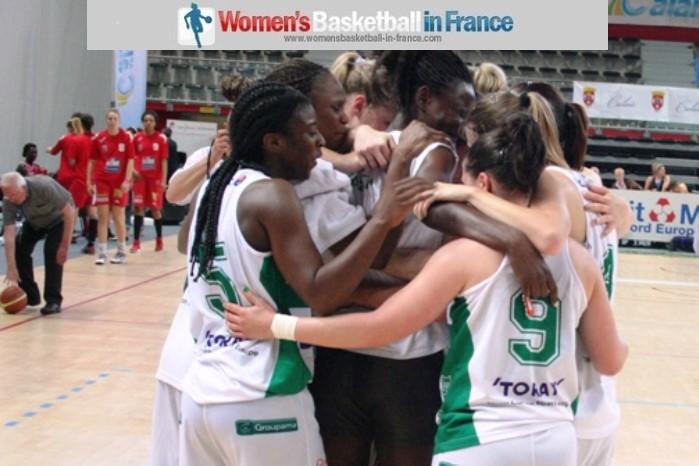 Pau Lacq-Orthez répète sa performance de la Final Four de 2013 et se décore pour la deuxième année consécutive avec une médaille de bronze. Malgré une Sabine Bouzenna survitaminée, Roche n'arrive plus à revenir à hauteur de son adversaire dans la deuxième mi-temps et subit une défaite (67-79).

Les deux équipes entâment le premier quart-temps à toute allure avec des chassés-croisés. Grace à deux tirs primés par Sabine Bouzenna, La Roche finalement passe devant (17-14). 

C'est au tour de Pau de dépasser son adversaire (24-17) avec 10 points consécutifs dont 5 de Marion Arfelis malgré un temps mort par Emmanuel Body de Roche Vendée.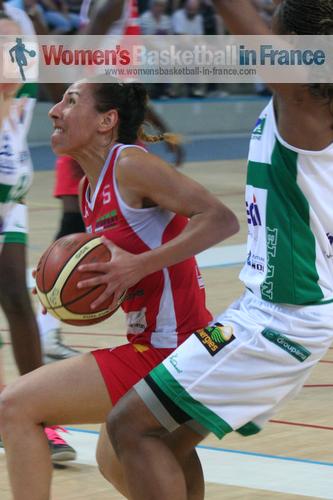 Pourtant Bouzenna (dans l'image) enchaine des paniers (7 points) et booste La Roche à réduire l'écart.

Le moment que Pau perd Mariame Dia (11 points) après son éjection avec 38 secondes à jouer dans le premier mi-temps, Roche Vendée en profite pour marquer ses lancers francs pour trainer que par 2 petits points (38-40).
Pendant les premières huit minutes du deuxième mi-temps, Pau reste devant, grace à une bonne performance de Ingrid Bunel en tant que meneuse et une belle adresse au shoot de son équipe (55-48).
Mais c'est encore une fois Bouzenna qui réduit l'écart avec les derniers points du troisième quart-temps (53-60).

Avec un tir primé de Johanna Tayeau, La Roche traine de 4 points. Mais Pau revendique et maintient son avantage (71-63) avec quatre minutes à jouer.

C'est Lakevia Boykin qui assure la victoire à Pau Lacq-Orthez pour célébrer une deuxième médaille de bronze à la Finale Four en LF2.
---
LF2 Final Four picture credits:
womensbasketball-in-france.com

Date created: 18 May 2014
Like this page / Aimez cette page