Perpignan, successfully catching up
on games in LF2

With the French Cup taking centre stage this weekend the LF2 calendar was bare with no official games planned. The CFBB took the opportunity to play Le Havre while Perpignan continued their marathon catch-up seasion.
Veuillez trouver des informations en français sur la semaine du 20 au 26 janvier de L2F en 2013-14 en bas de la page.
The CFBB were beaten in triple overtime by Le Havre (80-82) in an encounter that only came to live during the last five minutes of regulation time.
Before that Le Havre were cruising to victory leading (53-45). But then they allowed the young guns from the CFBB right back into the match.
Ornella Bankole hit a big three-pointer to tie the game with 18 seconds to play (58-58). Both teams fired some wild shots in the dying seconds without success taking the game into overtime.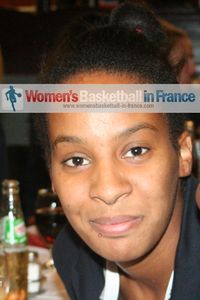 The three extra quarters were wild and fun to watch for the neutrals. However for both coaches it should have been a nightmare as too many ill advised shots were taken.
Sarah Ousfar (in picture) finished the game with 18 points and 14 rebounds in what turned out to be her best game of the season. She was really active during the extra quarters and almost won the game on two occasions with last-second shots. 
For the CFBB Bankole continues to enhance her reputation with a game high 20 points while also collecting 14 rebounds.
The players from the CFBB have not much time to rest as most of the players have been called up for the French U18 training camp.
Perpignan Basket are sneaking up on the leaders COB Calais after another busy week of LF2 basketball.
In mid week Roche Vendée, with their third straight defeat, were pushed aside by Perpignan (53-62). It was the turn of captain Pauline Lo to step up offensively with 16 points.

This weekend Laura Datchy, finally cleared to play, contributed 6 points to Perpignan Basket's victory against LF2 final 4 contenders Pau Lacq-Orthez (66-55).
Elodie Bertal (21 points and 13 rebounds) and Fatou Dieng  (13 points and 8 assists) continued from their exploits of the previous weekend. Whereas Mariame Dia and Ingrid Bunel had 14 points each for the team from Mourenx in the South derby.

---
Perpignan rattrape deux journées en L2F
avec de nouvelles victoires

Ce weekend est dédié aux matchs de la Coupe de France. Seul quatres clubs en L2F jouent ce weekend pendant que Perpignan Basket dispute également un match en mi-semaine.

C'est Roche Vendée qui subit une troisième défaite consécutive, cette fois-ci contre Perpignan Basket (53-62). C'est Pauline Lo avec 16 points qui est la meilleure marqueuse pour Perpignan en mi-semaine.
La semaine se termine bien pour les Perpignanaises qui emportent une nouvelle victoire. Elles gagnent contre Pau Lacq-Orthez (66-55).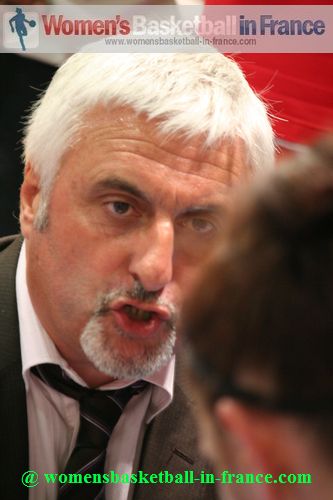 Laura Datchy a enfin le feu vert pour jouer pour François Gomez (en image) et Perpignan Basket et contribue 6 points à leur victoire pendant que Elodie Bertal (21 points, 13 rebonds) et Fatou Dieng (13 points, 8 passes décisives) sont à nouveau impressionnantes.
Pour Pau, Mariame Dia et Ingrid Bunel avec 14 points chacune essayent de limiter les dégâts.
L'autre rencontre de ce weekend est celle de la CFBB contre Le Havre dont le dernier gagne de justesse après trois prolongations (82-80).
C'est la prestation de Ornella Bankole (20 points, 14 rebonds) pour la CFBB qui est à nouveau remarquable et celle de Sarah Ousfar (18 points, 14 rebonds) pour l'équipe gagnante.
---
Picture credits:
womensbasketball-in-france.com

Date created: 26 January 2014
Like this page / Aimez cette page