Calais are already setting the pace
after two weeks of LF2 basketball

After a detour with French Cup basketball, the clubs in the LF2 were back in league action with the second round of games.

Veuillez trouver des informations en français sur la deuxième journée de L2F en 2013-14 en bas de la page.
COB Calais have already confirmed their status as the team to watch this season after destroying north coast rivals Dunkerque Malo (90-47).
COB Calais captain Aurélie Cibert had a perfect shooting day by going 6-of-6 from the floor, which included 5 three-pointers.
She finished the match with 17 points and 9 assists while her team-mate Tiffany Clark finished the match as the top scorer and rebounder with a double-double of 22 points and 12 rebounds.

Mélanie Arnaud also finished with a double-double with 15 points and 10 rebounds. For Dunkerque Dace Pierre-Joseph and Marta Rozewicz both scored 11 points while Taelor Karr finished with 10 points.

The rest of the news from LF2 round 2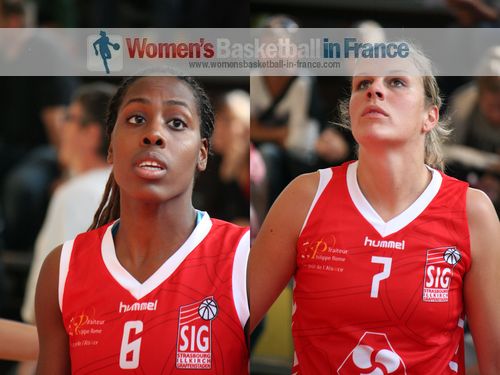 Illkirch-Graffenstaden edged out Reims BF (81-74) in an untidy game for their first victory of the new season. The SIG did most of the damage from behind the three-point line with Darline Nsoki (20 points and 5 steals) and Aline Fischbach (18 points) combining for 6-from-8.
However the main problem for Reims was the turnover count. They committed 25 which resulted in 18 points for their opponents.

Anita Mészáros knocked down 26 points for Reims. But it was her opponent Céline Schmitt-Sendner with 18 points and 10 rebounds that left the game smiling.
Limoges were involved in the most interesting game of the evening against Le Havre. Trailing by 11 points at the interval (27-36) at the break they turned things around with a 14-0 run to end the third quarter in front (49-44).

But it was not to be for the home team as the foul count mounted up. This left the road free for Kelsey Sigl and Aïda Fall with 17 and 16 points to lead Le Havre to victory (63-58). Cyrielle Recoura scored 21 points in vain for the hosts.

Charney Basket lost at home (48-52) to Roche Vendée in a match that neither team excelled. Meanwhile Chartres are enjoying their promotion to LF2. They beat Léon Trégor (73-66) in a game they led from start to finish.
All 10 players from Chartres registered at least 3 points, while Marie  Rosche led the way with 17.

As expected Aix-en-Provence came up on top against the CFBB (62-49) for their first points of the season.
---
Quand tout se déroule comme prévu
COB Calais semble déjà se préparer pour une participation à la Finale 4 après avoir battu Dunkerque Malo (90-47).
La capitaine Aurélie Cibert avait une sans faute avec 17 points et 9 passes décisives sur son compte. Pourtant c'était sa co-équipière Tiffany Clark (12 rebonds) qui menait en points, 22.
Les autres gagnants de la deuxième journée en L2F étaient:
Illkirch-Graffenstaden, qui ont été dangereux avec leurs shoots de trois-points. Les Illkirchoises ont profité de nombreuses balles perdues des Remoises pour s'imposer (81-74).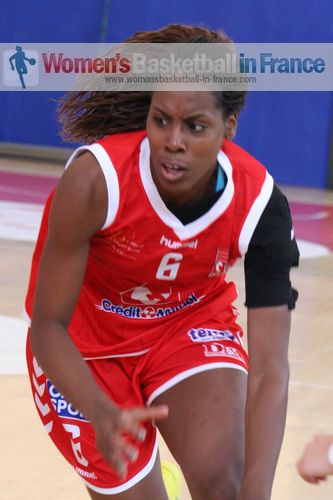 Les 26 points de Anita Mészáros pour BF Reims étaient en vain. La SIG était mené par Darline Nsoki(20 points, dans l'image), Aline Fischbach (18 points) et Céline Schmitt-Sendner (18 points, 10 rebonds).
Limoges succombe à Le Havre après un avantage dans le troisième quart. Avec de plus en plus de fautes, le duo Kelsey Sigl et Aïda Fall en profitent pour remporter la victoire avec 17 et 16 points (63-58). Cyrielle Recoura de Limoges était déçue après avoir mis 21 points.

Roche Vendée gagne contre Charnay Basket (52-48) et le nouveau promu Chartres célèbre sa victoire contre Léon Trégor (73-66).
Aix-en-Provence n'avait pas de problèmes de s'imposer contre les jeunes de CFBB (62-49).
---
Picture credits:
womensbasketball-in-france.com

Date created: 21 October 2013
Like this page / Aimez cette page