Battling for a place
in the LF2 Final Four

The battle for a place in the LF2 final four has never been so interesting with ten games into the regular season. With the exception of the CFBB who are yet to win a game everybody else has won at least three matches.

Veuillez trouver des informations en français sur la dixième journée de L2F en 2013-14 en bas de la page.
It also appears that the boycott of Perpignan Basket by the clubs is finally over and that in January 2014 they will start playing them. 
Perpignan Basket will have a full programme starting from January with on average of two games a week for most of the LF2 regular season.
Back on the basketball court the leaders continue their march towards a top 4 finish.
COB Calais required overtime to remain unbeaten, while Roche Vendée got back to winning ways.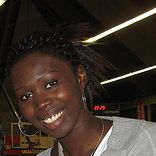 If one studies the career of Aïda Fall (in picture), then December tends to be her most productive month. Last weekend (round 9) she finished with 18 points and 13 rebounds in defeat against Léon Trégor.
This week she scored 26 points, picked up 14 rebounds, dished out 6 assists while blocking 2 shots and making 2 steals in leading Le Havre to victory against Dunkerque Malo (76-66).
In a game that saw 14 lead changes, it was only during the last eight minutes that Le Havre were able to gain the upper hand.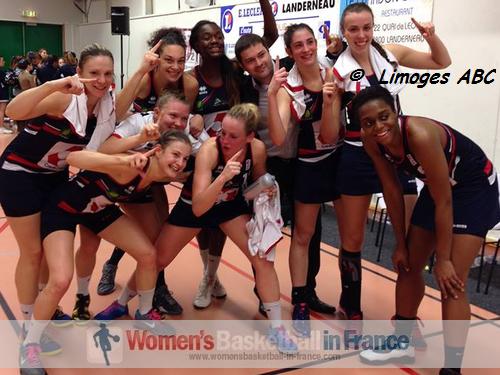 Limoges never trailed in their home victory against Chartres (75-57). Cyrielle Recoura was the leading scorer with 20 points. She hit 9-from-10 free throws as well as dishing out 3 assists for the hosts.

Charnay blew away the CFBB (70-33). The damage was done during the first ten minutes (22-6). Laure Belleville led the way with 21 points (4-of-7 from behind the arc).
Roche Vendée won their LF2 derby against Léon Tregor (67-57) despite turning the ball over 26 times. Léon Trégor started the match well and led for the first nine minutes. But once Cora Duval put the hosts in front the visitors from Finistère spent the rest of the night chasing after the game.

At times basketball can be cruel. Illkirch-Graffenstaden (SIG) dominated Calais for most of the game but ended up losing at home in overtime (67-71).
The SIG had the chance to settle the game during the final seconds. But a missed pair from the free-throw line let Calais off the hook. Seconds later Tiffany Clark (21 points and 16 rebounds) tied the game (61-61).
The SIG had one last chance but Amelie Voynet's shot missed the target.
Calais scored the first 4 points in overtime and stayed ahead the rest of the way.
Reims should have beaten Pau Lacq-Orthez. Instead they are asking themselves how did they lose. Reims had made up 10-point deficit in the final quarter to regain the lead (72-71) with 28 seconds to play.
However a pair of free throws by Awa Gueye (21 points) put the guests back in front. Reims then had two bites of the cherry to win the game but both attempts failed and the game was gone (72-73).
Reims, billed as one of the favorites in LF2 this season, find themselves one place above the CFBB at the wrong side of the table despite their three victories.

---
Quand la chance tourne ...

Pendant que Perpignan Basket va finalement pouvoir confronter les autres équipes en L2F dès la reprise en janvier, la dixième journée de cette saison se joue avec beaucoup d'ardeurs. COB Calais et Roche Vendée sont les gagnants ce weekend pendant que la défaite pour Reims la place en bas du tableau.

C'est à nouveau Aïda Fall (26 points, 14 rebonds, 6 passes décisives, 2 interceptions, 2 contres) qui emmène Le Havre à une victoire contre Dunkerque Malo (76-66), un match qui se décide que dans les huit dernières minutes.

Chartres traine tout au long de sa rencontre contre son hôte Limoges - avec une belle prestation de Cyrielle Recoura (20 points, 3 passes décisives) - et  succombe (57-75).

Charnay est sans pitié contre le CFBB (70-33) pendant que Roche Vendée a du mal à se débarrasser de Léon Tregor pendant les neuf premières minutes. Mais finalement c'est Cora Duval qui sonne la révolte pour faire gagner cette rencontre (67-57) malgré les 26 balles perdues. 
Illkirch-Graffenstaden, jouant à domicile, a tout en main pour faire tomber Calais mais perd en prolongation (67-71).
Et c'est un scénario final pareil pour Reims qui échoue de gagner cette rencontre après avoir pris l'avantage dans le dernier quart. Mais c'est son adversaire Pau Lacq-Orthez qui s'impose (73-72) avec 2 lancers francs par Awa Gueye (21 points) pendant que Reims reste à sa faim avec 2 shoots ratés.
---
Picture credits:
womensbasketball-in-france.com

Date created: 15 December 2013
Like this page / Aimez cette page