Reims in LF2 relegation danger -
Perpignan are play-off contenders

Perpignan Basket are officially out of the LF2 relegation zone and are now serious contenders for a place in the final four at the end of the season. On the other hand pre-season favourites Reims came out second best in yet another overtime encounter.

Veuillez trouver des informations en français sur la dix-neuvième journée de L2F en 2013-14 en bas de la page.
Perpignan have won 11 of the 14 games they have played this season. With only three teams currently having more wins than them, time has come to consider Perpignan in the LF2 play-off picture although the club announced they would not seek promotion this season.

This week Perpignan Basket played Le Havre twice and came out on top on both occasions. In mid week Fatou Deng dished out 12 assists and scored 17 points with Perpignan winning on the road (72-51).
Pauline Lo (in picture) led her side in scoring with 18 points. Deng's Senegalese international team-mate Aïda Fall scored 23 points for Le Havre.
In the return game Perpignan won (80-53) with four players in double digits. Laurie Datchy helped herself to 19 points while Elodie Bertal added 17 points.
Deng dished out 8 assists while scoring 8 points. Fall was yet again the leading scorer for the losers with 19 points. For the first time since Perpignan's start of their LF2 season in December 2013 they are out of the relegation zone (11th place).
Limoges, currently in fourth place, have the most to lose if Perpignan continue on their winning course as they lost this weekend on the road to Roche Vendée (75-87).
The match turned into a free-throw festival with a total of 74. The hosts hit 31-from-39 and had no players fouling out. Limoges hit 27-from-35 (Manon Sinaco herself 15-of-20 ) but had three players fouling out.
Roche Vendée remain in second place in the LF2 regular season table while Limoges stay in 4th.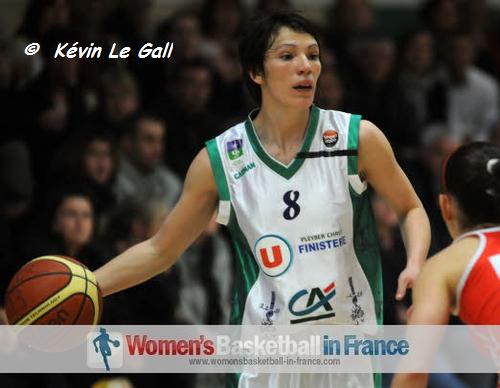 COB Calais are one win away from securing a place in the final four after seeing off Chartres (54-58). With Mélanie Arnaud not playing for Calais, Onayssa Sbahi had her first start for the season. Calais did not play well and hit just 35% of their shots. Yet their opponents' shooting was worse.
Marie Butard (in picture) returned for Léon Trégor and dished out 9 assists while scoring 12 points in the victory against Illkirch-Graffenstaden (91-65). Angolian international Whitney Miguel made the most of her start position with 22 points and 13 rebounds.
For the visitors Céline Schmitt-Sendner did not travel for the game.
Aix-en-Provence needed overtime to come away with the most important victory of the weekend against Reims (80-68). It was the Americans on each side who dominated the match. Shenita Landry had 25 points and 13 rebounds for the winners while Carolyn Davis scored 24 points and pulled down 15 rebounds in defeat.
Aix-en-Provence have the better record over the two games against Reims. This implies that Reims must now win at least one game more than Aix-en-Provence to climb above them.
Charnay pulled away in a hectic final quarter to win on the road against Dunkerque Malo (74-62). Taelor Kerr led the hosts with 29 points whereas the guests shared the scoring with 29 baskets coming from 21 assists.
Charnay are still last in the regular season standings while Pau Lacq-Orthez remain in third place after seeing off the CFBB (75-62).
---
La 19ième journée en L2F
Reims souffre en prolongation

Charnay remporte une victoire mais reste dernier dans le classement pendant que Reims se voit à nouveau confronté à une relégation possible.
Perpignan Basket se rapproche de plus en plus au top 4 de la L2F.
COB Calais bat Chartres (54-58) pendant que Roche Vendée, deuxième dans le tableau, gagne contre Limoges (75-87) qui reste encore à la quatrième place. La quatrième équipe dans le top 4, Pau Lacq-Orthez s'impose contre la CFBB (75-62).
Léon Trégor, emmenée par Whitney Miguel (22 points, 13 rebonds) et  Marie Butard (9 passes décisives, 12 points) détruit Illkirch-Graffenstaden (91-65).
Dunkerque Malo perd contre Charnay (62-74). Taelor Kerr de Charnay est la meilleure joueuse de la rencontre avec 29 points.
C'est en prolongation que Aix-en-Provence s'écarte pour infliger une lourde défaite à Reims BF (80-68). Shenita Landry contribue 25 points and 13 rebounds pour la victoire pendant que l'Américaine Carolyn Davis avec 24 points et 15 rebonds ne peut que constater le dégât.
Perpignan Basket gagne deux fois cette semaine contre Le Havre.

En mi-semaine c'est avec une Fatou Deng en forme (17 points, 12 passes décisives) que Perpignan s'impose contre Le Havre (72-51).
Ce weekend Perpignan inflige une (80-53) défaite à Le Havre avec de bonnes performances de Laurie Datchy (19 points) et Elodie Bertal (17 points). Et c'est Aïda Fall qui avait 23 points le match aller qui se bat à nouveau pour l'équipe perdante avec 19 points.
---
Picture credits:
womensbasketball-in-france.com

Date created: 09 March 2014
Like this page / Aimez cette page