COB Calais alone
on the top of LF2 for Christmas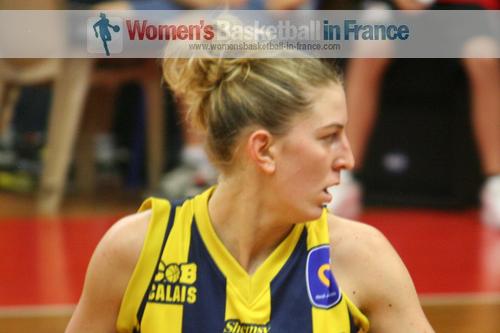 Jenny Fouasseau ends 2013 as the LF2 player of the week with 28 points and 6 assists in leading COB Calais to victory (98-71) against Le Havre. Elsewhere Limoges and Pau Lacq-Orthez continue to win while Perpignan Basket are officially back in the championship.

Veuillez trouver des informations en français sur la onzième journée de L2F en 2013-14 en bas de la page.
For the first 30 minutes COB Calais were involved in an exciting game with Le Havre. Both sides had an almost 50% success rate while the lead changed six times. 
Calais, playing at home, had the upper hand going into the final quarter leading (62-55).

Le Havre with only a six-player rotation were also handicapped by foul problems. During the final ten minutes, they were blown away 36-16 to allow Calais to win (98-71).
While Fouasseau was on cloud nine from behind the arc with 5-of-6, it was Tiffany Clark (22 points, 12 rebounds) that propelled Calais towards the win in the final quarter with 12 points and 4 assists. Aïda Fall was the leading scorer for Le Havre with 23 points.
With Roche Vendée not playing this weekend, Calais moved to the top of the LF2 regular season table.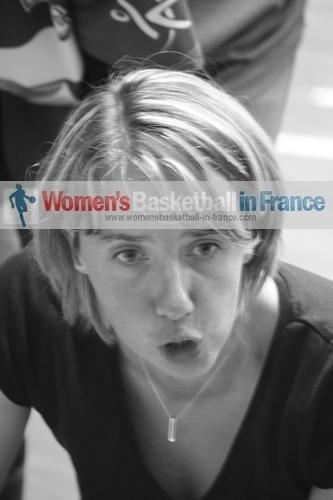 Aurélie Lopez (in picture), the coach from Pau Lacq-Orthez, has always preached collective team basketball. So she was more than delighted that her five starters all finished with double digits scores and at least one assist in the victory against Dunkerque Malo (89-66).
Limoges survived foul problems in the final quarter of three key players with Manon Sinico, Brooklyn Pope and Mélanie Devaux (19 points) to win on the road against Charnay Basket (66-59).
Reims also won on the road (63-62) against LF2 newcomer Chartres. The match was decided on the free-throw line. Lisa Bacconnier who top cored for Chartres with 17 points missed a pair of free throws in the last second for Reims to walk off with the victory.

Adriana Gresnerova helped herself to 20 points with a solid shooting performance (8-of-10) to help lift Léon Trégor past Aix-en-Provence (75-54). Amélie Pochet also knocked in 20 points for the victors. Aix-en-Provence who were without Kelly Corre trailed by just 2 points at the break. Yet they just did not have the fire power to match their opponents for the remaining match.
Leon Trégor took 66 shots while Aix-en-Provence managed 54 during the whole game.
At the moment the CFBB are struggling in LF2. They lost at home to Illkirch-Graffenstaden (58-75).
The CFBB also played a match in midweek against Perpignan Basket, which they also lost (49-58). Elodie Bertal fired in 24 points and picked up 10 rebounds for Perpignan.

---
Une équipe de Nord en haut du tableau

Avec sa dixième victoire consécutive, COB Calais est la seule équipe sans une défaite pendant cette saison en L2F. Pau Lacq-Orthez et Illkirch-Graffenstaden se placent aussi dans le top 4 après avoir gagné leurs matchs respectifs pendant que Roche Vendée est spectateur ce weekend.

Le nouveau leader en L2F, COB Calais, doit travailler dur pour écarter son adversaire Le Havre. Aïda Fall (23 points) emmène son équipe mais succombe dans le deuxième mi-temps avec une rotation restreinte. Jenny Fouasseau (28 points, 6 passes décisives) et Tiffany Clark (22 points, 12 rebonds) font le bonheur de leur équipe pour faire tomber Le Havre (98-71).

Avec son jeu collectif, Pau Lacq-Orthez domine Dunkerque Malo avec les cinq majeures toutes marquant plus que 10 points et contribuant en moins 1 passes décisive chacune. Dunkerque perd (66-89).
Illkirch-Graffenstaden visite le CFBB et remporte cette rencontre (75-58). C'est déjà le deuxième match pendant cette semaine pour les jeunes du Centre Fédéral. En mi-semaine, elles ont reçu Perpignan Basket et ont encaissé une défaite (49-58) dont Elodie Bertal avec 24 points et 10 rebonds fait du grand dégât.
Handicappés par des fautes, Limoges traine au début du quatrième quart. Mais Charnay Basket n'arrive pas à troubler l'envie de Limoges de gagner une quatrième fois d'affilé et succombe (59-66).
Reims juste échappe une défaite contre Chartres (63-62) après que Lisa Bacconier (17 points) rate les deux derniers paniers à la ligne de lancer franc.

Avec plus de tirs par comparaison à Aix-en-Provence, Léon Trégor, emmenée par Adriana Gresnerova (20 points), dépasse son adversaire pour gagner (75-54).

---
Picture credits:
womensbasketball-in-france.com

Date created: 22 December 2013
Like this page / Aimez cette page