LF2 leaders Calais and Roche Vendée confirm status

The 2013-2014 LF2 season is just four weeks old and already we are talking about COB Calais and Roche Vendée qualifying for the end-of-season Final Four.

Veuillez trouver des informations en français sur la quatrième journée de L2F en 2013-14 en bas de la page.
COB Calais did not have to work very hard to push over Léon Trégor (89-51). Léon Trégor have been hit with serious injuries and at present have only five players with experience in this division.
Calais had four players in double digits with Jenny Fouasseau leading the way with 17 points and 9 assists.
Roche Vendée left it till the last minute to depose of Le Havre (64-60). Sara Ouerghi and Johanna Tayeau (25 points) scored the last 4 points of the match.
Le Havre currently have just six players and basically just ran out of energy.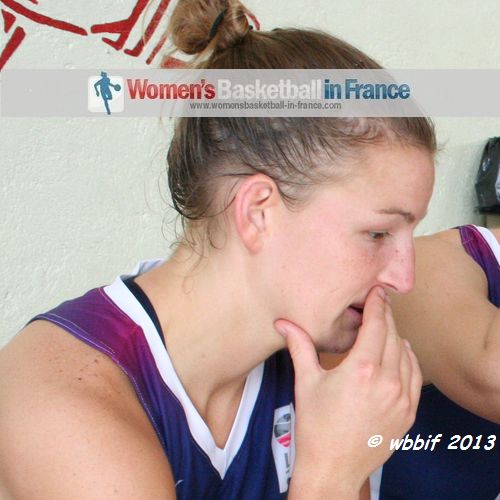 Taelor Karr is finally finding her way in LF2. Last week she scored 13 points while dishing out 11 assists, this weekend she knocked down a game high 25 points (7-of-12 from beyond the arc) to help Dunkerque Malo win on the road against Limoges (70-55).
Limoges trailed for most of the match. But with eight minutes left to play they had all the aces in their hand while leading (50-48).
However once again they fell apart allowing their opponents to finish with a flourish 22-5 to secure the win. Dace Pierre-Joseph compiled a double-double of 17 points and 16 rebounds while Aurélie Durand chipped in 15 points.

For Limoges Manon Sinico and Mélanie Devaux scored 10 points each.

Charnay Basket registered their first victory in LF2 by defeating Reims (71-65).
Reims appeared to have everything under control early on and led for the first 25 minutes. The two teams were still level (62-62) with a couple of minutes left to play. Then the hosts finished the game shooting 7-of-8 from the free-throw line to win.
Julie Legoupil finished with a game high 18 points for Charnay.

Illkirch Graffenstaden did not have an easy nut to crack at home. Yet they did just enough to hold off Aix-en-Provence (61-56).
Darline N'Soki (13 rebounds) and Céline Schmitt-Sendner with 18 and 15 points each countered the 16 points apiece by Kelly Corre and Shenita Landry.
Chartres suffered their first defeat of the season against Pau Lacq-Orthez (63-76). Julia Borde was almost unstoppable hitting 7-of-10 shots from the floor for a game high 19 points for the victors.

---
COB Calais reste concentrée

COB Calais, l'ogresse de la L2F, avale facilement Léon Trégor (89-51) dont quatre joueuses ont plus de 10 points, menée par Jenny Fouasseau (17 points, 9 passes décisives). Les Bretonnes accumulent des blessures et dépendent dorénavant de cinq joueuses avec de l'expérience dans la L2F.

Aussi Roche Vendée ne se laisse pas demander pour enchainer une quatrième victoire consécutive. Les Vendéennes se disposent de leurs adversaires, Le Havre, dans la dernière minute, avec 4 points par Sara Ouerghi et Johanna Tayeau (25 points en total) pour remporter ce match (64-60).
Limoges traine, mais dépasse Malo Dunkerque dans le dernier quart (50-48) pour donner de l'espoir à ses fans. Pourtant avec de belles prestations de Taelor Karr (25 points) et Dace Pierre-Joseph (17 points, 16 rebonds), les Nordistes prennent à nouveau le dessus pour gagner (70-55).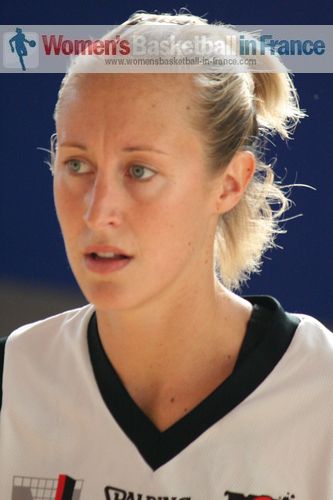 Charnay Basket peut enfin sourire car ses joueuses ont réussit un bel exploit à domicile. Menées par Julie Legoupil (18 points, dans l'image), elles empochent leur première victoire en LF2. Dans la dernière minute, Charnay met 7 de 8 points à la ligne de lancer et franc pour faire tomber Reims (71-65).
Illkirch Graffenstaden devient vainceur à domicile contre Aix-en-Provence (61-55) avec 18 et 15 points de Darline N'Soki (13 rebonds) et Céline Schmitt-Sendner. Les 16 points chacune de Kelly Corre et Shenita Landry sont en vain.
Charnay perd pour la première fois dans cette saison laissant la main à Pau Lacq-Orthez de célébrer une victoire (76-63) avec une Julia Borde en bonne forme (19 points de 7 sur 10 tirs).
---
Picture credits:
womensbasketball-in-france.com

Date created: 2 November 2013
Like this page / Aimez cette page