No change at the top
while Perpignan wait for LF2 début

The LF2 saga continues with Perpignan as Illkirch-Graffenstaden (SIG) maintained their promise by not playing them this weekend. The SIG sent an official letter to the French Basketball Federation (FFBB) informing them of their reason for not travelling to the match.

Veuillez trouver des informations en français sur la septième journée de L2F en 2013-14 en bas de la page.
Roche Vendée's perfect season continues with a road victory against Aix-en-Provence (60-49). Both teams shot poorly from open play. In the end the difference was made at the free-throw line.
Roche scored 17-of-26 while Aix-en-Provence were 8-of-10 in this exercise. Despite the defeat Bérengère Dinga NBomi from Aix with 18 points in 17 minutes was the player of the match.

COB Calais won their shoot-out against Limoges (90-62). This defeat leaves Limoges deep in the LF2 relegation zone with just one victory.
Calais dropped their long distance shooting style for a more physical approach under the basket. The tactic paid off with 30 trips to the free-throw line. They hit 23 of them. Limoges on the other hand were 9-from-12.
Former Calais players Manon Sinico (17 points) and Mélanie Devaux (20 points) led the offense for Limoges. For Calais Marie-Bernadette Mbuyamba came off the bench and knocked in 20 points.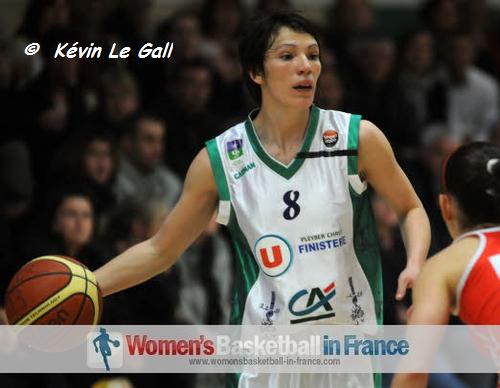 Pau Lacq-Orthez were involved in a complicated match with Le Havre. The lead changed hands 12 times and was tied on 10 occasions during the first 33 minutes.

During the last seven minutes, Le Havre collapsed physically and did not score again while conceding 16 points. Hence they allowed their hosts to secure the victory (68-53).

Marie Butard (in picture) found her scoring touch for Léon Trégor with 22 points while also dishing out 6 assists in the victory against Charnay Basket (72-56).
The fans of Dunkerque Malo had something to smile about after their victory against Reims (61-56) while Chartes had no problems in pushing over the CFBB (88-48).
The CFBB are still without a win in LF2 this season.

---
Perpignan ne joue pas

Calais et Roche Vendée se maintiennent en haut du tableau. Le CFBB ne réussit pas à gagner un seul match en L2F, et Illkirch Graffenstaden refuse de se déplacer à Perpignan pour leur match de la 7ème journée pendant que Limoges subit encore une fois une défaite. Reims, Le Havre, Aix-en-Provence n'ont pas de succès non plus. Léon Trégor et Dunkerque Malo font des belles opérations.

Les leaders en LF2: Roche Vendée gagne contre leur hôte Pays d'Aix (60-49) à la ligne de lancer franc pendant que COB Calais s'impose - en s'appuyant plus sur leurs intérieures - contre un Limoges dans les rouges (90-62).

Le Havre, démuni à sept joueuses, s'incline contre Pau (Mourenx) (53-68) dans les sept dernières minutes. Pau, jouant à domicile, marquent dans cette période 16 points d'affilés.
Léon Trégor, sur le dos de Marie Butard (22 points, 6 passes décisives), gagne leur deuxième match (72-56) contre Charnay Basket.
Enfin Dunkerque Malo, à domicile, arrive à battre Reims (61-56) dans un match avec beaucoup d'envies mais beaucoup de tirs manqués.
Chartres bat le CFBB (88-48).
De ce fait, Limoges est, en excluant le CFBB, la lanterne rouge de cette saison et momentanément le seul club en risque d'être relégué et doit se ressaisir.

---
Picture credits:
womensbasketball-in-france.com

Date created: 24 November 2013
Like this page / Aimez cette page