The leaders of LF2 roll on while
Illkirch-Graffenstaden are on fire
COB Calais and Roche Vendée remain undefeated in LF2 while Illkirch-Graffenstaden and Pau Lacq-Orthez (Mourenx) are both close behind in third and fourth place. 
Veuillez trouver des informations en français sur la sixième journée de L2F en 2013-14 en bas de la page.
COB Calais were a little rusty after a week off but still had enough in reserve to overcome Chartres (80-67) while leaders Roche Vendée were involved in a dramatic finish against Limoges (78-73).
Both teams are yet to suffer a loss this season. Yet it is Roche Vendée that are top of the table having played a game more than second placed Calais.
With the return of Perpignan to the championship next week (23 November 2013), there will be no more free weekends for any of the teams.

What happened on the basketball courts in LF2 this weekend

Léon Trégor came all the way from Brittany with their most complete roster of the season to face Illkirch-Graffenstaden. They had signed Amélie Pochet during the week, while Aude Kernevez and Adriana Gresnerova returned from injury.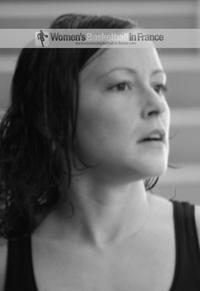 However for Illkirch-Graffenstaden (SIG), Kathleen Bourdin (7 points, 6 assists - in picture) is now fully recovered from her back injury and is back to her aggressive best.
The SIG were really attacking during the first 20 minutes in this LF2 encounter and opened up a big lead (54-30). They then paced themselves the rest of the way behind 24 points and 11 rebounds by Céline Schmitt-Sendner to victory (93-72).
Aline Fischbach chipped in 16 points while Céline Mauler, Louise Dambach and Amélie Voynet all scored 11 points in a balanced scoring effort.
Léon Trégor also had five players in double digits: Yar Shayok 16, Pochet 15, Marie Butard 12, Gresnerova 12 and Whitney Miguel 11.
Heta Korpivaara went a perfect 10-from-10 from the floor in leading Reims to victory against Aix-en-Provence (73-66). She finished the game with 26 points and 8 rebounds. A missed free throw (4 from 5) cost her a perfect shooting day. Aix-en-Provence were led by Shenita Landry who also had 26 points.
When it comes to three-point shooting, there are not many players in LF2 that have the shooting action of Julie Legoupil (4-of-7) from Charnay Basket. She led her team to victory (67-59) with 21 points against Dunkerque Malo.
The CFBB had a busy week. They had lost in mid week (57-58) on the road  against a depleted Le Havre team in a match that counts for round 12.

They completed the week with a home defeat against Pau Lacq-Orthez (58-66). Mariame Dia with 18 points and 16 rebounds was the driving force for the visitors.
---
Pas de basculement dans le haut du tableau

Pendant que Calais et Roche Vendée restent invaincus en haut du tableau de L2F, Illkirch Graffenstaden et Pau-Lacq Orthez sont des prédateurs dangereux. 

Les joueuses de COB Calais n'arrivent pas à rentrer dans le match si facilement après presque deux semaines de pauses. Pourtant le collectif des Nordistes fait subir la loi du plus fort à Chartres (80-67) pendant que leur rivale Roche Vendée réussit à arracher une victoire contre Limoges (78-73).
Illkirch-Graffenstaden entame le match avec beaucoup d'agressivité pour creuser un écart important à la mi-temps (54-30) contre Léon Trégor. Quoique au complet, les Bretonnes, emmenées par Yar Shayok (16 points), Amélie Pochet (15 points), Marie Butard (12 points), Adriana Gresnerova (12 points) et Whitney Miguel (11 points), n'ont pas assez d'énergie après leur long voyage pour répondre aux assauts des Alsaciennes et perdent conséquemment (93-72).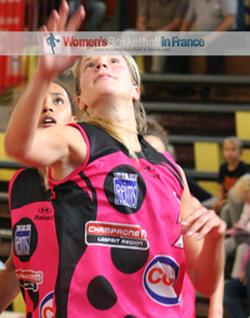 A nouveau Céline Schmitt-Sendner (24 points et 11 rebonds) s'impose, suivie par Aline Fischbach (16 points) et Céline Mauler, Louise Dambach, Amélie Voynet avec 11 points chacune.
A voir comment les Illkirchoises vont répondre à leur prochaines adversaires de Perpignan le weekend prochain?

Reims, à domicile, avec une excellente prestation de Heta Korpivaara (26 points, 8 rebonds - dans l'image) trouve son sourire pour gagner contre Aix-en-Provence (73-66). Les 26 points de Shenita Landry n'ont pas suffit pour contrer les Remoises.
Dunkerque Malo tombe contre le nouveau promu, Charnay Basket (67-59) dont l'adresse à trois points par Julie Legoupil (21 points) fait la différence.
Le CFBB perd deux fois cette semaine: (57-58) contre leur hôte Le Havre (un match de la 12eme journée) et à domicile ce weekend contre Pau Lacq-Orthez (58-66). Mariame Dia avec 18 points et 16 rebonds est le catalyste dans cette victoire.
---
Picture credits:
womensbasketball-in-france.com

Date created: 17 November 2013
Like this page / Aimez cette page