Aline Fischbach upholds the law
in LF2 as the SIG bounce back

Illkirch Graffenstaden kept their word in LF2 round 7 by not playing Perpignan and were punished with a forfeit (penalty). This weekend in the so called game of the week, they walloped Final Four challengers Pau Lacq-Orthez (92-75).
In the meantime Perpignan picked up their second win because Charney refused to host them.

Veuillez trouver des informations en français sur la huitième journée de L2F en 2013-14 en bas de la page.
The build-up for the match between Illkirch Graffenstaden and Pau Lacq-Orthez from their media channels was so interesting that anybody would have thought the championship title was on the line.
Both teams had injury concerns before the game. In the end Émilienne Vidal and Ingrid Bunel were absent for Pau while Kathleen Bourdin was mising for the hosts.
For the first 20 minutes the match lived up to its billing. Tied (27-27) at the end of the first quarter, the guests had the edge at the break (44-42).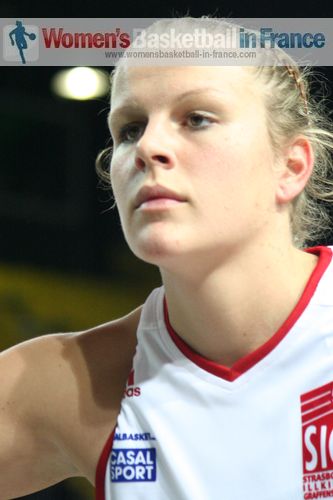 The SIG took command during the third quarter with a 23-9 run and finished their LF2 game in an explosive final quarter 27-22.
However the key for the SIG was the rainbow shooting of police woman Aline Fischbach (5-of-9, in picture) from the land of many and her aggressive driving to the basket. She had 9-of-12 from the free-throw line while finishing the game with 32 points.
Célia Mauler was active behind the three-point line with 3-of-6 for 11 points while the unstoppable Céline Schmitt-Sendner finished with another double-double with 24 points and 11 rebounds.
Elsewhere in LF2, Amélie Pochet came back to haunt her former club Reims with 25 points and 15 rebounds for Léon Trégor to take the victory (81-71). This game also got off to an electric opening with Reims dominating the first quarter (29-20).
But with the starting five for Léon Trégor shooting more often and with a 53 percent success rate they took control of  the game.
At last Limoges had something to smile about with a (70-53) victory over Aix-en-Provence. Mélanie Devaux did most of the damage from the free-throw line (11-of-12) in her game high 24 points while Brooklyn Pope helped herself to 20 points and 11 rebounds to secure the win.

Kelsey Sigl is back from injury. She played almost 29 minutes coming off from the bench. She scored 12 points in helping Le Havre overcome Chartres (61-49). Aïda Fal led all scoring with 16 points while Lisa Bacconnier and Swanne Gauthier both had 14 points for Chartes.
Roche Vendée's perfect season in LF2 continues with a comfortable victory against Dunkerque Malo (80-69) while there was minimum service for COB Calais in overcoming the CFBB (66-46).
If the situation with Perpignan is not resolved, then this season will end in chaos because once a team has two forfeits, their season is over. This implies that Perpignam could end up winning the regular season by playing just two games (as the CFBB are not part of the boycott).

---
Les Alsaciennes en force !

Comme les autres semaines, c'est un long fleuve tranquille pour COB Calais et Roche Vendée pendant que Illkirch Graffenstaden reste concentré et Perpignan gagne mais ne joue pas son adversaire Charnay. Le Havre, Léon Trégor et Limoges font aussi la joie à leurs supporteurs.

En haut du tableau en L2F, il y a Roche Vendée qui s'impose contre Dunkerque Malo (80-69) pendant que COB Calais bat les jeunes du CFBB (66-46).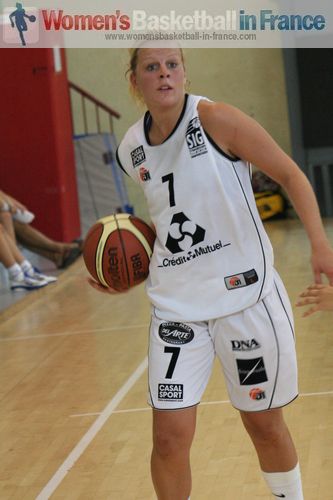 Pau Lacq-Orthez succombe à leur hôte Illkirch-Graffenstaden (92-75) avec une belle prestation de l'Alsacienne Aline Fischbach (dans l'image). Fischbach a la main chaude avec 32 points dont cinq trois-points, suivie par Céline Schmitt-Sendner (24 points, 11 rebonds) pendant que Célia Mauler met 11 points dont trois trois-points.
Privé de Émilienne Vidal et Ingrid Bunel, Pau perd dans la deuxième mi-temps après un chassé-croisé dans les premières 20 minutes et un petit avantage après le deuxième quart (44-40).
Et c'est Amélie Pochet (25 points, 15 rebonds) dans son nouveau club Léon Trégor qui savoure la victoire contre son ancien club Reims (81-71) pendant que Limoges gagne contre Aix-en-Provence (70-53). Mélanie Devaux contribue 24 points à la victoire pendant que Brooklyn Pope suit avec 20 points et 11 rebonds.

Finalement ce sont les joueuses de Le Havre qui battent Cartres (61-49). Aïda Fall (16 points) et Kelsey Sigl (12 points) répondent présentes.

---
Picture credits:
womensbasketball-in-france.com

Date created: 30 November 2013
Like this page / Aimez cette page