Aline Fischbach's act
to balance basketball with
her Police job

To balance basketball activities with anything else was something that Aline Fischbach managed for most of her youth career. Her parents had to take her on 100 km round trips just for training from the the age of 13 until she finished her high school education at 18.
Ecoutez les explications en français de la championne d'Europe espoir 2009, Aline Fischbach sur sa façon de jongler entre sa carrière dans la police et le basketball en L2F à Illkirch-Graffenstaden.

The 1989 generation - to which Fischbach belonged - gave selectors a tough time when they had to pick players to represent France at youth competitions.

However despite the depth of talent of the 1989 players, no medals were won at the U18 Championship.
Fischbach who was making waves in the east of France was never called up at U16 and U18. But her time was to come with the 1989 golden girls that won the 2009 U20 European Championship for Women Division A title.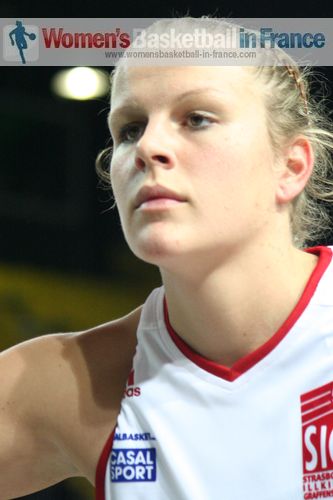 The French roster for that summer read like a who is who in French basketball with: Amel Bouderra, Virginie Brémont, Mélanie Plust, Jessica Clemençon, Isis Arrondo, Darline Nsoki, Ana Cata-Chitiga, Marielle Amant, Doriane Tahane, Carine Brossais and Audrey Salvi.
Jessica Clemençon who is currently studying in Canada and Fischbach are the only players from this group never to have played in the LFB.

After the success in July 2009, it was expected that Fischbach would one day turn professional.

However she had a passion for "Law and Order" and wanted to enter the Police. She had already done one year of Law at an university and a year of administrative studies.
So just four months after winning Gold, she entered the Police Academy for 12 months of training. She continued her act to balance basketball with her new career path by only training on Friday evenings.

She graduated from the Police Academy in November 2010. Luckily she was posted in Colmar, only about one hour away from Illkirch-Graffenstaden.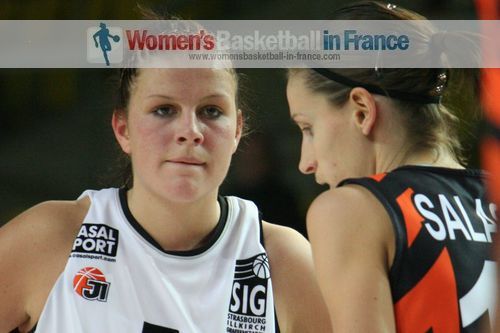 In the last from our series about how to balance basketball with other activities at Illkirch-Graffenstaden Fischbach says that until 2009 only basketball was her life but today her work comes first.
She goes on to explain (in French) that despite her desire to train more with the team and fit in the group, her work does not permit her to train more than two times a week.
At 15 Fischbach was the rising star on the basketball court. Today at 23 she is making a career for herself in the Police.

womensbasketball-in-france.com thanks Aline for sharing her experience with us and at the same time is wishing her the best of luck in her police career.
---
Like this page / Aimez cette page