LF2 round 16
No change at the top

Cavigal Nice and COB Calais continue their domination of LF2 basketball with more crushing victories towards their objective of the Final Four participation. Angers won the big match for third place while Pau Lacq Orthez and Roche Vendée made home advantage count.

COB Calais were given a tough time for 32 minutes by their hosts US Laveyron and led by just 5 points (67-62). During the last eight minutes Calais were able to turn their domination into points to finish the game with a 27-0 run to seal  the victory (94-62).
Manon Sinico, Mélanie Devaux and Kierra Mallard (15 rebounds) were the leading scorers for Calais with 21, 18 and 17 points each. However three other players were also in double-digit scores while their captain Aurélie Cibert (2 points) dished out 9 assists.
For US Laveyron Manon Morel, Elena Vishnyakova and Leslie Fournier scored 14, 12 and 10 points respectively.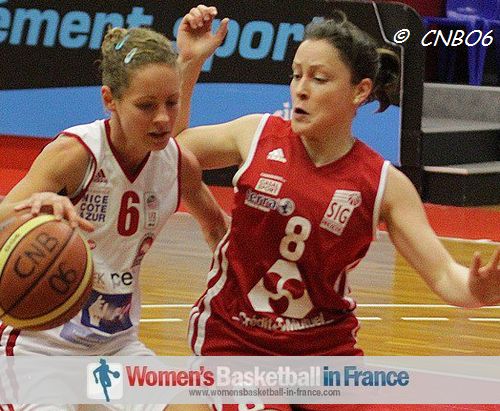 Cavigal Nice overpowered Illkirch-Graffenstaden (SIG) (74-50) for their sixth consecutive victory in LF2. In a crazy first quarter Cavigal Nice led (9-1) after two minutes. Yet four minutes later they trailed (9-12).
By the end of the first quarter they regained control to go ahead (19-16).
Scoring was difficult and both teams spent a lot of time shooting from beyond the arc. Cavigal Nice were excellent in this exercise hitting 14-from-35 attempts while the SIG were 2-of-23.
Anaïs Déas (above right in picture) from Cavigal Nice was the player of the match with 15 points and 6 assists.
Pau Lacq Orthez did not have to work hard to get past Limoges (85-61). Limoges' aggressiveness got themselves into foul problems with 4 team fouls within the first four minutes for their opponents to lead (11-3).
Limoges have improved over the last couple of months. Yet in this game they found no answer after losing by 21 points (29-50) at half time. For Pau on the other hand February has started well after a January draught. Laurie Lapeyre led the scoring with 20 points.

When it comes to excitement in LF2 this season, then Reims BF are the team to watch. They made more three-pointers (13) shots than two-point shots (12) and still ended up losing to their hosts. 
Roche Vendée held their nerve at critical moments and turned the ball over less to pull off an exciting victory (83-76). Johanne Tayeau and Sabrina Bouzenna led the way with 18 and 14 points each.
Léon Trégor hardly lose a game at home but this weekend that had no answer for Camille Aubert (13 points) and Carine Brossias (18 points) from Angers. Between them they connected 13-from-15 shots.
Angers completed the season sweep against Léon Trégor by winning the match (64-50).

L2F results from round 16:

Pau Lacq Orthez 85-61 Limoges
US Laveyron 62-94 COB Calais
Roche Vendée 83-76 Reims BF
Cavigal Nice 74-50 Illkirch-Graffenstaden
Léon Trégor 50-64 Angers
---
Like this page / Aimez cette page