UFAB 49 and the SIG win big in LF2
Finally the LF2 basketball season has taken off with youth players making headlines and experienced players the difference. The CFBB, Dunkerque Malo and Limoges are still waiting for their first victory on the court.
Veuillez trouver un résumé en français en bas de la page de la 5ème journée en L2F.

Limoges were supposed to have the weekend off but agreed to move their game for round 13 forward against Angers. They must wish that they had not agreed because they were crushed (44-82).
Angers scored the first 13 points of the game and then paced themselves to a comfortable victory with Johanna Cortinovis leading the way with 19 points and 10 rebounds.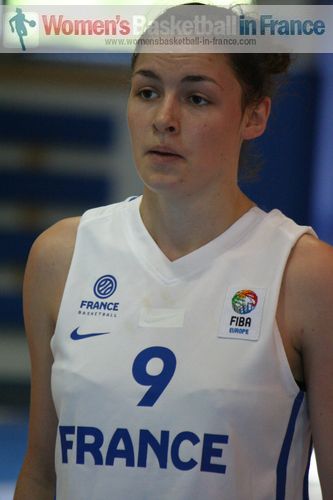 Illkirch-Graffenstaden won their first LF2 game of the season by crushing Pau Lacq Orthez (82-49). Awa Sissoko with 21 and Louise Dambach (in picture) with 20 points and 9 rebounds led the SIG to victory.
The only reason that can be given for the poor performance of Pau Lacq Orthez is the sudden change in temperature from the warmth of the south of France to the freezing conditions in the Alsace.
Léon Trégor led from start to finish in their game against US Laveyron (70-52). Franck Simon, the coach from Léon Trégor 29, is - despite the victory - concerned about the three-point shooting with just 2-of-14. However he should be satisfied with the hassle statistics in which his team picked up 16 points off 18 turnovers.
Oumou Kalsoum Touré (15 rebounds) and Aude Kernévez (10 rebounds and 4 assists) completed their double-doubles with 19 and 10 points each.

COB Calais maintain their perfect record after seeing off Roche Vendée (70-59). It appeared that after 12 minutes with a 22-7 lead after an 18-0 run Calais could have blown away their opponents.
Calais did everything right up to the interval (44-18) but then made hard work of the second half. Floriane Herrscher had a good game for Calais with 18 points while Jenny Fouasseau gave a little demonstration of her shooting skills with 12 points.
Reims BF had to work hard but with 21 points and 5 assists from Anaïs Fromby and Maud Lesoudard (16 points and 11 rebounds) throwing herself around, they held off Dunkerque Malo (76-71).
Dunkerque, playing at home, had all the cards in their hands to win this match. Sonia Bal (18 points) turned the clock back with excellent three-point shooting (5-of-7). Judit Fritz also have a good offensive game with 16 points while Aurélie Durand dished out 8 assists.
However at crunch time with 15 seconds to play they allowed Emmanuelle Gorjeu (in picture, 19 points) from Reims two trips to the free-throw line. She hit 3-from-4 and the game was gone.
As expected Cavigal Nice defeated the CFBB. The final score was (59-45).
Leading (50-30) going into the final quarter, Cavigal Nice kind of disintegrated. If not for 7 points coming from Jeanne Senghor-Sy (18 points) the CFBB could have turned things around.
All the same Cavigal Nice and COB Calais are still undefeated and setting the pace in L2F this season.
LF2 round 5 results:
CFBB 45-59 Cavigal Nice
COB Calais 70-59 Roche Vendée
Dunkerque Malo 71-76 Reims BF
Léon Trégor 70-52 US Laveyron
Illkirch-Graffenstaden 82-49 Pau Lacq Orthez

(Angers 82-44 Limoges: round 13)

---
Des frissons dans les rencontres de ce weekend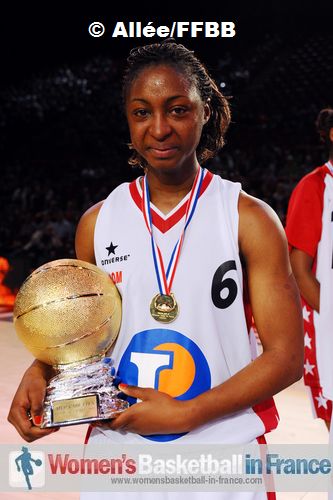 Autant que le temps change, quelques équipes nous étonnent en remportant des victoires invraisemblables avec des jeunes joueuses tirant l'épingle du jeu et l'expérience des anciennes déterminant le résultat du match!
Illkirch-Graffenstaden remporte sa première victoire contre Pau Lacq Orthez (82-49), menée par la jeune Louise Dambach (20 points, 9 rebonds) et Awa Sissoko (dans l'image, 21 points).
Jouant à domicile, Dunkerque Malo succombe à Reims BF (71-76) dans les dernières minutes de jeu en faisant faute deux fois à Emmanuelle Gorjeu (19 points) qui punit ses adversaires avec 3 de ses 4 lancers francs réussi.
Pourtant deux autre co-équipières de Gorjeu ont aussi fait leur impact avec 21 points et 5 passes décisives de Anaïs Fromby et avec 16 points et 11 rebonds de Maud Lesoudard, revenue dans son ancien club.

Le CFBB perd à nouveau, cette fois-ci contre les Niss'Angels (45-59) qui d'ailleurs n'étaient pas au top de leur jeu.

COB Calais reste invaincu avec Floriane Herrscher (19 points) et Jenny Fouasseau (12 points) montrant leur agilité contre Roche Vendée (70-59).
Les bretonnes de Léon Trégor 29 ont un jeu facile contre US Laveyron (70-59) avec des performantes Oumou Kalsoum Touré (19 points, 15 rebonds) et Aude Kernévez (10 points, 10 rebonds, 4 passes décisives).
Un match a été joué de la 13e journée de la LF2 dont Limoges, n'ayant pas encore remporté une seule victoire, perd complètement ses moyens et trébuche (44-82) contre Angers avec une Johanna Cortinovis révélant son tempérament avec 19 points et 10 rebonds.
---
Visit our home page
Visit our "What's New" page
Visit our LF2 Basketball 2012-2013 page

picture credits:
womensbasketball-in-france.com
FFBB

Date created: 28 October 2012
Like this page / Aimez cette page