US Laveyron Drôme continue in LF2 despite financial problems

US Laveyron Drôme's LF2 future was already in doubt before the start of the season because of the financial difficulty of their association. But with the club taking in four youth players from the now defunct Challes-les-Eaux, they thought they could balance the books.

However on 17 October 2012, the club was put into administration and was told that they had eight weeks to either come up with a financial plan or they would be closed.
We had already mentioned during last weekend's round-up (round 12) that their leading scorer Shenita Landry had found a club in Finland and had signed a contract with them.
However it was only on 19 December 2012 that US Layeyron made it official that she had left, although they had no choice but to let her go in order to cut costs.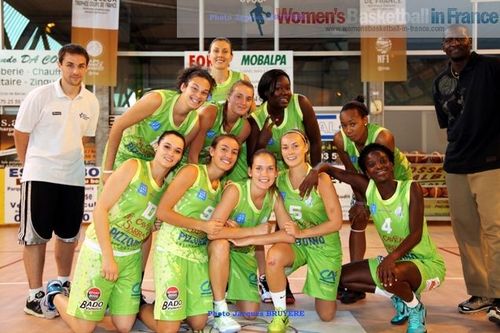 As a result of reducing their operational costs and not having to pay Landry they have been given until 17 April 2013 to come up with a rescue plan to save the club from closing down.

The association of US Laveyron Drôme has been in existence for 64 years and in 2011 celebrated their win of the amateur version of the French Cup (Trophée Coupe de France Féminin).

The club has also made an official appeal to the general public for donations.
In the meantime their coach Etienne Faye is relieved that he still has a team to train and that they can finally concentrate on playing basketball. After a good start to the LF2 season, his team are currently on a three-game losing streak. 
Faye hopes that they can end this year on a good note with a victory against Roche Vendée. 
L'US Laveyron est encore là!

Après être placé en redressement judiciaire le 17 octobre 2012, US Laveyron Drôme a échappé belle une fermeture le mercredi dernier au Tribunal de Grande Instance de Valence. Laveyron a été accordé un sursis jusqu'au 17 avril et peut continuer son aventure en L2F.
Pourtant le club doit impérativement sortir de ses grosses difficultés financières. C'est ainsi qu'il s'adresse à ses fans sur son site:

"L'US Laveyron Drôme en demande à votre aide !

L'US Laveyron Drôme, association existante depuis 64 Ans, a besoin d'un coup de main. Ce club de basket féminin flirte avec les sommets depuis plusieurs années (l'équipe fanion qui a été championne de France et a remporté le trophée coupe de France à Bercy en 2011, évolue pour la troisième saison consécutive juste en dessous de l'élite la ligue féminine, la Ligue 2 Féminine), se confronte à de bien plus grosses cylindrées que lui, mais ce petit poucet a besoin aujourd'hui du soutien populaire. Pour pouvoir poursuivre cette magnifique aventure, l'US Laveyron Drôme a besoin de finances supplémentaires. Le club fait donc appel à toute bonne volonté pour l'aider dans cette démarche. Si vous connaissez ce club, si vous êtes sensible au travail du monde associatif, faîtes un don, même petit, cela l'aiderait vraiment dans cette démarche. En transférant ce texte à tous vos contacts, cette demande fera « boule de neige » et peut toucher des centaines voir des milliers de personnes."

---
Like this page / Aimez cette page