Dunkerque are finding
LF2 basketball tough this season
It is not often that the CFBB start as favourites to win a match in LF2. But for this round they were expected to beat Limoges because of recent results. In addition the CFBB had won both matches against Limoges last season.

The game was much better than expected and for the first 30 minutes full of twists and turns. The CFBB had the better of the early play. Yet by the end of the third quarter the teams were level (48-48).
Lucie Barba hit the first points of the final quarter and Limoges went in front for good to win their first game of the season (69-63).
Iva Grbas (25 points) was physically too strong for the players from the CFBB while Barba dominated the rebounds with a total of 17.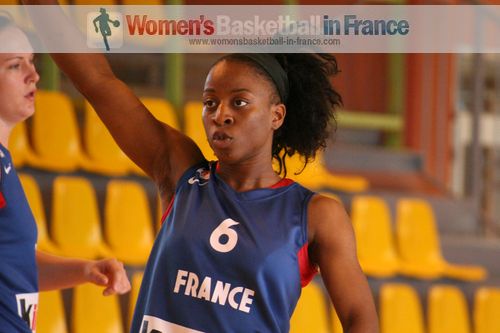 Princesse Goubo (in picture) used her speed to draw fouls and scored 10 of her 18 points from the free-throw line.

For the CFBB Katia Clanet is continuing from where she left off last season with 17 points. But Marie Milapie gave a demonstration in the art of picking up offensive rebounds with 11 while collecting a total of 17 rebounds and scoring 10 points.
The CFBB are the only team not to have won a game this season.

The rest of the news from LF2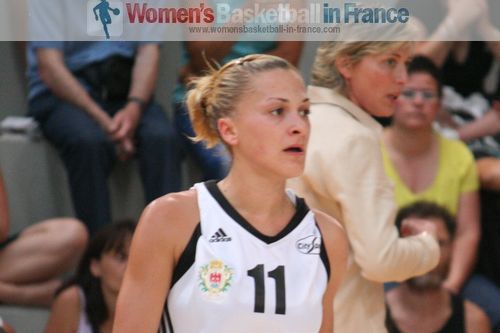 Cavigal Nice did the hard work in the first quarter against US Laveyron (21-12). They then never looked back as they paced themselves to victory (60-50) despite a high number of turnovers. Jeanne Senghor-Sy , Elodie Decker (in picture) and Alexandra Tchangoue scored 15, 14 and 11 points each.

COB Calais rolled over their hosts Illkirch-Graffenstaden (82-66) to keep themselves on the tail of Cavigal Nice. Calais' American Kierra Mallard was the leading scorer with 19 points and 10 rebounds. Illkirch-Graffenstaden lost the battle of the boards for rebounds and gave Calais too many free trips to the charity stripes.

Angers were neat and tidy as they crushed Dunkerque Malo (89-45).
A 17-0 run between the first and second quarter (30-13) more or less ended the contest with just under 15 minutes played. It was one-way traffic the rest of the way. Johanna Cortinovis helped herself to 17 points while the duo Carina Brossias and Sophie Le Marrec scored 16 points each. Auélie Favre was not far behind with 15 points.
With this defeat Dunkerque Malo's LF2 Final Four ambitions for this season are no more.

A few seasons back Franck Simon, the coach from Leon Trégor 29 said that you could not win a game at this level if the number of turnovers were more than assists. Well Léon Trégor had 19 assists and 17 turnovers while Reims had 12 assists and 20 turnovers.
Léon Trégor won the match (70-67). But it was not the assist/turnover ratio that won the match but their ability to get to the free-throw line. They were 18-from-25 compared to 10-of-13 from Reims.
Oumou Kalsoum Touré top scored for Leon Trégor with 21 points while Adrianna Gresnerova chipped in 17 points. For Reims Pauline Lithard with 15 points was one of four players in double digits.

L2F results from round 11:
CFBB 63-69 Limoges ABC
Illkirch-Graffenstaden 66-82 COB Calais
Angers 89-45 Dunkerque Malo
Léon Trégor 70-67 Reims BF
US Laveyron 50-60 Cavigal Nice
---
Visit our LF2 Basketball 2012-2013 page

picture credits:
womensbasketball-in-france.com

Date created: 9 December 2012
Like this page / Aimez cette page