Five teams in early race
for LF2 final four

Including results for SO Armentières and Etoile de Voiron in the LF2 regular season standings does not make much sense.
Currently Angers are top of the league having played one game more than the undefeated Cavigal Nice that are in second place. At the moment Léon Trégor and Reims occupy the third and fourth place and are well on course for the LF2 final four.

The long awaited game between Cavigal Nice and COB Calais did not live up to its billing as the match of the week.
Calais could not break the zone defense and spent the evening shooting three-pointers (2-of-14) and long distance shots with little success. If not for Floriane Herrscher (18 points) and Kierra Millard (15 points) the defeat would have been bigger.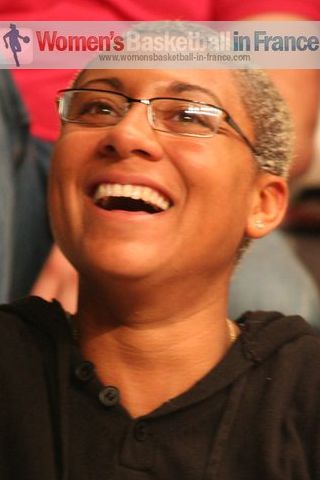 Rachid Mezianne, the coach from Cavigal Nice is a master technician. He just adjusted his systems with fast breaks and three-point shooting (10-of-19) to compensate for their disadvantage in the paint.
The result was Nice never trailed and strolled to victory number 8 (76-63).
Elodie Decker (15 points) had fun hitting 4-of-5 from beyond the arc while Alex Tchangoue (in picture) led the way with 17 points. Cavigal Nice are the only team in the division not to have dropped a game.

Dunkerque Malo got their first victory of the season by beating Limoges (80-79). Dunkerque were actually outplayed but were rewarded with the victory by taking 13 more shots than their opponents. Also Dunkerque went 7-of-22 from beyond the arch while Limoges were 1-of-6.
The contest between the point guards Princesse Goubo (9 assists and 5 points) and Mélissa Micaletto (8 assists and 14 points) was worth the entry money alone.
The game was exciting and tension packed. Despite being handicapped early with 3 fouls Iva Gruba (20 points) took on Aïda Fall (20 points) in the offensive battle. Lalya Sidibe backed them up with 15 points.
For Dunkerque Malo Sabrina Scott had her best game of the season with 21 points and 11 rebounds. With the game tied at (75-75) and just under three minutes to play, Scott blocked Gruba before putting Dunkerque in the lead for good.
However the result has not changed much for either team in terms of their league standings as they are a long way back from the teams challenging for a place in the LF2 final four.
At the moment nothing can stop Reims BF. Despite not playing well until the final quarter they came out on top against Illkirch Graffenstaden (74-67).
Louise Dambach was on fire for the SIG during the first quarter as her side edged the first quarter (20-14). The SIG somehow managed to stay in front until the start of the final quarter (56-55).
However Anita Mészáros from Reims, having returned from injury, won the game for the hosts with her precious rebounding skills.
Angers are another team that are on a run. They travelled to US Laveyron and made sure that Shenita Landry (18 points but 9 turnovers) did not have an easy time. They maintained their collective formation with seven players scoring between 6 and 11 points to win the match (65-53).
Normally matches between Roche Vendée and Léon Trégor are more evenly contested. But with the injury to Elodie Gerald after about six minutes and Johanna Tayeau playing on one leg Roche did not have enough back-up to match their guests.
The hosts were also without Cora Duval and Florine Basque who are also both injured.
For Léon Trégor Leslie Matanga had her best match for the club and top scored with 16 points.
LF2 round 8 results:
Reims BF 74-67 Illkirch Graffenstaden
Cavigal Nice 76-63 COB Calais
Dunkerque Malo 80-79 Limoges ABC
US Laveyron 53-65 Angers
Roche Vendée 44-77 Léon Trégor
---
Like this page / Aimez cette page