UFAB 49 are going to the
LF2 Final Four

The most important game from LF2 round 24 in terms of qualification for the Final 4 resulted in Léon Trégor losing and dropping out of the top 4.

As a result of Léon Trégor's defeat, Angers (UFAB 49) were able to punch their ticket for the final 4 with a road victory against Dunkerque Malo (79-72).
In the other games played COB Calais beat Illkirch-Graffenstaden (93-67) while the CFBB edged out Limoges (72-56).
Pau that did not play for the second weekend moved into 4th place alone while Cavigal Nice celebrated their regular season title without having to play a match.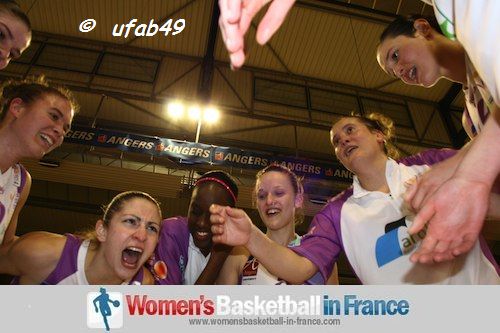 Angers booked their ticket to the LF2 Final 4 by beating Dunkerque (79-72). Leading (61-46) going into the final quarter Angers took their foot off the accelerator.
David Girandière, the head coach of Angers, continued his rotation policy with nobody playing more than 29 minutes.
All 10 players got on the score sheet with Camille Aubert leading the way with 17 points and 4 assists. Aurélie Besson was next in the list with 13 points while Aurélie Favre and Johanna Cortinovis chipped in 11 points apiece.
Dunkerque Malo went a perfect 13-from-13 from the free-throw line and had 23 points coming from Judit Fritz and Dace Pierre-Joseph.
Reims BF never trailed in their match against Léon Trégor to win (79-73). With the defeat Léon Tregor drop out of the top 4 at a crucial time in the season.
Anita Meszaros had probably her best game of the season for Reims scoring 21 points and taking 12 rebounds (7 offensive) while Maud Lesoudard had another solid shooting day with 19 points.
Maria Butard and Leslie Matanga from Léon Trégor had 17 points each.
For Léon Trégor to qualify for the LF2 F4 they need to keep on winning and hope for Pau to drop at least one of their remaining games.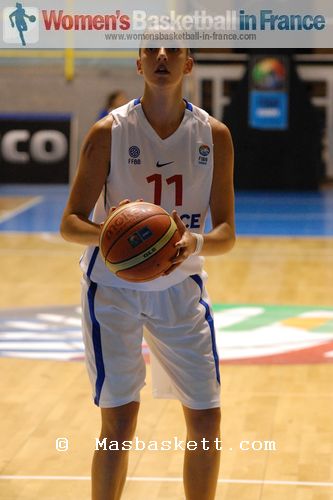 Limoges' nightmare season continues with a home defeat against the CFBB (56-72). Without Princesse Goubo, who was injured last week, Limoges' experiment at the point guard position did not work.
The CFBB never trailed and led (12-4) after five minutes and by the end of the first quarter were in total control (21-10).
Limoges had a good spell during the second quarter but were unable to claw their way back into the game. For the CFBB Laëtitia Guapo (in picture) and Clarince Djaldi-Tabdi scored 14 points each.
In the final game of the weekend COB Calais were on fire converting 55% of their shots in the victory (93-67) against Illkirch-Graffenstaden.
Mélanie Arnaud (15 rebounds) and Floriane Herrscher (13 rebounds) scored 22 and 19 points each while Aurélie Cibert had 18 points and dished out 7 assists.
For the SIG who are already preparing for the 2013-2014 LF2 season were without their police woman Aline Fischbach. All the same Kathleen Bourdin was solid with 21 points while Céline Schmitt and Bettina Kadila scored 16 and 12 points each.
L2F round 24 results

COB Calais 93-67 Illkirch-Graffenstaden
Dunkerque Malo 72-79 Angers
Reims BF 79-73 Léon Trégor
Limoges 56-72 CFBB
---
Like this page / Aimez cette page