LF2 basketball
double-double weekend of
Oumou Kalsoum Touré

The hosts dominated the second round of LF2 basketball this weekend with four victories from five games. Angers, Léon Trégor and Cavigal Nice are the early pace setters with two victories each.

Unfortunately the LF2 basketball schedule has been messed up due to teams withdrawing, so each week except for two weekends two teams are not in action.
This weekend it was the turn of Limoges and Reims to have had the weekend off.
The CFBB were in action for the first time this season and worked away with nothing. They lost away to Angers (43-62). The hosts never trailed in the match, led by Camille Aubert with 16 points.
The CFBB play again this week, on Wednesday 10 October when they face US Layeron in their rescheduled first round game.

Back home, they call her Oumou Touré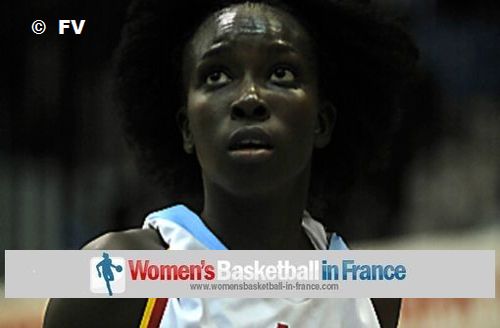 Oumou Kalsoum Touré is the leading scorer in LF2 basketball at the moment with a double-double average in points and rebounds. This weekend she scored 28 points and picked up 12 rebounds as Léon Trégor defeated Illkirch-Graffenstaden (72-59).
Before Touré joined Léon Trégor last season she was playing for Perpignan Basket. She helped them to win promotion from NF2 to LF2 in 2010 and was a key member of the team in their first season in LF2 (2010-2011).
She was expecting to stay with the club last season, but the club decided to sign other foreign players, so she had to find a new club.

She landed at Léon Trégor after their original American signing decided to take a coaching job in the USA.
However her signing was complicated and Léon Tregor were deducted points for playing her before her licence status was confirmed.
All the same she played in 25 games for Leon Trégor last season and finished with a double-double average of just over 17 points and 11 rebounds per match.
The rest of the LF2 basketball news:
Last weekend Kévin Brohan, the new coach at COB Calais, was at the match between Dunkerque Malo and Pau-Lacq Orthez to well prepare for his team's visit to Pau.
Although Pau shot 65% last weekend, they were just 18-of-63 (28%) against Calais.
Calais were more consistant hitting 52 % from the field in a comfortable start to finish the game with a victory (70-47) with Mélanie Devaux leading the scoring with 18 points.
US Laveyron's first game of the season went according to plan as they blew away their guests Dunkerque playing hard for 30 minutes. They relaxed a little in the final quarter but won (71-55).
Shenita Laudry had an interesting debut with 23 points and 11 rebounds for the winners. Mélissa Micaletto's 21 points was in vain for Dunkerque.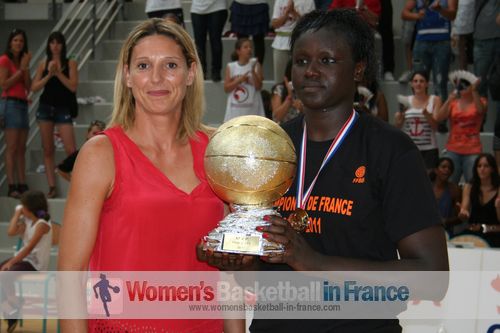 Cavigal Nice won at home against Roche Vendée (77-69) but made hard work of it. The hosts attempted too many three-point shots when they had better chances going inside.
Roche Vendée on the other hand were more aggressive in defense and if they had a little more composure in finishing they would have had the chance to take the game.
In the end the experience of Jeanne Senghor-Sy (in picture above next to Audrey Sauret on the left) with 16 points and 11 rebounds and the 17 points from Margaux Okou Zouzou proved enough for the Niss'Angels.
The results of the weekend:
Cavigal Nice 77-69 Roche Vendée
US Laveyron 71-55 Dunkerque Malo
Pau Lacq Orthez 47-70 COB Calais
Léon Trégor 72-59 Illkirch Graffenstaden
Angers 62-43 CFBB
---
Visit our home page
Visit our "What's New" page
Visit our LF2 Basketball 2012-2013 page

picture credits:
Date created: 7 October 2012

Like this page / Aimez cette page