LF2 Basketball round 10
Some games to remember

For the LF2 teams chasing for promotion to the LFB, the time has arrived to show their cards. Cavigal Nice bounded back from defeat last week to knock out a top challenger while COB Calais were pushed into their best team performance of the season.

Angers has the most balanced roster in LF2 and are very difficult to scout because the danger can come from anywhere.
This weekend it was the turn of Camille Aubert with 17 points to lead the offensive effort. But yet again all nine players got on the score sheet.

They matched COB Calais for 40 minutes and were a buzzer away from claiming their 10th victory of the season when disaster struck.

Aurèlie Cibert was having a poor shooting performance (0-from-8) but won the game for COB Calais with the last shot of the game from down-town (64-62).
Jenny Fouasseau and Floriane Herrscher scored 16 and 13 points each for Calais.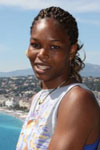 Cavigal Nice blew Léon Trégor away (77-47) with five players in double digits and 25 assists. Jeanne Senghor-Sy led the way with 16 points while Fabienne Constant (in picture), Guiday Mendy and Alexandra Tchangoue all scored 12 points. The fifth player in double digits with 11 points was Margaux Galliou-Loko.

Léon Trégor did not play badly and defended well forcing 23 turnovers but offensively they were weak and only managed to connect 18-from-50 from the field while Cavigal Nice connected with 52% of their shots including 7-of-17 from the three-point line.
For the first time this season nobody from Léon Trégor scored more than 9 points.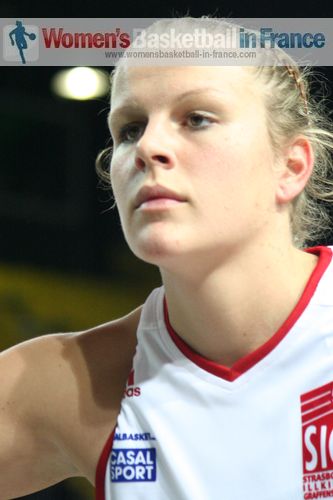 When Aline Fischbach (in picture) finds her shooting touch early, she becomes a handful. Unfortunately for Dunkerque Malo Fischbach shot well and scored 27 points to lead Illkirch-Graffenstaden to victory against Dunkerque Malo (89-59).
Just over a year ago Manon Morel tore her ACL while playing for Challes-les-Eaux Espoir. Today she is playing for US Laveyeron.
For the first 20 minutes against Pau Lacq Orthez she gave everybody a reminder of her potential with 14 points from 6-of-8. She finished the game as top scorer with 18 points.

Trailing at half time (30-31) Pau Lacq Orthez were able to turn things around during the second half and overcame their problems playing away from home to win the game (64-59). Mariame Dia scored 15 points for the winners.
Reims BF had no troubles in beating the CFBB. Leading (45-30) they paced themselves to victory (85-59) while Roche Vendée walked over Limoges (97-30).
L2F results from round 10:
Cavigal Nice 77-47 Léon Trégor
US Laveyron 59-64 Pau Lacq Orthez
COB Calais 64-62 Angers
Dunkerque Malo 54-89 Illkirch-Graffenstaden
Roche Vendée 97-30 Limoges
Reims 85-59 CFBB
---
Visit our LF2 Basketball 2012-2013 page

picture credits:
womensbasketball-in-france.com


Date created: 2 December 2012
Like this page / Aimez cette page