womensbasketball-in-france's
LF2 player of the month for December
Oumou "Kalsoum" Touré
In the last four LF2 games for 2012 Oumou Touré scored 89 points and pulled down 53 rounds. She was also credited with 13 blocks. Her double-double average in points and rebounds and also her 56% success rate in scoring has won her the wbbif LF2 player of the month for December.

In the 11 games played so far this season Touré has compiled 8 double-doubles (points & rebounds) while averaging 20.8 points and 12.7 rebounds per game.
She also leads the blocking category with 2.8 per game and the efficiency ranking statistic. If she continues at this rate for the second half of the season she should take the Ligue Féminine 2 player of the year award.
Touré who is in her second season with Léon Tregor has been in France since 2006.

Touré came to France from Senegal at the age of 18 to join the basketball academy at Villeneuve d'Ascq  (2006-2007) while continuing her education in Lille.
However after a season she moved to the Bourgogne region in France where she joined Beaune in NF3 (Division 4) for 2007-2008. She changed clubs again for the 2008-2009 season to move up a division (NF2) with Chalon-sur-Saône.
Touré's objective was to play basketball professionally. Finally in 2009 her chance came when she joined Perpignan Basket also in NF2.
She became one of the key players in the team as the Perpignan team went on to became NF2 Champions of France at the end of the 2009-2010 season.
The club was promoted to the Ligue Féminine 2 and Touré remained at the club. She averaged in the 2010-2011 season 10.5 points and 6.7 rebounds in 22 minutes per match. Perpignan Basket finished in sixth place and Touré thought she had done enough to remain at the club.
However with the appointment of François Gomez and the signing of Héléna Ciak, her contract was not extended.
Touré was snapped up by Léon Trégor the week before the start of the 2011-12 season. She continued working on her skill set for this year to help her new club in its ambition for a Final Four spot. 
Un pilier dans son équipe finistérien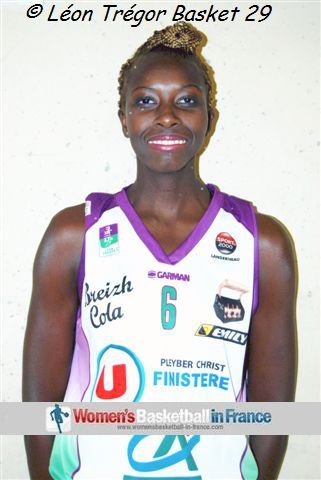 L'intérieure franco-sénégalaise du club breton Léon Trégor 29, Oumou Touré, fait un carton plein cette saison en tant que meilleure marqueuse et rebondeuse de la LF2 (20,7 points  et 12,5 rebonds par match).
Quand Touré met ses pieds en France en 2006, âgée de 18 ans, elle a déjà un plan pour son avenir: devenir joueuse professionnelle.
Elle intègre le centre de formation de Villeneuve d'Ascq en poursuivant en même temps ses études à Lille. La saison d'après elle joue en Nationale 3 à Beaune et continue son chemin en effectuant une saison en Nationale 2 à Chalon-sur-Saône. Puis elle joint Perpignan en L2F pour entâmer sa carrière en tant que joueuse professionnelle.
Mais le futur lui réserve des surprises avec des changements dans le club catalan avec l'arrivée du nouvel entraîneur François Gomez et de l'intérieure Héléna Ciak.
Son contrat n'est pas renouvelé et c'est à Pleyber-Christ pour 2011-2012 où elle trouve sa place en sein de l'équipe breton. Ses performances convaincantes lui permettent de se voir offrir une deuxième saison en Finistère.
L'ambition du club pour une place au Final Four et la poursuite de sa carrière font qu'un en ce moment.

---
Like this page / Aimez cette page