Cavigal Nice making claim for hosting 2013 LF2 Final Four

It is now official that there is no relegation battle in LF2 basketball this season, so all that is left is the fight to qualify for the Final 4 in May.
On current form Cavigal Nice are likely to be the hosts of the Final 4: they brushed aside Reims BF (87-57).
The contest was over by the end of the first quarter with the hosts leading (22-6). Reims offered a brief fightback early in the second quarter by reducing their deficit to 11 points (16-27). This was as close as they came to troubling their hosts.
Jeanne Senghor-Sy was unstoppable inside and finished with 26 points while Alexandra Tchangoue added 18 points. Fabienne Constant contributed another double-double with 14 points and 12 rebounds. Elodie Decker completed the double-digit scoring with 10 points and 5 assists.
It has been a long wait but at last Célia Mauler explodes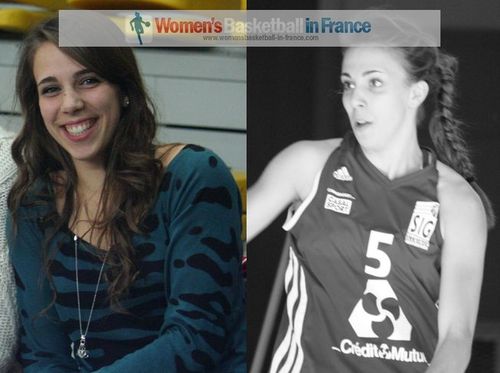 Célia Mauler made her début for Illkirch-Graffenstaden when she was 15 and everything was going well for her basketball wise. On the radar screen she was invited to the French U16 camp with the 1993 generation.
She continued to be a member of the first team at Illkirch-Graffenstaden but two seasons of injuries slowed her down while missing out of the U18 call-up for France.
This LF2 season her role has changed in the team. She has been playing with more confidence and finally she has shown her skills that everybody at the club knew she could apply.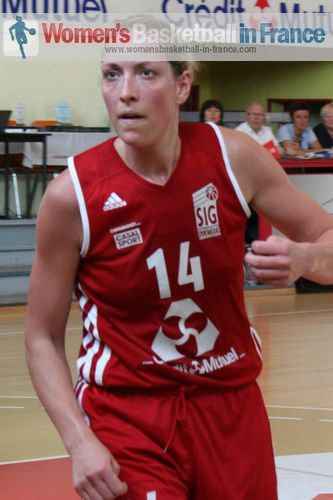 Mauler scored 34 points from 10-of-12 shooting. She was 7-of-8 from behind the arc and she also dished out 6 assists as Illkirch-Graffenstaden held off Angers on the road (90-81).
While Mauler won the player-of-the-match award it was the veteran Céline Schmitt (27 points - in picture) with a three-ball that put the SIG in front for good (81-79) with just under two minutes to play.
Angers, playing at home, had led for most of the match. With all nine players getting on the score sheet they were more balanced that their opponents. For Angers Julie Barennes was their leading scorer with 21 points while Camille Aubert dished out 10 assists.
What else happened during round 14 in LF2

Dunkerque Malo won on the road against Pau Lacq Orthez (74-69) and averaged their opening day defeat. Dace Pierre-Joseph and Mélissa Micaletto paced the team offensively with 20 and 22 points each.
Dunkerque Malo had to make the trip without Sabrina Scott who had hurt her back in training. In the case of Pau, Janeka Lopp is out of the team, her contract was cancelled in December.
Léon Trégor are still without their captain Aude Kernévez. They had a tough time seeing off Limoges (71-59) at home. Marie Butard led the hosts with 18 points.
Limoges were without Aïda Fall who had been officially released from her contract this week.

In the opening game of the weekend US Layeyron did just enough to beat the CFBB (56-49) in Paris.
At the moment the top 4 teams are as follows: 1. Cavigal Nice 2, COB Calais, 3 Léon Trégor, 4 Angers UFB-49.
Pau Lacq Orthez are in fifth place, one game behind Angers in 4th place.
LF2 results from round 14
Angers 81-90 Illkirch-Graffenstaden
Cavigal Nice 87-57 Reims BF
Pau Lacq Orthez 69-74 Dunkerque Malo
Léon Trégor 71-59 Limoges
CFBB 49-56 US Laveyron
---
Like this page / Aimez cette page